Images Depict Mature Plants
White Turtlehead Chelone glabra Plants for Sale Online
Chelone glabra is a flowering perennial that is native to Missouri. It naturally grows 2 to 3 feet tall with erect and stiff stems holding white flower clusters. And typically found growing In moist soil and partial sun.
Its common name comes from the bloom's resemblance to the inside of a turtle's mouth. The flowers appear in late summer to autumn with a tinge of pink among the primarily white flower. Although the flower clusters are big and bold, they usually do not need stakes unless planted in a heavily shaded area.
White Turtlehead plants are a perfect addition to shaded or woodland gardens. While other perennials may not be able to tolerate wet, rich soils around ponds or bogs, the Chelone glabra thrives in them.
---
Growzone: 3-8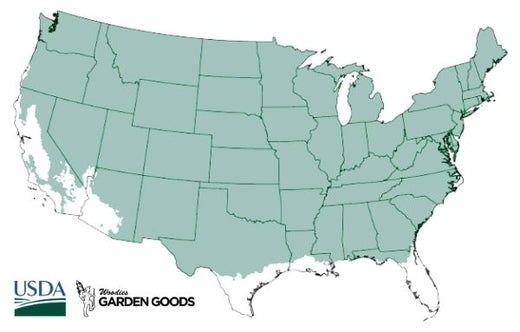 | | |
| --- | --- |
| Hardiness Zone: | 3-8 |
| Mature Height: | 2 to 3 Feet |
| Mature Width: | 1 to 2 Feet |
| Classification: | Flowering perennial |
| Habit: | Upright |
| Flower Color: | White with a dash of pink |
| Attracts: | Hummingbirds and butterflies |
| Soil Condition: | Prefers moist soil; can tolerate wet soil |
| Water Requirements: | Water frequently, do not let dry out |
---
How to Care for Chelone glabra
Before you buy a White Turtlehead Plant, make sure to read about the recommended care instructions to keep this plant healthy and thriving.

How do I plant a white turtlehead plant?
The Chelone glabra Perennial requires moist soil, and prefers to be planted where it can receive partial shade. After removing the plant from the container, loosen the bottom of the root ball using your hands and place it in a hole that is twice as wide, but no deeper than the pot it came in. If the area receives strong winds, the flowers may need to be staked. Backfill with a mix of the original soil and compost.

How do I mulch a white turtlehead perennial?
Craving nutrients, the Chelone glabra ppreciates a mulch made up of organic material such as leaves or pine needles. This is especially important when planted in sunny areas where the soil is likely to dry out quicker. Applying a mulch around (but not touching) the base of the plant will help retain moisture in the soil.

How often do I water a Chelone glabra plant?
It is important that you do not let the turtlehead plant's soil dry out. In order to achieve this, check the soil and water when the top 3 inches are no longer damp.

How do I prune Chelone glabra leaves?
If your plant is growing taller than your location can handle, pinch back the stem ends in the spring to control the height.
---
Other Products you may be interested in
---
Customer Reviews