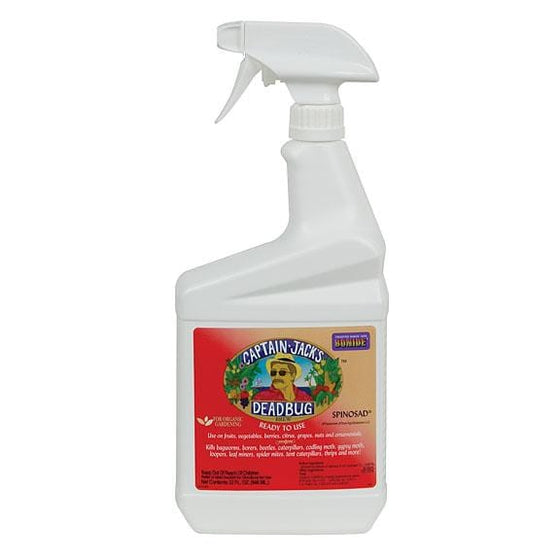 Captain Jack's Dead Bug Brew Organic Insecticide
Captain Jacks's Deadbug Brew® contains Spinosad "spin-OH-sid." Deadbug Brew kills bagworms, borers, beetles, caterpillars, codling moths, gypsy moths, loopers, leaf miners, spider mites, tent caterpillars, thrips, and more! Use Captain Jacks Dust for vegetable or flower garden spot treatment.
---
Additional Information
Captain Jack's Deadbug Brew is a quick, organic way to take care of those pesky insects chomping and chewing the leaves and flowers of your favorite plants. This deadly brew isn't one to trifle with, as it can take care of leaf miners, borers, beetles, caterpillars, spider mites, thrips and more! Luckily, this organic concoction eliminates pests without damaging plants at all, and comes with a variety of ways to apply it. There's a ready to use spray, concentrate which has to be diluted with water, and a powder. Designed for outdoor residential use, Captain Jack's can be used with edible or ornamental vegetables, fruits and other plants. While Captain Jack's delivers a real punch to insects eating your plants, it does not significantly impact beneficial insects.
Certified organic by the USDA National Organic Standards Board, Captain Jack's Deadbug Brew relies on a substance called Spinosad derived from a naturally occurring soil bacterium. Discovered on an abandoned rum distillery in the Carribean in 1982, Spinosad has proven effective as an agricultural pest killer.
Once prepared, Captain Jack's is easy to use. Just shake the contents to distribute the mixture, then spray the top and undersides of leaves of affected plants. Although there may not be an instant reaction, this product will kill pests in the first few hours after spraying. Virtually all vegetables, nuts, stone fruits and cane fruits can be sprayed with Captain Jack's Deadbug Brew to kill insects currently consuming the plant as well as killing insects that choose the plant in the future.
The beautiful thing is that Captain Jack's Deadbug Brew works on insects inside of plants in addition to insects consuming plants from the outside. Bonide is a family owned company whose products are made in America.
---
Customer Reviews