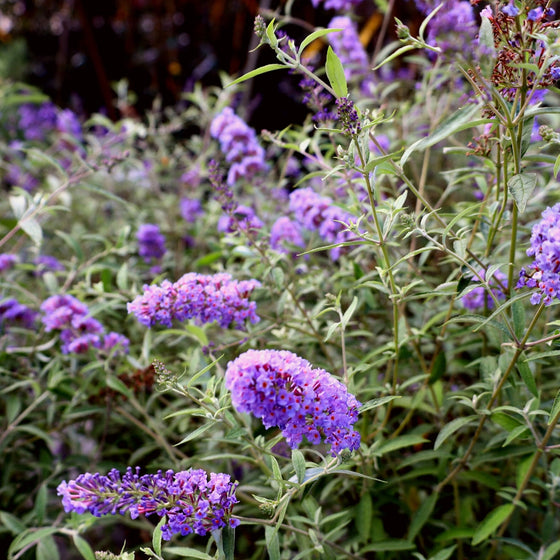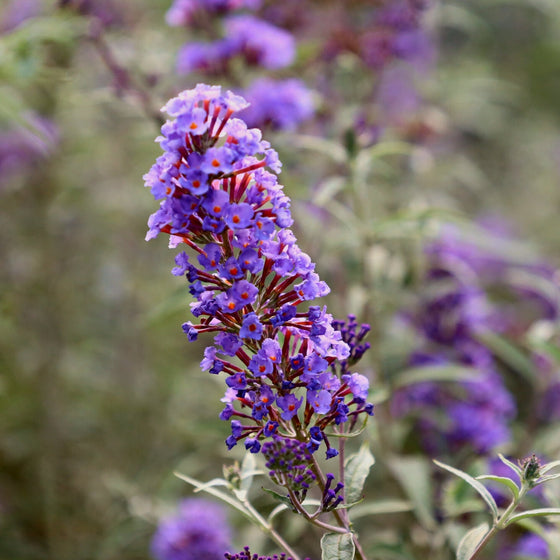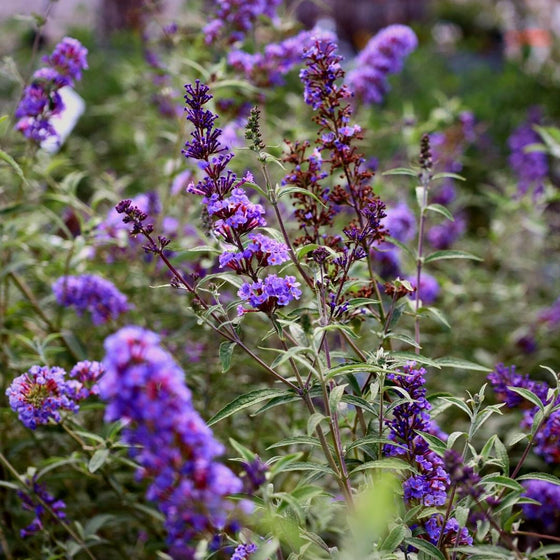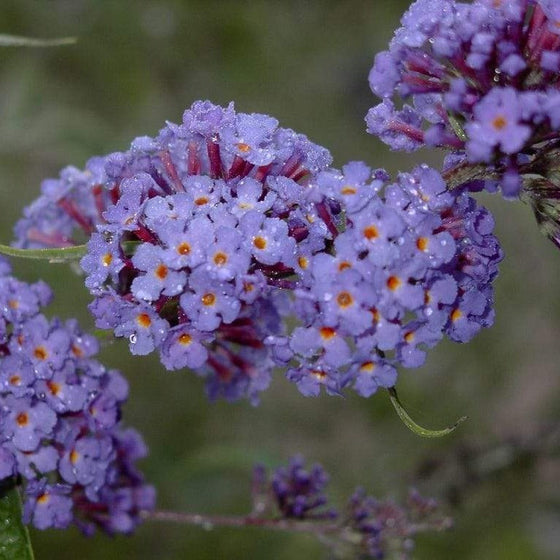 Images Depict Mature Plants
Nanho Blue Butterfly Bush Shrubs for Sale Online
Buddleia Nanho Blue is one of the most striking of all Butterfly bushes. This vigorous, quick-growing shrub has silvery-green foliage that compliments lavender-blue flowers. This bush is hardy, disease-resistant, and attracts pollinators; some might call it a triple-threat garden shrub!
Your Butterfly bush will bloom from June until September and looks beautiful when planted in the back of a large border. In warm climates, this shrub can grow up to 10 feet tall and stay year-round.
If you live in a cold area, especially somewhere with cold winters, your shrub will die down to the ground, but it will grow back up again the following spring! Complete your pollinator garden this summer when you plant this stand-out shrub!
---
| | |
| --- | --- |
| Hardiness Zone: | 5-9 |
| Mature Height: | 6 to 8 feet |
| Mature Width: | 5 to 6 feet |
| Classification: | Broad leaved deciduous shrub, re-blooming |
| Sunlight: | Full sun |
| Habit: | Low growing dwarf habit |
| Foliage: | Silver green |
| Flower Color: | Powder blue, Vvery floriferous |
| Pruning Season: | No pruning needed |
| Soil Condition: | Any well drained soil |
| Water Requirements: | Water well until established |
Growzone: 5-9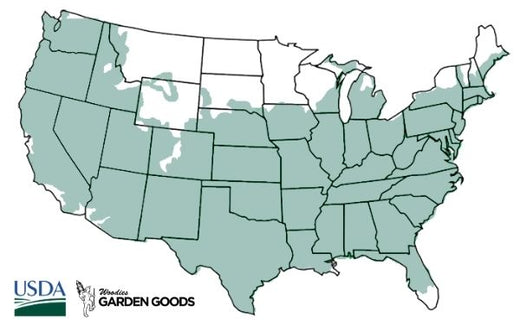 How to Care for Nanho Blue Butterfly Bush
Be sure to read our planting instructions to ensure a healthy and happy plant for years to come!

How do I prune Buddleia Nanho Blue?
This shrub does require some regular pruning to keep it looking healthy and full. In early spring, as new growth appears, prune off any weak or dead stems. You can leave the strong branches, but don't be scared to prune away lots of leggy-looking stems. Cut them back to around 12 inches above the ground, typically right above a pair of healthy sprouting buds. In cold winters, all the branches can die down to the ground, but this is normal. Your plant will happily re-sprout from the base the following growing season.

How Often Should I Water My Nanho Blue Butterfly Bush?
During your shrub's first season, be sure to water it regularly so that its root system becomes healthy and well established. Watering it regularly during the first growing season will also help it become drought resistant as the plant matures. Once your Butterfly shrub is established, you will not have to water it as frequently. This plant grows well in hot, dry places and can thrive if the soil dries out slightly. However, do not let the soil dry out completely because this could cause the soil to compact, becoming almost impossible to rehydrate. Be sure to watch out for root rot disease when watering your plant. This is caused when your plant is not in well-draining soil conditions or is overwatered. As long as your plant has well-established roots and is watered when necessary, your plant will thrive for years to come.

How Much Sunlight Should my Nanho Blue Butterfly Bush Get?
If you want your shrub to produce the most luscious flowers, make sure you plant it in an area of your garden that receives full sun. If your shrub does not receive at least 6 to 8 hours of full sun each day, preferably more, it will become weedy, sparse, and stop producing most of its flowers. If you have an area of your garden or landscape that most plants cannot be in because it is too sunny, this is the perfect spot for your Butterfly Bush to go.

What Kind of Soil Does My Nanho Blue Butterfly Bush Like?
We recommend planting your shrub in moist, well-draining soil conditions. Any soil that is fertile, sandy, loamy, chalky, etc., is the perfect conditions for your shrub to thrive. Well-draining soil is essential to the success of Butterfly shrubs because you do not want their roots to sit in standing water for too long. If this occurs, they could get root rot, a disease that will permanently damage your plants if it is not caught soon enough.
---
Other Products you may be interested in
---
Customer Reviews