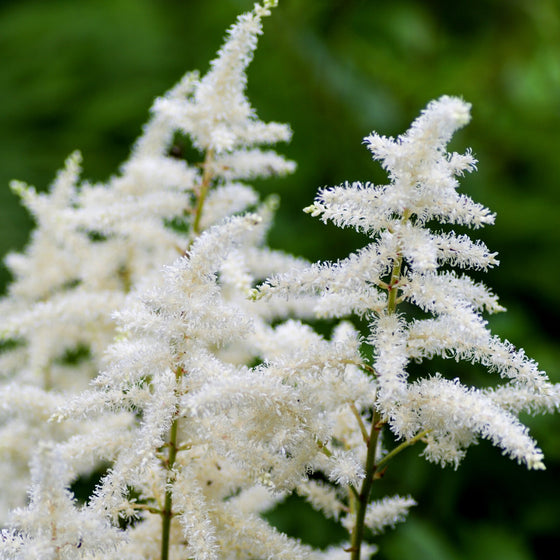 Images Depict Mature Plants
Astilbe Visions in White for Sale Online
Astilbe Vision in White has tall, feathery, white blooms that sit above compact, bronze-green foliage.
These perennials are perfect in a dappled shade garden, dotted throughout a woodland garden, or even a groundcover in shaded areas. Astilbe flowers are excellent as cut flowers, either fresh or dried
. This astilbe tolerates drier soils than other varieties. This perennial does well in patio containers due to its ability to withstand dry conditions.
---
Growzone: 4-9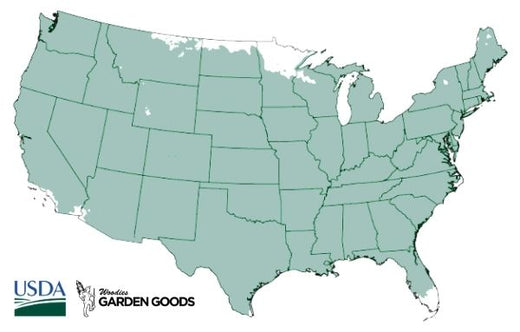 | | |
| --- | --- |
| Hardiness Zone: | 4-9 |
| Mature Height: | 18 to 20 Inches |
| Mature Width: | 1.5 to 2 Feet |
| Classification: | Perennial |
| Sunlight: | Partial shade |
| Habit: | Upright, clump forming |
| Flower Color: | White |
| Flowering Season: | June through September |
| Foliage: | Bronze-green |
| Soil Condition: | Prefers average to moist soil |
| Water Requirements: | Water well until established |
| Uses: | Extremely attractive when used as a focal point in the mixed border, mass planting. Attracts pollinators |
---
How to Care for Astilbe Visions in White
Before you purchase your Astilbe Visions in White, be sure to read the recommended care instructions to ensure your plant remains happy and healthy for years to come!

How do I water Astilbe Visions in White?
After backfilling and lightly compacting the 50/50 mix of existing soil and compost, give the Astilbe Visions in Pink a deep watering. Most of the water you put on the plant at first will run away from the plant until the soil is soaked. A general rule of thumb is to count to 5 for every one gallon of pot size. For example, water a one-gallon pot for a count of 5 seconds and a three-gallon container for 15 seconds. Check the plant daily for the first week or so and then every other day after. You should water using the counting method for the first few weeks. As mentioned earlier, Astilbe does not like to dry out during drought, be sure to provide enough water.

How do I fertilize Astilbe Visions in White?
We recommend feeding your Astilbe Visions in White in the early spring and again in mid-summer after all new growth has hardened and it begins to set flower buds. Apply an early spring fertilizer with a product such as Espoma Plant-tone at the recommended rate; this will give the plant a boost of nitrogen potash needed for healthy foliage and stem growth. Follow this up with another early summer application of Espoma Flower-Tone; this will again provide the necessary nutrients to promote a flush of beautiful flowers. Slow-release fertilizer can help prevent rapid soft growth that is vulnerable to diseases and insects.

How do I mulch Astilbe Visions in White?
We highly recommend that you mulch your Astilbe Visions in White with either a ground hardwood mulch or a ground cypress mulch depending on your local availability. Any mulch will do, but cypress or hardwood mulch will be of a higher quality and provide better nutrition overall as they break down. Mulching helps to keep weeds away, which will compete with your new investment in water and nutrients. A 2 to 3-inch layer of mulch is sufficient but remember to take care not to cover any part of the stem with mulch. It's better to leave a one-inch gap of space between the mulch and the stem or base of the plant.

How do I prune Astilbe Visions in White?
Remove the old flowers of Astilbe Visions in White as they become brown and unattractive, but this is not necessary as the dried plumes provide added interest in the landscape. They can be cut and brought into the house and used in arrangements. This procedure, called deadheading, encourages the Astilbe plant to produce new foliage, keeping your plant looking attractive throughout the season. Prune the central stems of the yarrow if they begin to die back. Cutting Astilbe perennials to within 6 inches of the ground after they have finished flowering helps the plant produce a new flush of foliage. Cutting back will promote new growth, giving you a healthier plant with stronger stems.
---
Frequently Asked questions
Is my White Astilbe Visions Pollinator-Friendly?
What Diseases/Pests do Astilbe Visions in White Plants Attract?
Is my Astilbe Deer Resistant?
---
Other Products you may be interested in
---
Customer Reviews