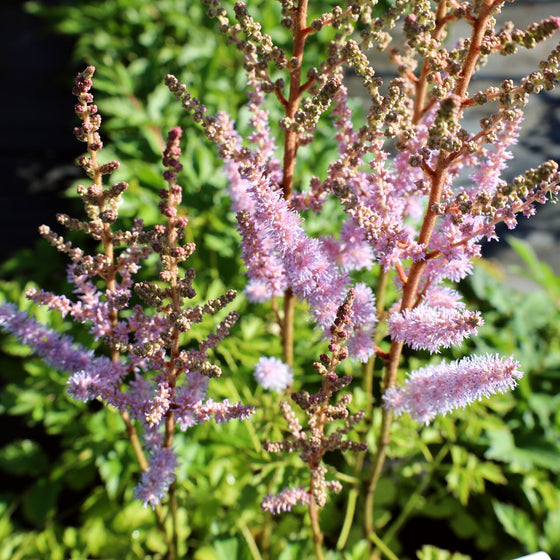 Images Depict Mature Plants
Astilbe pumila Plant for Sale Online
Astilbe pumila (Astilbe chinesnsis var. pumila) is a dwarf variety of the Astilbe perennial family. 
This low-growing perennial produces fluffy, rich, lavender-purple flower plumes that sit atop tall flowering stems. Astilbe pumila's flowers will blossom from late summer to early fall and are complemented by mounding, fern-like foliage. In the winter, this plant's foliage turns to a caramel color.
No matter what time of year it is, this plant will provide beautiful interest to your garden. This garden plant's best-growing conditions are full shade, rich and well-draining soil, and mulch in the winter. Try planting your Astilbe in perennial borders, woodlands, by streams, or a container.
---
Growzone: 4-9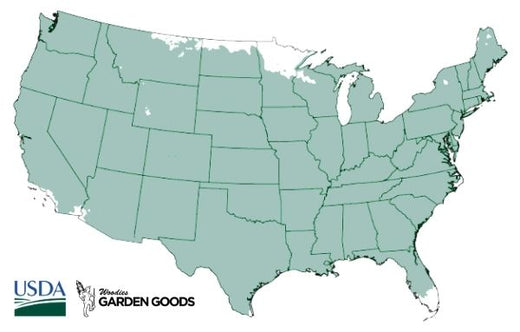 | | |
| --- | --- |
| Hardiness Zone: | 4-9 |
| Mature Height: | 8 to 10 Inches |
| Mature Width: | 1 to 2 Feet |
| Sunlight: | Partial shade, full shade |
| Habit: | Upright, mounding |
| Flower Color: | Lavender purple |
| Flowering Season: | Late summer to early fall |
| Foliage: | Green, fern-like |
| Soil Condition: | Prefers average to moist soil |
| Water Requirements: | Water well until established |
| Uses: | Extremely attractive when used as a focal point in the mixed border, mass planting. Attracts pollinators |
---
How to Care for Astilbe Pumila
Before you purchase your Astilbe Pumila plant, be sure to read the recommended care instructions to ensure your plant remains happy and healthy for years to come!

How Much Sun Does my Astilbe Pumila Plant Need?
Astilbe Pumila plants thrive in partially to fully shaded areas of any garden or landscape. If there is an area of your garden that receives too much shade for the majority of your plants, this is the perfect location to plant your Astilbe. If this location is fully shaded, note that your plant will not blossom as prolifically there. However, if this location is partially shaded and receives filtered sunlight, its blossoms will bloom beautifully.

How often should I water Astilbe Pumila?
The most critical care factor for Astilbe plants is soil moisture levels. These perennials enjoy moist soil conditions and must receive water regularly. However, there is a difference between watering your plants regularly and keeping their soil moist versus overwatering and causing diseases like root rot. The best way to avoid overwatering is by making sure your plant is in well-draining soil. If you notice your plant's leaves are brown or crispy, this could be because their soil is too dry. The good thing about this plant is it will tell you when it needs water.

What Kind of Soil Does my Astilbe Pumila Plant Need?
Because Astilbe Pumila plants require evenly moist soil conditions, they must be in well-draining, organically rich soil. This perennial's soil must never dry out. Pumila will need water regularly, and the well-draining soil conditions will ensure your plant does not get overwatered. Overwatering will cause root rot disease and can permanently damage your plant. Root rot disease occurs when your plant's soil is not well-draining- and the roots sit in standing water for too long.

When should I fertilize Astilbe Pumila?
We recommend using an all-purpose fertilizer for this pollinating perennial. Follow the directions on the package, but we recommend you apply once in early spring to encourage blooms and once again after the plant blooms to maintain vigor throughout the growing season. You mustn't fertilize your plant during its dormancy season. Fertilizing during this period could be too much for your plant and cause their next growing season to be lackluster.
---
Frequently Asked questions
When Should I Add Mulch Around my Astilbe Pumila Plants?
Does my Astilbe Pumila Require Deadheading?
Do Astilbe Plants Attract Wildlife or Pollinators?
---
Other Products you may be interested in
---
Customer Reviews