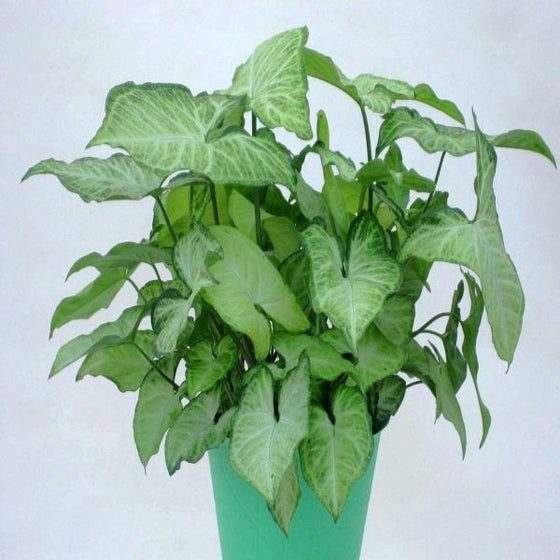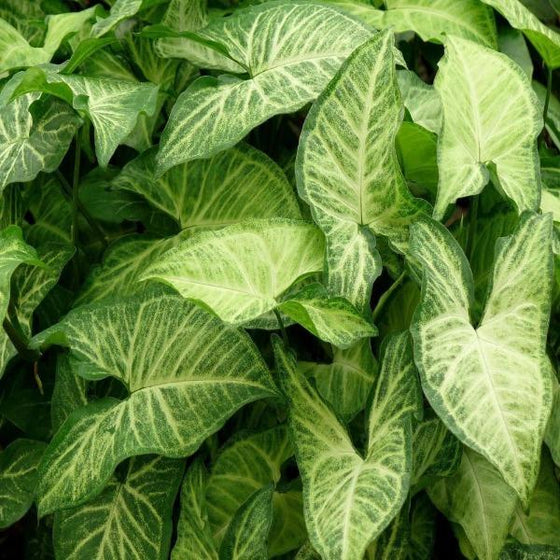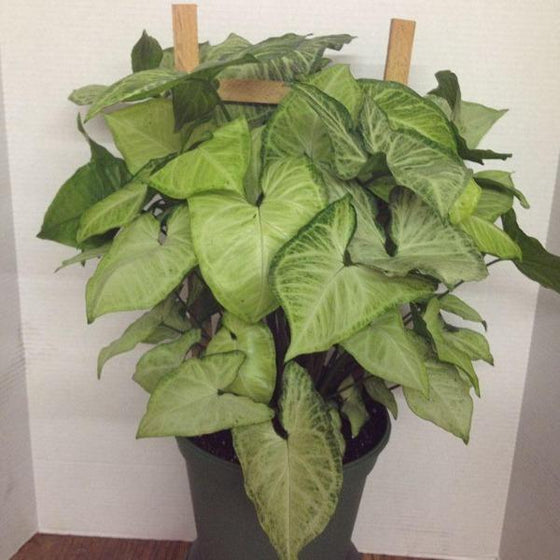 Images Depict Mature Plants
Arrowhead Plants for Sale Online
Arrowhead Plants have a distinctive heart-shaped leaf with green and white coloring. Very easy to grow as a house plant. Also called Syngonium or nephthytis. It's been a popular plant in America for a very long time. Its popularity is probably due to its easy care requirements. Arrowhead plants can be grown on a moss pole and will climb with very little training.
Arrowhead Plant is content in very small containers and usually has disproportionately more foliage growth compared to root growth. The heart-shaped leaves are mixed white and green, and the plant takes on a vining habit once it reaches maturity.
Thankfully if a compact bushy plant is preferred, Arrowhead Plant can be trained to stay small and compact. This plant does well in terrariums or fairy gardens in containers that don't drain. Alternately, it can also be grown in water culture without soil. Arrowhead Plant is an extremely low light plant and does well in offices and locations with fluorescent light to bright, indirect light.
These plants perform well in terrariums, as they can handle staying constantly moist in a container that doesn't drain. In fact, they can be grown in water without soil. Arrowhead Plant handles very low light levels, from fluorescent light to some bright indirect. Too much light will burn the foliage.
As the plants reach maturity, they will start to develop a vining habit and could be trained to go up a trellis or structure, or even managed and kept as a compact, bushy houseplant. Arrowhead Plant tends to grow more slowly than other houseplants.
---
| | |
| --- | --- |
| Hardiness Zone: | 9-11 |
| Mature Height: | 6 to 8 Inches |
| Mature Width: | 8 to 12 Inches |
| Classification: | Colorful foliage |
| Sunlight: | Fluorescent to bright, indirect light |
| Habit: | Upright |
| Flower Color: | Does not flower indoors |
| Foliage: | Green and white |
| Soil Condition: | Regular potting mix |
| Water Requirements: | Likes to stay moist |
| Uses: | Does well in terrariums or mixed containers |
Growzone: 10-11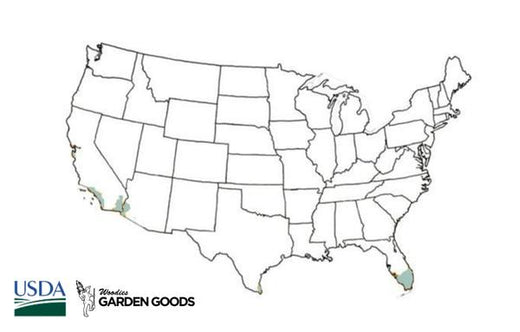 How to Care for Arrowhead Plants
Be sure to read our planting instructions to ensure a healthy and happy plant for years to come!

What is the best light for Arrowhead Plant?
Arrowhead Plant performs well in fluorescent light like office buildings or atriums or anywhere away from direct light. They can handle the bright, indirect light found in a northern or partially shaded eastern windowsill. Western or southern exposure would work as long as the plant is away from the window or the window is well shaded.

How do I water the Arrowhead Plant?
Arrowhead Plant likes to stay consistently moist, not too wet or too dry. They recover from drying out. They prefer higher humidity locations like kitchens or bathrooms; if conditions are too dry, the leaf tips will start to dry out and brown.

How do I fertilize Arrowhead Plant?
Arrowhead Plants do not require much fertilizer. Fertilizer is recommended only for mature plants to contribute to new growth. Any all purpose, foliage fertilizer will work for Arrowhead Plant. Indoor houseplant fertilizers fall into two groups: water soluble, liquid quick release, and granular, slow release fertilizers. Jack's Classic Indoor plant food works well as a powder, quick release fertilizer that is mixed with water to quickly provide nutrients to a plant that has been in a container for an extended time. On the other hand, Osmocote Indoor/Outdoor is an option as a granular, slow release fertilizer that can be applied while potting and planting. Any type of fertilizer offers nutrients that help plants with the transition to a new environment. All of these fertilizers may be used when planting Arrowhead Plant indoors or outdoors.

What is the best soil for Arrowhead Plant?
Arrowhead plants do best in soil that stays moist. It can be useful to add some Soil Moist to the potting mix that's used so the soil doesn't dry out and compact. Another option is using a potting mix designed for African Violets, such as Espoma Organic African Violet Potting Mix, which is peat moss based and designed to hold moisture for extended periods. Arrowhead also does well if grown exclusively in water without soil.
---
Other Products you may be interested in
---
Customer Reviews