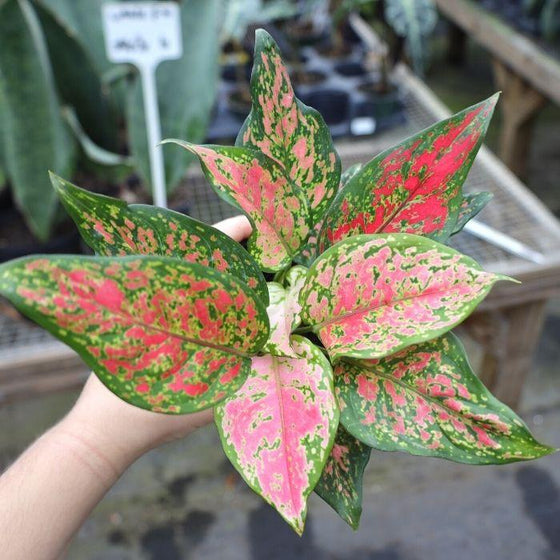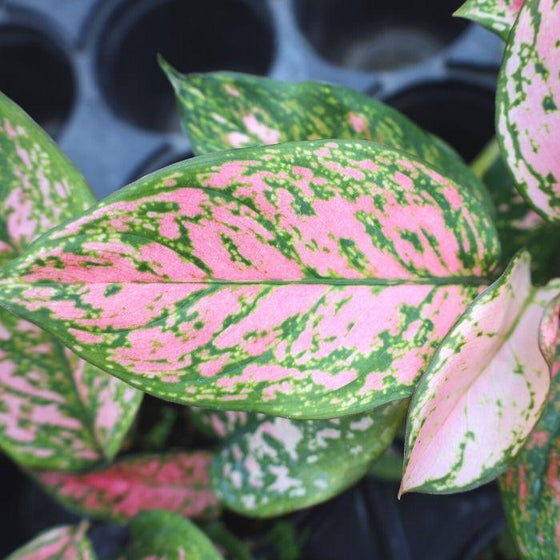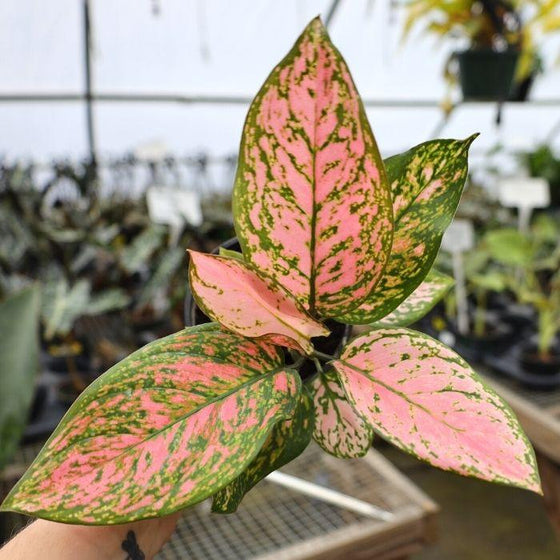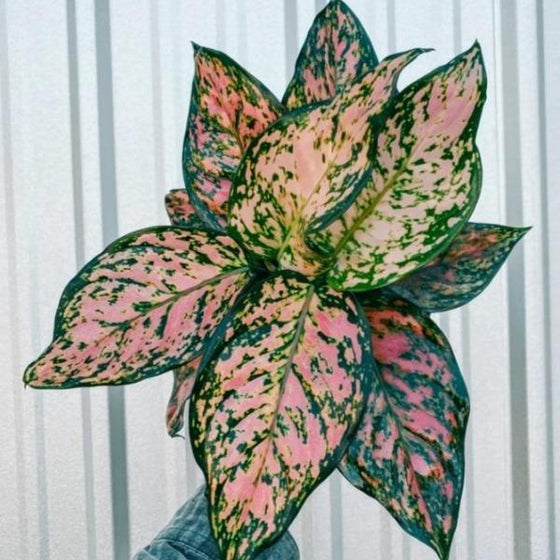 Images Depict Mature Plants
Aglaonema Katrina Plants for Sale Online
The beautiful leaf pattern of this easy to care for pink house plant will instantly make it one of your new favorites just like it did us. Katrina is a low-light tropical plant that survives in even the lowest of light conditions.
Aglaonemas are commonly called Chinese evergreen plants. The common name is in reference to its origin from China where it grows in tropical forests. NASA has placed Aglaonema on its top ten list of clean air plants because of the plant's ability to remove benzene and formaldehyde from indoor air.
Chinese Evergreens like Aglaonema Katrina are the perfect accent plant on desks in the office due to their ability to thrive in artificial light and survive for extended periods with little care. In their natural habitat, they grow beneath the canopy of larger tropical trees and seldom if ever get direct sunlight. Misting Aglaonemas is beneficial as it raises the humidity around the plant. This is especially helpful to the plant during the colder winter months when heaters tend to dry the indoor air.
---
| | |
| --- | --- |
| Hardiness Zone: | 10-11 |
| Mature Height: | 2 to 3 Feet |
| Mature Width: | 1 to 2 Feet |
| Sunlight: | Fluorescent to bright indirect |
| Habit: | Compact habit |
| Foliage: | Pink with white and green variegation |
| Soil Condition: | Evenly moist in well-draining soil |
| Water Requirements: | Water when top inch is dry, likes even moisture |
| Uses: | Indoor plant perfect for shelves, windowsills, coffee tables |
| Pet Safety: | Not pet safe, toxic to cats and dogs |
Growzone: 10-11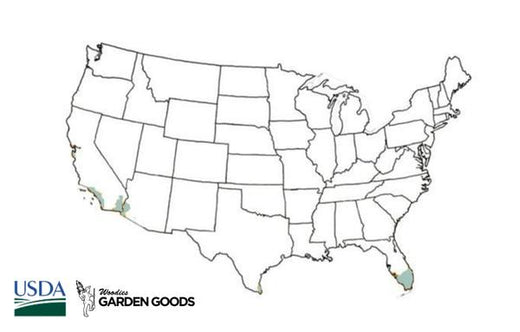 How to Care for Aglaonema Katrina Chinese Evergreen
Be sure to read our planting instructions to ensure a healthy and happy plant for years to come!

What light is best for Aglaonema Plants?
Aglaonema Katrina likes bright, indirect light, and will tolerate shaded low light or fluorescent light.

How do I fertilize Aglaonema Plants?
Aglaonema plants can be fertilized twice a year, once in the spring and once in the summer is sufficient. A slow release indoor plant food or a liquid formula would both work - simply make sure to stay within the recommended dosage, or even half strength for smaller plants will do.

How do I water Aglaonema Katrina?
Aglaonema Katrina pink plants like to stay evenly moist, but it is better to underwater them than overwater them. A humidity tray or spraying the leaves with water throughout the week will help keep this humidity-loving plant happy. If the leaves are browning, it is a good idea to switch to bottled, distilled or filtered water since is it sensitive to salts and minerals in city water.

What soil is best for Aglaonema Katrina Plants?
A well-balanced potting soil with both organic matter and good drainage is best for an Aglaonema. You can create a mix of organic potting soil and cactus soil to create more drainage if needed.
---
Other Products you may be interested in
---
Customer Reviews