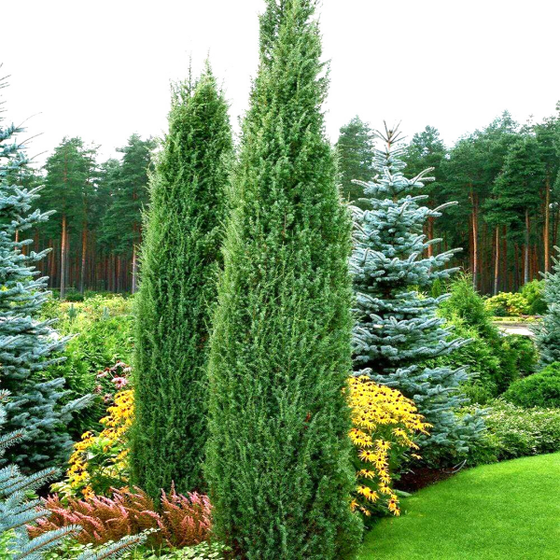 Images Depict Mature Plants
Blue Point Juniper Trees for Sale Online
Blue Point Juniper (Juniperus Chinensis 'Blue Point') is a densely branched evergreen tree with a naturally pyramidal growth habit. The blue-green foliage of the Blue Point Juniper stays consistent year-round and requires little to no maintenance once established.
This selection is drought tolerant, deer resistant, adaptable to many soil types, and easy to grow. Blue Point Juniper tree makes an excellent low to mid-height privacy screen; investing in landscaping will add value to your property.
This versatile tree can either serve as a windbreak against the elements or decorate your garden as a lovely topiary specimen. Bluepoint Juniper trees are great for entranceways or a mixed border. They'll also hold up throughout the winter due to their salt tolerance, making them perfect for use where road salt/spray can be a problem.
---
Growzone: 4-9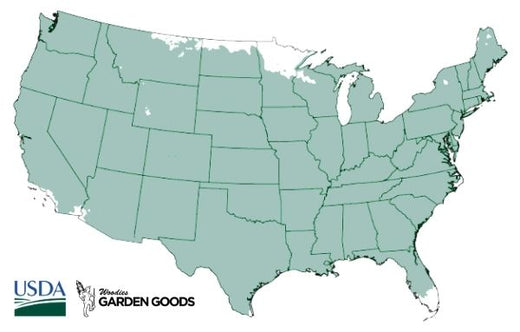 | | |
| --- | --- |
| Hardiness Zone: | 4-9 |
| Mature Height: | 15 to 20 Feet |
| Mature width: | 6 to 10 Feet |
| Classification: | Evergreen tree |
| Sunlight: | Full sun to part sun |
| Habit: | Upright pyramidal, conical |
| Foliage: | Blue green |
| Flower Color: | Inconspicuous |
| Pruning Season: | Prune in late winter before new growth or after new growth hardens off in summer |
| Soil Condition: | Any well drained, slightly acidic soil |
| Water Require: | Water frequently until established, then only as needed in extreme heat |
---
How to Care for Blue Point Juniper
Before you buy a Blue Point Juniper Trees, make sure to read about the care instructions that are required and recommended to keep this plant healthy and flourishing.

How do I plant Blue Point Trees?
First, you'll want to choose an ideal location for your Blue Point Juniper to thrive. We recommend an area with full sun for the thickest, healthiest foliage, but they can tolerate some shade. Check for adequate soil drainage, and amend the soil with pine fines or gypsum if needed, to break up any clay. If you plan to plant your Blue Point Juniper near your house, stay at least 3 to 4 feet away from the wall and check how dense the soil is around your foundation. Then, dig a hole twice as wide as your new tree's root ball. Position the root ball in the hole so the potting soil top is a 1/4 inch above ground level, then backfill with amended soil and water thoroughly. Use a starter fertilizer like Biotone Starter Plus for an additional boost.

How do I fertilize Juniper Trees?
Upright junipers such as Blue Point Juniper Trees grow best if they are fertilized lightly in the spring once frost has passed with a well-balanced, extended-release, fertilizer such as Espoma Tree-tone or Holly tone to provide the extra acid that junipers crave. Fertilize Blue Point Juniper Trees again in late summer to mid-fall. Applying a slow-release, balanced fertilizer once a year is probably the simplest solution. Acidic fertilizers like Espoma Holly Tone are well balanced for a Blue Point Juniper. A less expensive fast release fertilizer such as a 10-10-10 will work just as well if applied twice during the early spring and early summer.

How often do I water my Blue Point Juniper Trees?
During planting and the initial establishment, they should be watered regularly. Blue points have a very fibrous root system and therefore need the additional water during establishment. We recommend about once or twice a week in the first 60 days, then back off to a few times a month for the next four months. After that time, your tree should be established and really only need extra watering in extreme heat or drought conditions. It is always best to err on the side of caution and water your Blue Point Juniper a little less, especially if you live in an area with lots of rain or a high water table. Blue Point Junipers can succumb to root rot if there is not adequate soil drainage.

How to mulch Blue Point Juniper Trees?
We highly recommend that you mulch your Blue Point Juniper Trees with either a ground hardwood mulch or a ground cypress mulch. Any type of mulch will do but cypress or hardwood mulch will be of a higher quality and provide better nutrition overall as they breakdown. Mulching helps to keep weeds away which will compete with your new investment for water and nutrients. It will also help maintain an even temperature around the fibrous root system, and help conserve water. A 2 to 3 inch layer of mulch is sufficient, extending just past the tree's drip line. Its better to leave a one inch gap of space between the mulch and the stem or trunk of the plant in order to prevent disease and to not inhibit growth.
---
Additional Information
Blue Point Juniper is a very hardy, fast growing upright juniper with a very pyramidal, columnar growth habit. It can withstand drought, high wind, and the summer heat better than most other upright junipers. Juniperus Chinensis Blue Point is a good choice for privacy borders, windscreens, as well as accent and group plantings. It retains its excellent blue-green foliage color through the winter and is deer resistant.
Blue points will reach an ultimate height of 12 feet tall and up to 8 feet wide. These plants are an excellent choice for planting in pots to frame the front entrance to your home or office. They can also be used as an easy to maintain low windbreak when the towering height of arborvitae or Leyland cypress would be out of scale for your smaller property.
Bluepoint juniper has a natural pyramid form that requires no pruning to maintain, unless you intend to train it to be a topiary or want a cleaner look to the growth. When pruning junipers we recommend doing so in the spring when the temperature is cooler. Pruning in the summer heat can cause unsightly browning of the tips.
These versatile trees can grow in growzones 4 to 9, meaning they can be used in a wide variety of landscaping designs. As long as your tree is receiving 6 to 8 hours of direct sun, you can use them as a means to soften the corners of a house, create a focal point in your yard, or protect your home from wind, noise, or neighbors. They are considered great trees for urban settings since they are salt and polution tolerant.
Due to its broad pyramid shape, Juniper Blue Point is the perfect evergreen shrub to be used as a meticulously clipped topiary. They can be trimmed into just about any shape including spirals. If you are trying to create a stately lawn these are a perfect addition.
With the blue coloring of the foliage, they make a welcome addition as foundation plantings or specimen plantings as in the winter when there is little else showing color. Alternately the blue coloring can be used as a cooling shade in the heat of summer. Pair your Blue Point Juniper trees with shrubs of contrasting colors for lots of visual interest. A few good choices include Golden Euonymus (yellow), Admiration Barberry (red) or Cool Glow Peach Nandinas (peachy orange).
---
Frequently Asked questions
How should I prune my Blue Point Juniper Trees?
Can Blue Point Juniper Trees grow in shade?
How fast do Blue Point Juniper Trees grow?
How do I plant a Privacy hedge / Wind break with my Juniper Blue Point Trees?
Are Blue Point Juniper Trees Deer Resistant?
Can I grow my Blue Point Juniper in a container?
Why is my Blue Point Juniper Yellow / Brown?
---
General questions
How do we measure heights on Trees and Shrubs?
Why are trees sold in 1-foot increments?
---
---
Other Products you may be interested in
---
Customer Reviews