Images Depict Mature Plants
Hibiscus Midnight Marvel for Sale Online
Hibiscus Midnight Marvel combines the deep wine-purple foliage of Hibiscus Perfect Storm and the huge scarlet red flowers of Cranberry Crush. This dark jewel should be grown in full sun to achieve the darkest foliage color.
Rose Mallow are North American native plants that bring tropical-looking flowers all the way north to zone 4. Flowering starts in the summer and typically goes until the first hard frost. Hardy Hibiscus are late to emerge in spring, but these fast-growing plants can add an inch of new growth per day. These hardy hibiscuses are great for adding late-season color to the fall landscape. Hardy Hibiscus thrives in wet soils and even heavy clays.
---
Growzone: 4-9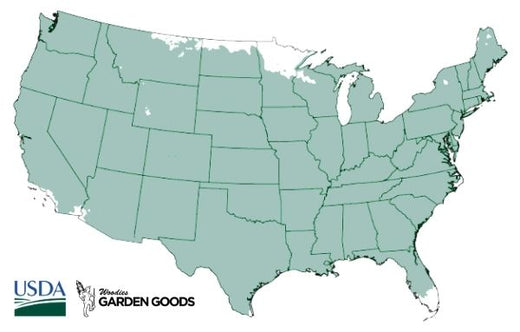 | | |
| --- | --- |
| Hardiness Zone: | 4-9 |
| Mature Height: | 3-4 Feet |
| Mature Width: | 3-4 Feet |
| Sunlight: | Full Sun, partial sun |
| Water Requirements: | Average to wet |
| Flower Color: | Carmine-Red |
| Foliage: | Dark Purple, Almost Black |
| Soil: | Moist, well-draining |
| Usage: | Border plant, Specimen, Focal point, container plant |
---
How to Care for Hibiscus Midnight Marvel
Before you purchase your Hibiscus Midnight Marvel, be sure to read the recommended care instructions to ensure your plant remains happy and healthy for years to come!

How Much Sunlight does my Hibiscus Midnight Marvel Plant Need?
Hibiscus Midnight Marvel grows in a wide variety of sunlight exposure. Your plants can handle anywhere from full sunlight to partial shade and anywhere in between. The darkest leaves are produced in Full Sun.

When Should I Prune My Hibiscus Midnight Marvel Plants?
The best time to cut back your Midnight Marvel Rose Mallow plants is in the spring. Doing so at this time will allow new growth to appear once this perennial's growing season begins. You will need a strong pair of loopers or a saw to prune this plant, so be sure you have something stronger than a typical pair of sheers. If you are simply cutting off dead or dying flowers, foliage, or stems, feel free to use a clean and sharp pair of sheers.

How Do I water my Hibiscus Midnight Marvel?
Hibiscus Midnight Marvel plants prefer to have consistently moist soil conditions, so it is vital to water them regularly. When growing Rose Mallow in containers be sure to water at least every other day during the summer to ensure your plant has the proper amount of moisture for flowering.

What Kind of Soil Does Hibiscus Midnight Marvel Require?
Hibiscus Midnight Marvel does best in well-draining but moist soil conditions. There is a tricky balance between keeping your plant's soil moist and wet, which could cause root rot disease. The best way to avoid root rot disease is to ensure your plant's soil is well-draining. If the plant receives water at an average rate but consistently and well-draining soil conditions, you will not have to worry about its roots rotting. However, do not water your perennial during the winter. The winter is their growth dormancy period, and moisture at this time could drown your plant's roots and cause damage.
---
Frequently Asked questions
When Should I Fertilize Hibiscus Midnight Marvel?
Can I Use Coffee Grounds On My Hibiscus?
Does Hibiscus Midnight Marvel Attract Pollinators?
---
Other Products you may be interested in
---
Customer Reviews