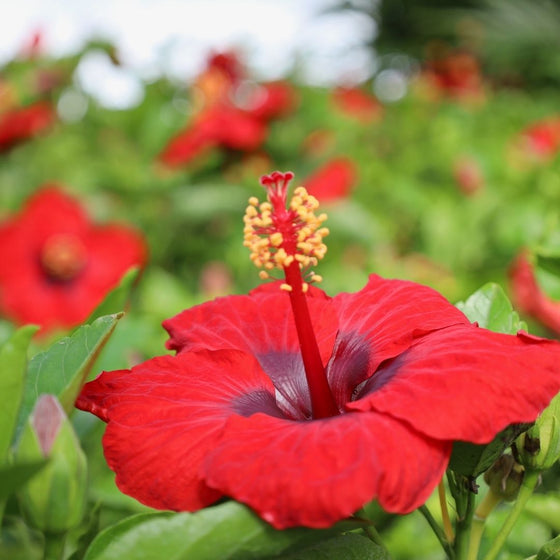 Images Depicted Range in Maturity & Container Size
Pots Not Included Unless Otherwise Stated
Tropical Hibiscus Tree for Sale Online
The Red Hibiscus (Hibiscus rosa-sinensis) is a tropical patio plant known for its stunning summer blooms. This flowering tree prefers tropical climates with full to partial sun, so place it on a sunny patio, screened-in porch, or pool deck.
Red Hibiscus trees can grow up to 8 feet tall and span 3 feet in their natural environment. Its beautiful ruffled flowers bloom from early summer into fall. When you buy your Tropical Hibiscus Tree online, put it outside in the summertime and watch it thrive. In the winter, you can bring your hibiscus inside but since it prefers hot, moist climates, it tends not to bloom indoors.
Attracts hummingbirds, butterflies, and pollinators
Ideal for patios, sun-rooms, porches, and decks
---
Growzone: 9-11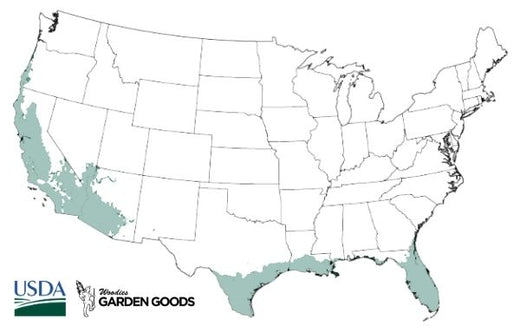 | | |
| --- | --- |
| Hardiness Zone: | 9-11 |
| Mature Height: | 6 to 8 Feet |
| Mature Width: | 2 to 3 Feet |
| Classification: | Green foliage |
| Sunlight: | Bright, direct to full sun |
| Habit: | Upright |
| Flower Color: | Pink or red |
| Foliage: | Green, glossy |
| Soil Condition: | Likes to dry out occasionally |
| Water Requirements: | Likes to dry out between watering |
| Uses: | Patio plant |
---
How to Care for Red Hibiscus
Before you buy a Pink Tropical Hibiscus Standard Tree, make sure to read about the recommended care instructions to keep this plant healthy and thriving.

How should I be fertilizing my Tropical Hibiscus Tree?
Any all purpose, foliage fertilizer will work forTropical Hibiscus Tree. Patio plant fertilizers fall into two groups: water soluble, liquid quick release, and granular, slow release fertilizers. Jack's Classic Indoor plant food works well as a powder, quick release fertilizer that is mixed with water to quickly provide nutrients to a plant that has been in a container for an extended time. On the other hand, Biotone Starter or Osmocote Indoor/Outdoor is an option as a granular, slow release fertilizer that can be applied while potting and planting. Any type of fertilizer offers nutrients that help plants with the transition to a new environment. All of these fertilizers may be used when planting Hibiscus indoors or outdoors. Keep in mind that weeping figs like to be fertilized regularly to encourage new growth and branching.

What is the best soil to use for Tropical Hibiscus Tree?
Tropical Hibiscus Trees need very well draining soil, and prefer to have moist conditions. Regular potting mix works well for plants potted in containers, some sand can be added to the potting mix to prevent the tree from staying too wet. Try to avoid an area with clay soil if planting outdoors to encourage better drainage.

How much light is recommended for a Hibiscus rosa-sinensis?
These tropical plants love to bask in the sun, so it is best to give them at least 6 house of direct sun every plant. They can tolerate some shade but remember that less sun will ultimately mean less blooms.

How often should I water a Tropical Hibiscus House Plant?
The Tropical Hibiscus does not like to dry out to give it water as soon as the top of the soil is dry to the touch. This can mean that you are watering your plant twice a week, and even once a day if it is placed outside in the summer heat.
---
Other Products you may be interested in
---
Customer Reviews