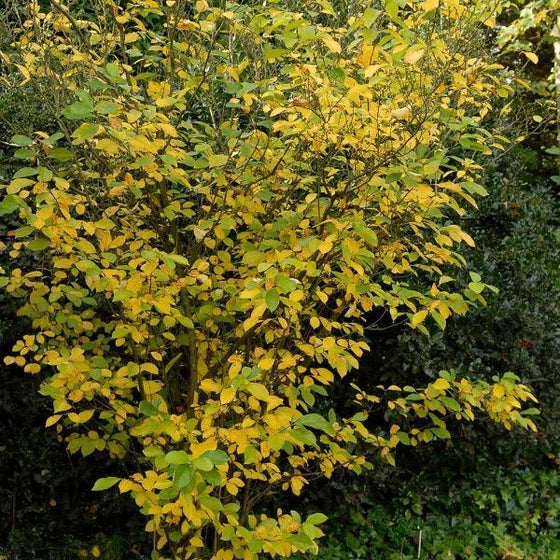 Images Depict Mature Plants
Lindera Benzoin Norther Spicebush for Sale Online
Spicebush or Lindera benzoin is a deciduous shrub that can grow up to 15 feet tall at full maturity. This shrub is native to rich forests, dry forests, or slopes. It gets its nickname, the Nothern Spicebush, from the fiery odor that fills the area when its dried leaves are crushed. The bark is a walnut brown color that is speckled with white. These trees are sensitive to heat and drought, so they do best in shrub borders or woodland areas with lots of moisture and shade. In the fall season, the leaves become golden-yellow, bringing an autumnal and warm feeling to your landscape.
---
Growzone: 4-8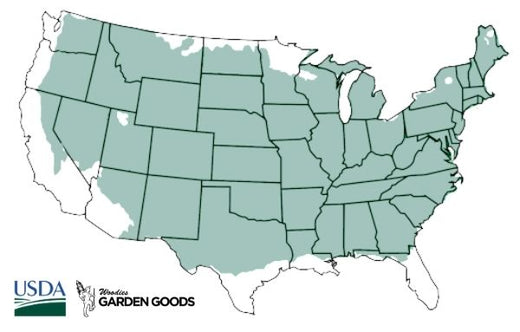 | | |
| --- | --- |
| Hardiness Zone: | 4-8 |
| Mature Height: | 6 to 12 feet |
| Mature Width: | 6 to 12 feet |
| Classification: | Broadleaf evergreen shrub, flowers in May |
| Sunlight: | Part Sun to Part Shade |
| Habit: | Upright, great for naturalizing |
| Foliage: | Evergreen |
| Flower Color: | Lemon Yellowe |
| Pruning Season: | Prune lightly after bloom to promote bushy growth |
| Soil Condition: | Moist, rich, acidic, humusy, well-drained soils |
| Water Requirements: | Water well until established |
| Uses: | Tolerates moist soil and partial shade or full sun |
---
How to Care for Spicebush
Before you purchase your Spicebush shrub, be sure to read the recommended care instructions to ensure your plant stays happy and healthy for years to come!

What is the Best Light for my Spicebush Shrub?
Spicebush shrubs thrive in full sun to partial shade conditions. These shrubs can survive in full shade, but their growth happen changes drastically. They become leggy and less compact, making them look less aesthetically pleasing to some. We recommend that you plant your shrub somewhere where it will receive at least 6 to 8 hours of full sun each day. This plant's versatility to sunlight make it easy to plant in almost any spot in your garden.

What Kind of Soil Does my Spicebush Need?
Lindera Benzoin shrubs naturally grow in wetlands where soil conditions are moist yet well-draining. When planting your shrub, make sure you do so in an area of your garden with moist and well-draining soil conditions. However, it is important not to overwater your shrubs because you could waterlog their roots and damage them. This is typically called root rot disease and can kill your plants if not caught early. Spicebush shrubs do not have a preference to soil acidity and can tolerate both acidic and alkaline conditions well.

How Much Water Does my Spicebush Lindera Benzoin Shrub Need?
During your shrub's first growing season, you should be watering it regularly. Doing so will help your plant's root system establish strong. As soon as your bush has become established, this shrub does not require much more water than the regular rainfall in its growing zones. This is a very adaptable shrub and can tolerate a wide range of moisture conditions, such as short periods of dry soil or extremely wet soil.

Does my Spicebush Require Fertilizer?
We recommend that you fertilize your Spicebush twice during each growing season. The best times to do this are in early spring before their growing season begins and then again in midsummer as a pick-me-up dose. When choosing a fertilizer for your Spicebush, use a fertilizer that is specifically formulated for deciduous shrubs. Doing so will ensure your shrubs thrive and grow to their fullest potential that growing season. Be sure to stop fertilizing during their growth dormancy seasons of fall and winter. Fertilizing during this time of year could do more harm than good to your plants and negatively impact their next growing season.
---
Frequently Asked questions
How Do I Propagate My Spicebush Shrub?
Does my Spicebush Attract Pollinators?
Are Spicebush Berries Edible?
---
Customer Reviews