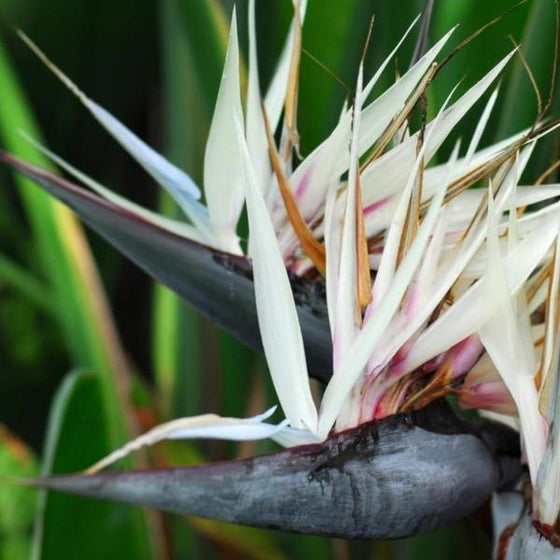 Images Depicted Range in Maturity & Container Size
Pots Not Included Unless Otherwise Stated
White Bird of Paradise for Sale Online
The White Bird of Paradise is an upright house plant prized for its dramatic, glossy, banana tree-shaped leaves. These magnificent plants can reach over 20 feet tall and produce white bird-shaped flowers when grown outdoors. The dramatic foliage reaches 7 to 9 feet indoors, making quite the impression.
White Bird of Paradise loves humidity, so give the soil a good soaking but allow it to dry between waterings, so the roots don't get soggy. Mist with a water bottle if you live in a particularly dry home or climate. White Bird of Paradise does well with a lot of bright light indoors or full sun outdoors and loves living in warm patios and sunrooms.
---
Growzone: 9-11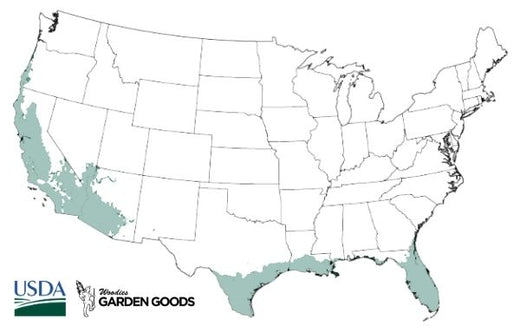 | | |
| --- | --- |
| Hardiness Zone: | 9-11 |
| Mature Height: | 8 to 10 Feet indoors, 20+ Feet Outside |
| Mature Width: | 4 to 5 Feet |
| Classification: | Green foliage |
| Sunlight: | Bright, direct light to full sun (if outdoors) |
| Habit: | Upright palm, narrow at base |
| Flower Color: | Does not flower indoors, white and purple flower |
| Foliage: | Green, glossy |
| Soil Condition: | Well draining, balanced potting soil |
| Water Requirements: | Likes to dry out between watering |
| Uses: | Large houseplant for bright spaces |
---
How to Care for White Bird of Paradise
Before you bring home your new plant, make sure to read these recommended plant care steps for optimum White Bird of Paradise care.

What Is The Best Light For Indoor White Bird Plants?
White Bird of Paradise needs light and lots of it. You'll want to choose a location that gets at least 4 to 6 hours of bright light indoors or outdoors. They can handle a medium amount of light and bright indirect light, but they will not grow as fast. When inside, keep an eye out for any scorch marks on leaves in case the light is too direct; the leaves can typically handle a little more light than other under-canopy tropical leaves can. These plants will grow towards their light source, so make sure to rotate your plant every few weeks to ensure it grows evenly. Wipe dust off of the leaves for improved photosynthesis.

WHAT IS THE BEST SOIL FOR WHITE BIRD OF PARADISE INDOOR PLANTS?
Giant Bird of Paradise Plants does best with well-draining soil. An average indoor potting mix will work, but feel free to amend it with extra perlite or fir bark for added drainage. You can also line the bottom of the pot with moisture stones for some added aeration. When watering, you'll want to be able to check and see when half the pot is dry before watering again, since these plants like to have their roots dry out slightly between waterings. When first planting, if your potting soil is enriched with fertilizer then we would recommend holding off on adding any additional fertilizer for the first 6 months - White Birds can be sensitive to too many minerals or salt in the soil.

HOW OFTEN DO I WATER WHITE BIRD OF PARADISE INDOOR PLANTS?
Watering schedules differ between each individual White Bird of Paradise since their water needs vary depending on their environment and the season. For plants that get lots of light inside but the air is on the dry side, they are going to go through more water than plants that are in warm humid air or have slowed their growth in the winter. It is best to get into a routine of checking your White Bird's soil - once the top two or three inches have completely dried then it is time to water again. If not, then allow the soil to dry more - you can wait until half the pot has dried if need be. Make sure to water slowly so that the whole root ball is hydrated. Misting the air around the foliage helps to create the humidity it loves.

HOW DO I FERTILIZE GIANT BIRD OF PARADISE INDOOR PLANTS?
Slow-release granular plant food or water-soluble fertilizer will both work. Follow the instructions on the label, but we recommend cutting the dose by half, especially for water-soluble plant food. It is better to be more cautious since White Birds do not do well with too many minerals in their soil. Filtered water is actually better for them than tap water for this same reason. Only fertilize in the spring, summer, and early fall - they slow their growth in the winter naturally and should not be fertilized at that time. When repotting or potting up, you can also refresh the soil to introduce a balanced amount of nutrients. You should repot every 1 to 3 years.
---
Additional Information
White Bird has been one of the most popular indoor plants for interior designers and plant enthusiasts since the 1980s, and it still brings a chic touch to any brightly lit room. While there are two main Bird of Paradise plants grown indoors, the White Bird is the much larger of the two, with bigger leaves and a taller growth habit. It grows in clusters; as it reaches its full height of 7 to 9 feet inside you may need to accommodate for extra width as well.
The drama of the banana-plant shaped leaves will instantly give your home a tropical feel. These extra-large leaves have even been used as plates at some tropical-themed restaurants. New leaves spring up from the base of the plant in tall, tightly-wound spires, and they slowly uncurl as the leaf grows. The best way to encourage a new leaf to unravel is to mist it with water daily - do not manually open the leaves. Sometimes the leaves will split slightly on the sides - this is a natural phenomenon, meant to help let the wind through the plants and prevent them from turning into sailboats.
If any leaves turn brown, there may be something amiss with your watering routine. Is the soil dry or moist? Water less frequently if it is moist and more if it is dry past the top three inches. Are you using filtered water? If not, you may have a sensitive White Bird that would do better with filtered water. You can prune dry, cracked, or brown leaves by cutting them down at the base where they meet the rest of the plant using sterilized pruning shears.
HOW TO DECORATE WITH WHITE BIRD PLANTS
If you enjoy long warm summers and have a well-lit deck or patio, then bring your White Bird of Paradise outside in the summer months. As long as the weather stays above 55 degrees Fahrenheit at it is coolest, your White Bird will be OK outdoors. Make sure to transition it outside slowly by adding an hour a day, and then just as slowly when it is time to come back inside when the summer is over. Moving a plant too quickly from inside to outside, or vice versa, can shock a plant and prove fatal. They need to adjust slowly.
If you are looking for plants to compliment your White Bird of Paradise Plant, we think Calatheas would be a great match. These have similar water and humidity needs, and they would benefit from the light shade provided by your bird of paradise leaves. Also, an Orange Bird of Paradise would look handsome in the same room as well, since they have similar shapes but drastically different sizes.
If you live in grow zone 10 or 11, you can plant your White Bird of Paradise in the ground and incorporate this giant plant into your landscaping. They are actually also known as Giant Bird of Paradise for their impressive size. They make grand towering landscape plants at 20 feet tall, great for framing a home or walkway. This is really the only way to see the iconic white bird-shaped flowers - these plants only bloom at maturity and under very specific conditions which are difficult to mimic indoors. The flowers actually sport white petals in the shape of a big plume and a dark blue part that looks like a tongue.
WHITE BIRD OF PARADISE ARE LOW MAINTENANCE
Not prone to insects or diseases, White Bird of Paradise is very low maintenance and easy to care for. Large palm-shaped fronds taper down to thick green stalks that produce new leaves from the center of the plant. Typically, these plants are symmetrical, or very close to it. White Bird of Paradise is an elegant, graceful palm-like plant that gives vertical height and personality to any space, indoors or out. The large, lush green leaves have a very large spread and could serve as a focal point in an atrium or living room.
White Bird of Paradise prefers to be given as much light as possible indoors, preferably nearby southern exposure or in a sunroom. Outdoors, these lush plants can be planted in full sun and where they have room to expand as they will grow about 20 feet tall with a 6-foot spread. Leaves are shredded when exposed to high winds, but tend to hold their shape and form better than bananas.
---
Frequently Asked questions
Is White Bird of Paradise toxic to cats and dogs?
How Tall do Giant White Bird Of Paradise Plants Grow?
Will My Bird of Paradise Plant Bloom Indoors?
What is a White Bird of Paradise susceptible to?
How do I propagate a White Bird Plant?
What is the difference between White and Orange Bird Of Paradise Plants?
How do I prune a White Bird of Paradise Plant?
How often should I repot my White Bird Of Paradise?
---
Other Products you may be interested in
---
Customer Reviews