How To Grow Camellia Shrubs

Plant Guide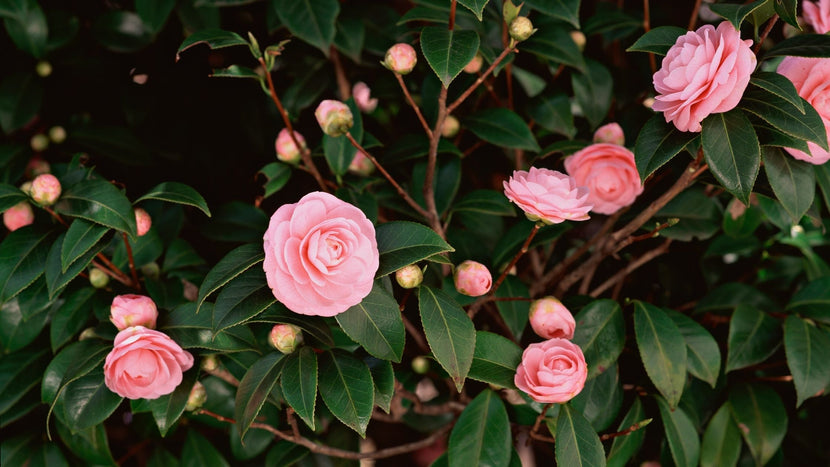 Camellias are stunning flowering shrubs that boast large rose-like blooms with a multitude of petals and a range of color varieties. With a wide selection of spring-blooming Camellia shrubs, along with a selection of fall-blooming Camellia shrubs, you have the ability to enjoy the striking beauty of Camellia flowers multiple times a year!
Beyond their luscious flowers, Camellias are loved for their evergreen foliage that remains green and lustrous year round. Larger varieties of Camellia Japonica even have the ability to be formed into small trees, offering up a unique focal point tp a landscape.
It's best to plant Camellias in fall or early spring to allow the root systems time to establish before taking on the intense summer heat and harsh winter temperatures. Once established Camellia are extremely hardy shrubs that can withstand a wide variety of conditions.
The popular garden additions will surly make a splash in your yard this year with their formal double blooms and extended bloom seasons! The evergreen shrubs are perfect for a wide variety of garden designs ranging from use in mixed borders, hedges and as a yard focal point! Garden Goods Direct offers a wide variety of Camellia shrubs available for purchase!
Ground Rules
Light
Camellias grow best in conditions of part shade. It is vital that you protect your Camellia shrubs from any bright afternoon sun, for their blooms and foliage could be subject to sunburn. Camellia can tolerate some early morning sun, but conditions of part shade throughout the day are ideal for these blooming garden plants.
Water
Camellia shrubs enjoy moderate watering. As a rule of thumb, if the top 2 to 3 inches of your Camellia's soil feels dry then it is time for a good watering. Fall blooming Camellias require less watering and will only need water about once every 1 to 2 weeks. Spring blooming Camellias should be watered more frequently around once a week.
Your Camellia will need more water when first planted as it is still establishing itself and acclimating to its surroundings. After the first month, you can cut back on your Camellia watering schedule.
Soil
Camellias enjoy a well draining, acidic soil for best results. Ideally, your soil pH for growing Camellias should be between 6 and 6.5. Your plant would also benefit from the addition of organic material to the soil to boost the plant's overall nutrient levels.
If you soil pH is not at an ideal acidity level, we recommend using Espoma Soil Acidifier!
Food
Using a fertilizer specified for producing plentiful blooms and bright color would be best for growing a thriving Camellia Shrub. We reccomend Fox Farm's Tiger Bloom Fertlizer for the optimal health and happiness of your Camellia!
Temperature
Once established Camellia shrubs are fairly hardy and can handle a wide range of temperatures. The shrub's evergreen foliage will tolerate year round conditions, and the blooms though appearing delicate can withstand harsh conditions.
Mulch
We highly recommend that you mulch your Camellia with either a ground hardwood mulch or a ground cypress mulch depending on your local availability. Any type of mulch will do, but cypress or hardwood mulch will be of a higher quality and provide better nutrition overall as they break down. Mulching helps to keep weeds away that will compete with your new investment for water and nutrients. A 2 to 3-inch layer of mulch is sufficient, but remember to take care not to cover any part of the stem of the plant with mulch. It's better to leave a one-inch gap of space between the mulch and the stem or trunk of the plant.
Planting Process
We suggest when planting your newly purchased Camellia White by the Gate Shrubs that you dig a hole twice as wide as the root system but not deeper.
Depending on the quality of your existing soil, you may need to add a locally-sourced compost or topsoil to the backfill soil. We do not recommend using straight topsoil or compost as a backfill soil for your Camellia, because more times than not these products will retain entirely too much moisture and will cause the root system to rot.
After back filling and lightly compacting the 50/50 mix of existing soil and compost give the Camellia White by the Gate a good, deep watering. This is not to be rushed. Most of the water you put on the plant at first will run away from the plant until the soil is soaked.
When The Camellia Blooms
| Camellia Type | Bloom Season | Bloom Color |
| --- | --- | --- |
| Camellia White by the Gate | Early Spring | Bridal White |
| Camellia April Dawn | Early Spring | Bright White and Deep Pink |
| Camellia April Kiss | Early Spring | Fuschia |
| Camellia Pink Perfection | Early Spring | Bubblegum Pink |
| Camellia Setsugekka | Early Fall | Creamy White |
| Camellia Yuletide | Early Fall | Crimson Red |
| Camellia Shishi Gashira | Mid Fall | Hot Pink |
| Camellia Kanjiro | Mid Fall | Electric Pink |
| Camellia Victory White | Mid Winter | Pure White |
| Camellia High Fragrance | Late Winter | Pale Pink |
| Camellia Kramer's Supreme | Late Winter | Firetruck Red |
| Camellia Professor Sargent | Late Winter | Crimson Red |