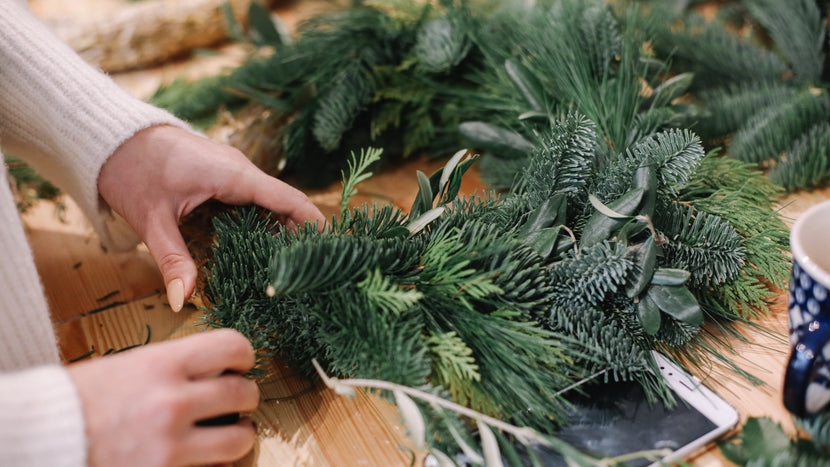 Using And Preserving Live Garland & Wreaths
As the holiday season approaches, there's no denying the charm of natural garland and wreaths crafted from fresh evergreen foliage. These timeless decorations bring the beauty and fragrance of the outdoors into your home. In this guide, we'll explore the versatile uses for these festive accents and share tips on how to keep them looking fresh throughout the holiday season.
Deck the Halls with Fresh Garland and Wreaths
Adorn Your Entryway: Welcome guests with the timeless elegance of a wreath on your front door. Choose a classic evergreen wreath adorned with red bows and ornaments for a traditional look, or go rustic with pinecones and berries.
Create a Festive Mantelpiece: Drape a lush garland along your fireplace mantel to infuse your living space with the holiday spirit. Add twinkling lights, faux berries, or even miniature ornaments for extra flair.
Dress Up Staircases: Wind fresh fraser fir garland gracefully along your staircase banister, securing it with discreet hooks. Finish the look with clusters of colorful ribbons or miniature stockings.
Set a Gorgeous Table: Place a wreath around a candle centerpiece for a stunning dining table decoration. It adds a touch of greenery and fragrance to your holiday feasts.
Five Tips for Keeping Your Garland and Wreaths Fresh
1. Choose Quality Greens
Start with fresh evergreens like cedar, pine, fir, or juniper. Inspect the foliage for signs of dryness or browning before purchasing.
2. Mist and Soak
Regularly mist your garland and wreaths with water to maintain moisture. For wreaths, you can also submerge them in a tub of water for a few hours to rehydrate the greens.
3. Avoid Heat and Direct Sunlight
Keep your decorations away from heat sources, such as radiators and fireplaces, as well as direct sunlight, which can accelerate drying.
4. Use Anti-Desiccant Spray
Apply an anti-desiccant spray to help lock in moisture and reduce needle drop. Reapply as directed on the product label.
5. Display with Care
Hang wreaths and garlands in well-ventilated areas to prevent mold growth. Avoid letting them touch walls or windows where condensation can occur.
Shop Fresh Greenery Online
Natural garlands and wreaths are versatile, fragrant, and endlessly charming. Whether you're decorating your home for the holidays or looking for creative ways to bring the beauty of the outdoors inside, these evergreen accents are sure to add a touch of festive elegance to your space. By following the tips for keeping them fresh, you can enjoy their beauty throughout the holiday season and beyond!
The holidays are stressful enough; let us tackle the décor this year. Plus by shopping all of your holiday needs online, you can skip the stress of crowds and lines! Our holiday shop is filled with everything you need to elevate your home this Christmas season.