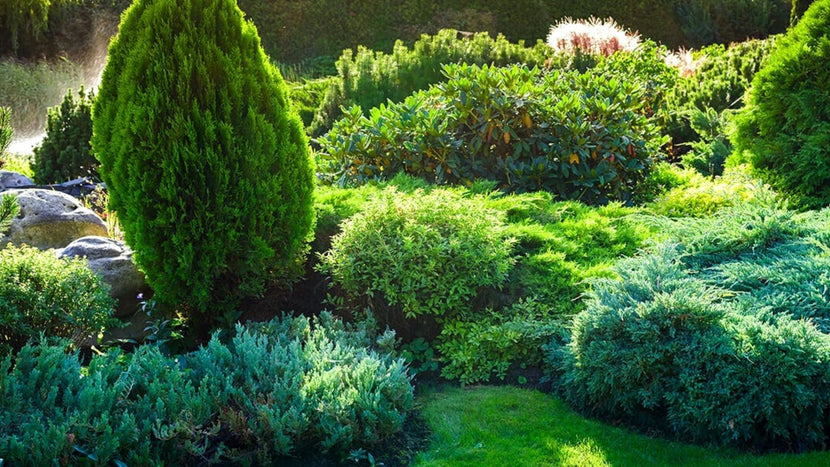 Using Evergreen Shrubs to Create Winter Interest
Have you ever driven by a home during the winter months and thought to yourself that the house looks so lovely during the winter? When a landscape looks excellent in the winter, it's usually because the homeowner has properly planned out the landscape to remain interesting throughout the year. We call this design principle "the four-season landscape."
The four-season landscape plan is more simple than you might think. It involves planning out the garden so that there are attractive colors and textures during each season to excite the senses. In part one of this blog series, we discussed using larger evergreen tree trees to create a backdrop to highlight smaller shrubs with bright red berries or colorful red stems.
Winter is one of the easier seasons to create an exciting landscape. From early fall to early spring, evergreen shrubs add interest to the winter landscape. In Part two, we will discuss using evergreen shrubs in the winter garden.
Evergreen shrubs add a sense of permanence to the landscape. They can be planted as focal points or to draw your eye to a particular garden area. They can also be planted in groups which add areas of bold color to the landscape.
When discussing the landscape, many think this only refers to places in the yard. The landscape includes your patio and porch, and few plants look as good as evergreen shrubs planted in pots on the deck or patio. Many are hardy enough to live in large pots throughout the year and should be considered part of the landscape.
Broadleaved Evergreens vs. Conifers
There are two types of Evergreen Shrubs.
Broadleaved evergreen shrubs such as Azaleas and  Camellias are just two types of shrubs that hold their leaves through the winter. There are many others, and these plants are often seen as screens or hedges.
Camellias have a special place in the hearts of gardeners because they flower in the winter and have vivid colors such as red, Pinks, and white. Taller evergreen plants with dark green foliage are perfect backdrops for smaller deciduous shrubs such as Winterberry holly or Red Twig Dogwoods.
Broad-leaved evergreens do have limitations. In the extreme northern parts of the country
Conifers or needled evergreens are the evergreens most people picture in their minds. The number of conifer varieties available to gardeners has increased tenfold in the last ten years. Breeders are introducing new varieties every day, it seems. We are excited about what the future holds for this group of plants.
Conifers are well suited for northern gardeners, and many extend their range well into not only the northern reaches of our country but into Canada as well. Conifers are a diverse group of plants, and you would probably be surprised to know that even though their evergreen, many new varieties have leaves that turn color in the depths of winter, as is the case with Thuja Firechief.
Designing with evergreen shrubs
Evergreens play a key role in the four-season garden plan. There are many ways to incorporate evergreen shrubs into your winter landscape, from borders to accents, to potted gardens!
No matter how you incorporate the magnificent winter plants into your yard, you can have peace of mind knowing that they will remain beautiful and vibrant throughout the winter season!
The 10 Best Evergreen Shrubs for Winter Interest
1. Mahonia Winter Sun
First on the list of favorite evergreen shrubs to provide winter interest is a long-time favorite: Mahonia Winter Sun.
Deep forest green foliage shines lustrously and is complemented by the shrub's unique crowns of neon yellow blooms. Need I say more? Look no further than Mahonia Winter Sun if you are searching for a shrub to brighten up your dull winter landscape.
2. Wintergreen Boxwood
If you want a clean and classic look in your landscape, the Wintergreen Boxwood is the evergreen shrub for you! These shrubs are not only clean-cut and stunning but also hardy to the elements and handle cold temperatures extremely well!
Layer this classic shrub with your vibrant bloomers to create a harmony of hues in the winter landscape! Wintergreen Boxwoods also work great to create a stunning winter border for your yard.
3. Golden Euonymus
Don't let the holiday lights be the only golden spice in your life this winter season! Bring those warm go
lden hues with the breathtaking Golden Euonymus shrub. Vibrant green leaves are scalloped in a warm gold to make for unmatched color in your winter garden.
4. Nandina Firepower
Festive doesn't even begin to describe this standout shrub! Nandina Firepower is an explosion of lime green and deep maroon foliage.
Though smaller than most nandinas, don't underestimate the ability of this shrub to make a real statement in the yard! Paint your landscape with rainbow colors this winter when you plant Nandina shrubs.
5. Color Guard Yucca
Next on the list of shrubs to love for your yard this winter season is the Color Guard Yucca. Boasting neon yellow and green swords of foliage, these unique shrubs bring sharp texture and shape to a landscape!
 6. Gold Dust Aucuba
For understated winter beauty, plant the Gold Dust Aucuba! These plants are low maintenance but have a high reward!
Dark green leaves are speckled with brilliant golden flecks of color on the Gold Dust Aucuba will have you in love with your winter yard. As an added bonus, the Aucuba is drought and deer tolerant!
7. Kanjiro Camellia
No landscape is complete without colorful blooms! While winter is when most blooming plants are headed into dormancy, Camellia shrubs are warming up!
The Kanjiro Camellia produces many hot pink flowers with golden yellow centers. The winter-blooming shrubs are extremely attractive when used as a focal point in the landscape.
8. Red Tip Photinia
The colors of Christmas will fill your yard when you plant Red Tip Photonia in your winter landscape.
The deep green hues and vibrant red tips aren't all you have to look forward to either! As the cherry on top, these landscape stunners also finish the year with bright red berries!
9. Olive Martini Elaeagnus
Olive Martini Elaeagnus is a fun twist on the classic cocktail for the eccentric and the bold.
Make a grand statement in your winter yard with this evergreen shrub's lustrous green foliage edged in gold. These shrubs look fantastic in mixed borders or as a privacy screen!
10. Blue Star Juniper
Your cold-season landscape would not be complete without a frosty touch of blue! Blue Star Juniper shrubs work beautifully in the understory of a landscape.
The plant's dense form and spreading habit make it the perfect option for rock gardens and the bare spots of your winter yard!
Until next time, see you in the garden.
-Woodie