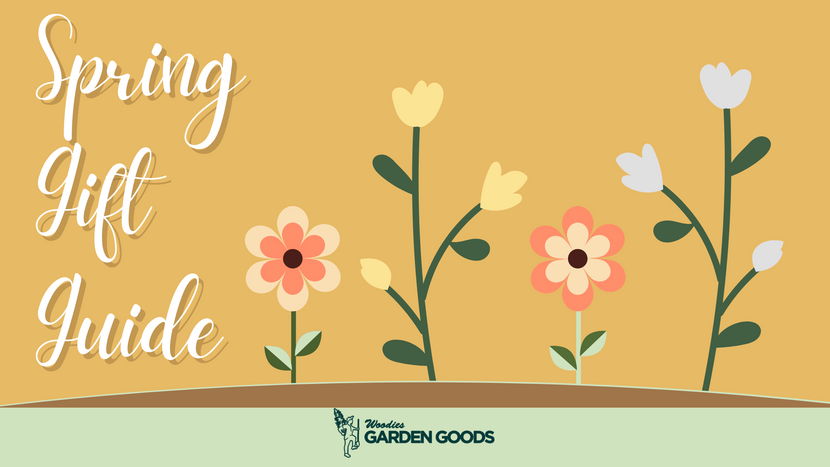 The Ultimate Spring Gift Guide
Between springtime birthdays, Mother's Day, Easter, and all the little holidays in between, there is so much to celebrate this spring season. Give the gift that keeps on living this year with a stunning plant from Garden Goods Direct! 
The Garden Goods Direct team is here for you and has a wide selection of flowering plants. These living gems are perfect gifts for that special someone in your life, whether that be mom, a life partner, friend, or even yourself! If you are looking for a meaningful gift that's more permanent than a bouquet of flowers, a card or some chocolates, then you've come to the right place. 
For a little springtime gift inspiration, read on to learn about some of the GGD Team's favorite flowering gifts of the season. 
** To ensure you get your plants by Mother's Day, Sunday May 8, we recommend you place your order no later than Monday May 2!**
Annuals as gifts are like a nice little treat for your loved one to enjoy this year. They live from seed to flower to seed within one growing season.
Our most popular form of annuals as gifts is hanging basket plants. From petunias to lantanas to calibrachoa, flowering annuals in hanging baskets make for a beautiful addition to a home, especially for use on porches and patios. 
Other annuals offered at Garden Goods Direct include stunning and bright Begonias, as well as sun-loving Portulaca. Our collection of annuals is expansive so you can choose a plant that is perfect and unique to the person you're gifting to!
Some plants are annuals when they are in colder climates and are perennials in warmer climates. We recommend checking what growing zone you live in so you can purchase the right plants that will thrive in your garden.
Loved for their intoxicating fragrance and the way their white flowers contrast beautifully with the plant's leathery green leaves, gardenias are the perfect ornamental shrub to give your mom for Mother's Day, a family member for Easter, or yourself for a nice little spring treat!
White flowering garden shrubs are incredibly versatile. If you don't quite know what color flowers your giftee likes, or what is already in their garden, a white gardenia is a great option that will blend with just about any garden or yard design.
White flowers can go virtually anywhere. Stunning for use in hedges, along sidewalks, and at home entryways, the options for this unique flowering shrub are endless. These are also a great, low maintenance plant to begin a monochromatic garden!
Loved for their class beauty and masses of flowers, Hydrangeas are a must-have in any garden. They come in a wide variety of colors and sizes to suit any garden's aesthetic.
These shrubs are such an effortless way to enhance the curb appeal of your home and will last for years to come. Depending on the soil conditions and acidity level, your gifted hydrangeas could turn new colors each year, making them a beautiful surprise every time they bloom.
Not only are these flowering shrubs beautiful, but they are highly tolerant of varying soil types and are easy to cultivate. Plus, with the option to add cut flowers to dried and fresh flower arrangements, Hydrangeas are truly the gift that keeps on giving! 
Potted plants make for virtually foolproof gifts. This gift is two-in-one because not only is your loved-one getting a beautiful plant, but a perfect pot along with it.
A potted indoor plant can go anywhere in a home and will always be a sweet reminder of you every time the gift receiver passes by, waters and cares for it.
There are tons of plants to choose from, such as Snake plants, Chinese Money Plants, Pothos, Aloe Vera, and many more. These are great universal gifts because no matter where you live, what your hobbies are and what interests you, there will always be room for another plant.  
5. Camellia Shrubs
Camellia flowers are the epitome of beauty and luxury and will surely make someone feel special when they receive them as a gift. Forget the bouquet and give your special someone the opportunity for endless cut flowers with a Camellia shrub!
This shrub's elegant, long stems and fragrant full blooms exude whimsical charm and timeless beauty. The flowering shrubs come in a variety of colors and are beautiful both when planted in the garden, or cut and arranged.
Camellia Bushes look beautiful when planted in a garden and grow upwards of 5 to 6 feet tall. Plant them among other shrubs and perennials to add extra pizazz for all to see. 
6. Mandevilla Plant
Mandevilla plants add a pop of tropical paradise to any yard or garden. These flowers are known for their trumpet-shaped, bi-color flowers complimented by lush blue-green foliage.
Mandevilla is well-loved for its resistance to deer and rabbits and its ability to attract pollinators. These plants do best in warm and humid weather and are decently low-maintenance vining plants.
They grow well with other flowers and grow upwards of 20 feet tall in their ative grow zones. Mandevilla can also thrive in containers and planter beds, making them work in any location in a loved one's landscape.
7. Lavender
Loved for its irresistible aroma and multitude of uses, Lavender is an herbaceous perennial that makes the perfect gift! 
Beyond the plant's  fragrance and versatility, we love lavender for its ability to light up a garden with its electric purple hues, all the while attracting and supporting local pollinator populations! 
Whether you're in search of the perfect gift for mom this spring season, or you're looking for a gift that keeps on giving, lavender is a top tier option! Beyond enjoying their essence and beauty, lavender plants can be used to make a wide variety of products ranging from soaps, sprays, lotions and every good smelling thing in between!
8. Fruit Tree
Fruit trees are both beautiful and functional additions to any landscape. Fruit trees are covered in stunning blooms, lush foliage, and tasty fruits that are a worthwhile investment for any garden.
Buying a friend a fruit tree will be a sweet treat every year when they harvest and enjoy the memory of you giving them this gift. Fruit trees that make great gifts include peach trees, apple trees, cherry trees, lemon trees, and well, just about any fruit you can name that grows on a branch!
There are so many options you are bound to find one that your mother would love to grow as her very own source of fruit. Create an outdoor space that she can share with friends, neighbors, and loved ones for years to come.
9. A Garden Goods Direct Gift Card
Are you still stumped on the perfect springtime gift to give a friend or loved one? When in doubt. A gift card to America's Online Garden Center is a fantastic option, especially if you are in a pinch for a last-minute gift! 
We offer both the option of physical gift cards, and E-gift cards for your convenience. There's nothing like receiving a voucher to buy whatever plant your heart desires! 
Shop Garden Goods Direct
Whether you're searching for that perfect gift for a significant other, are looking to wow a friend with a housewarming gift, or you want to show your mom just how much she means to you this Mother's Day, Garden Goods Direct has the gifts for you! 
We guarantee gifting a plant to a loved one will be memorable and sentimental, and will last far beyond the special occasion at hand. Gift giving is hard...let us simplify it for you! Shop online today and have your gifts conveniently shipped to your front door.