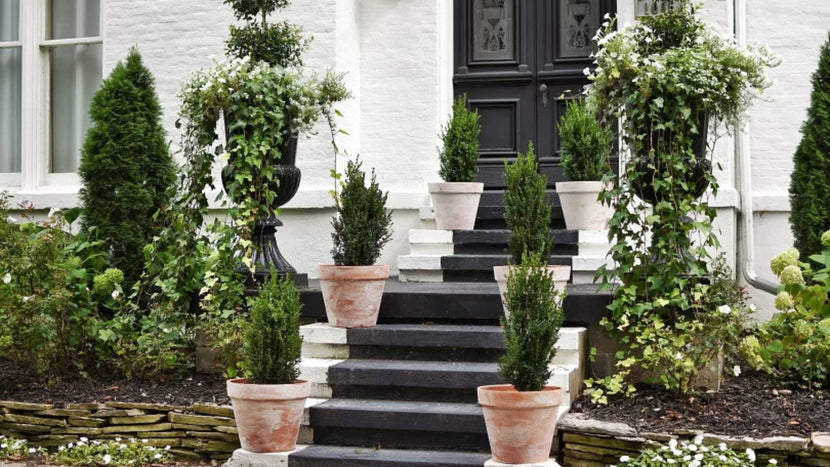 The Basics of Monochromatic Landscape Design
When it comes to designing your landscape, there are so many different styles and approaches you can take. A design style that has become increasingly popular in 2022 is the idea of monochromatic landscape design.
Beyond just choosing a selective color palette to go off of, there are many additional design tips and tricks you can take into consideration! For the purposes of this blog, we are going to reference examples from the sophisticated and elegant social media figure: The Iron Victorian.
Based in Howell, Michigan, couple Cristy, and Michael Pack are the masterminds behind the beauty that is The Iron Victorian. In the restoration of their 1800s Victorian Mansion, they have brought a whole new meaning to monochromatic garden design.
We partnered with The Iron Victorian this summer to incorporate our Wedding Gown Hydrangeas into their upscale Victorian landscape, and we could not be happier with how the project turned out!
Select Your Garden Color Palette
The first step in incorporating a more upscale feel to your landscape is settling in on a set color scheme. The Iron Victorian opts for tints and shades of white and green to keep its theme simple and sophisticated.
Initially, you may feel that just centering your landscape plan around one or two colors can feel limiting and mundane. However, once you start to dive into the various textures, shapes, and sizes that different landscape plants can offer you, you will be amazed at how your landscape will transform. White gardens are a popular choice when going for a more upscale and refined look.
While monochromatic alludes to the idea that you are only to use a single color, the design is more often than not centered around multiple shades of color. You can easily include a range of different hues within your monochromatic color scheme.
Below are a few popular color palettes and themes that we have been loving recently.
Creating Contrast in The Landscape
The next step to creating a magnificent landscape that is of monochromatic design is to create a sense of contrast between your plants.
When you are only using one or two colors in the landscape, plants can start to blend together. This can take away from the overall beauty of the individual plants. Through the steps of spacing out your design, layering plants, and providing a contrasting backdrop, your yard will exude sophisticated elegance.
Cristy and Michael do a wonderful job of creating contrast in their landscape. By planting leafy greens around the white brick exterior of their home, to layering various heights of plants, they create a beautiful juxtaposition of color, texture, and size.
In their collaboration with us, The Iron Victorian planted their Wedding Gown Hydrangeas in front of a row of pleached pear trees. The project provided a beautiful contrast in height and structure. Additionally, they mulched around the base of the plants with a beautiful dark mulch. This made the Hydrangea shrubs stand out even more against their vibrant green grass!
Going Beyond The Blooms
When planning out your garden, it's easy to get carried away with the excitement of blooms. In designing a monochromatic garden it is important to look beyond the blooms and incorporate evergreen plants as well!
The Iron Victorian works in this element of design effortlessly as they incorporate manicured boxwoods and arborvitaes, along with various topiaries throughout their landscape! In fact, the focal points of their garden are more often than not evergreen plants. Various potted green trees and shrubs are placed meticulously around the Victorian home! The white flowers are more of just an accent to all the beauty.
Incorporating Structure and Pattern Into Your Landscape
The last important step to create a monochromatic landscape design is incorporating a sense of structure and pattern within your landscape. Cristy and Michael do this at The Iron Victorian through their use of stone décor and black and white striped accents!
Through this tactic, you can add unique flare and elements of interest to your yard without taking away from the beauty of the plants.
For the full design and Garden Goods Direct x The Iron Victorian collaboration, head to our Instagram Page!
Design With Garden Goods Direct
Like most of us in this crazy world, Cristy and Michael are an extremely busy family. In juggling the tasks of everyday life, caring for their baby Lincoln, and restoring their beautiful home, it can be hard to find the time and energy to make it to their local garden center!
This is why they chose to partner with Garden Goods Direct. We offer the beauty of landscape plants with the added convenience of delivery straight to your front door! Don't delay– start your dream landscape design today! For more tips and tricks in landscape design, be sure to check out our collection of blogs!