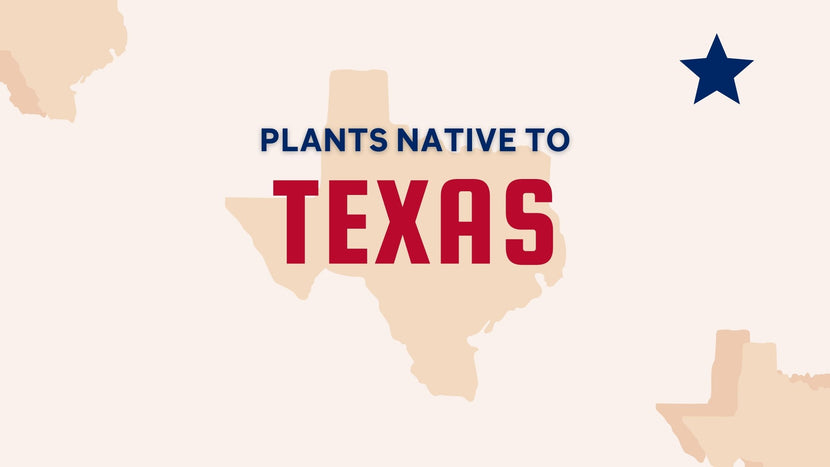 Texas Native Planting Guide
As the Lonestar state home to historical beacons, fertile farmland, and a plethora of stunning nature attractions, Texas lives up to its big name. Beyond the utter size of the state is a diverse range of climates, soils and ecosystems to explore. Ranking number one in the United States for the most farms and the highest acreage counts, Texas gives way to so much room and opportunity for unique native planting options. 
Whether you live in the coastal regions of Texas or in one of its major cities, Garden Goods Direct has some gorgeous native plants that will work for you! Keep reading to learn more about some of our most enjoyed Texas native planting options you can incorporate into your Texas garden this season. 
The Importance of Planting Native
With all this focus on choosing native yard and garden plants, you may be wondering: Why should I plant native?  The Garden Goods Direct team is here to inform you of all the benefits planting native has to offer you, but the bottom line is that your planting decisions, no matter how small, matter. 
The simple decisions you make in your tree, shrub and perennial plantings this season can make a monumental impact on your local ecosystem! Native plants occur and grow naturally in the region in which they evolved. It's no surprise that native plants will grow best in their region of origin because conditions are ideal. In addition to achieving your plants optimal growth capacity and producing the best garden possible, you should consider planting native for the benefit of the environment. 
Planting native helps the environment through combating climate change, conserving water, and supporting local wildlife and pollinators necessary for a balanced ecosystem. You can change the planet starting with your own yard… So let's get to planting those native gardens! To learn more about the benefits of planting native, check out our blog: Planting To Attract Local Wildlife and Benefit Your Ecosystem. 
6 Native Planting Options For Texas
Now that you understand the immense impact planting native can have on your ecosystem, check out these six Texas native plants to add to your yard this planting season. 
Inland Sea Oats
First on our list of Texas native plants we love is Inland Sea Oats. Botanically referred to as 'Chasmanthium latifolium,' Inland Sea Oats are a unique perennial grass that are perfect for naturalistic style gardens. Loved not only for their beauty, Inland Sea Oats are also a Texas native perennial that have a very low maintenance care regimen.
Ideal care for Inland Sea Oats includes part shade to full shade and a moist, sandy, loamy soil. These plants are readily adaptable as well and will tolerate a wide variety of soil types, and unlike most yard plants, they will tolerate poor drainage. 
These feathery tall grasses bring multi seasonal beauty to any Texas yard with their color changing habits throughout the seasons. In the spring you can enjoy vivid green grassy hues that gradually transform into a natural ivory shade. These popular yard plants reseed easily and are frequently used to prevent soil erosion along streams. 
Next on our list of Texas native plants is the classic and hardy Texas Red Yucca. These little firecrackers will make a bold statement in your Texas garden, for their bright red color and multitude of blooms makes them impossible to ignore.
Texas Red Yucca is a succulent perennial native to the southern regions of Texas. Hardy does not begin to describe the resilience and strength of these popular yard plants for they can handle sub zero winter temperatures! 
Additional reasons to love these showy landscape plants include their long bloom time, low maintenance care needs, drought tolerance, and their attractiveness to local pollinators. Plant Red Yucca in your Texas yard this season to enjoy plentiful blooms all summer long year after year!
As a perfect option for Texas pollinator gardens, the Achillea is a Texas native perennial that attracts butterflies like no other! Delightful tiny clusters of blooms will fill your Texas yard through the summer season with these Common Yarrow plants. 
With an ability to handle high temperatures and intense humidity levels, the Texas summer climate has nothing on these hardy sun-loving perennials. Ideal conditions for the Apricot Delights include a good open sunny position in well-drained soils. 
Blooming from June through to September, you will be taking in the Achilleas' beauty day in and day out for months! These stunning Texas perennials make a grand addition to back borders, or in rock and container gardens. 
Loved for its unique pink coloring and hardiness to the elements, Pink Muhly Grass is a must have for your Texas Yard this planting season. This Texas ornamental grass is irresistible and brings so much life and beauty to a landscape!
As a relatively carefree yard plant, Pink Muhly Grass enjoys warm, dry climates, bright sunshine and a well draining soil. Once established, these plants do not require much water, making them ideal for conserving such an important natural resource! 
These fun native plants work to provide multi seasonal interest to a landscape as well, boasting slender green grass in spring and summer, and pushing out the unique fuzzy pink flowers into the fall. 
Next on our list of Texan native plants is Red Buckeye. Ranked 'among the most beautiful of any temperate-zone tree,' the Red Buckeye sports an unusual oval shape and blooms bold red flowers in April and May. 
Ideal care for these popular US native trees includes full sun to partial shade and an acidic, loamy soil medium. These plants are fairly drought tolerant and would prefer less water as opposed to over-watering which may lead to leaf spot. 
These stunning Texas-native specimens work to benefit your ecosystem by attracting hummingbirds and bees. Additionally, you will support local woodland life for they can seek out shelter and food through these beautiful red trees. 
Last on our list of plants native to Texas is the classic and ever-so enchanting American Fringe Tree. With enchanting white flowers that make way before the leaves even protrude, the American Fringe Tree is truly a spectacular addition to any Texas yard in early spring. 
Proper conditions for the American Fringe include full sun and a well draining soil medium. These trees are great because they will tolerate just about any soil medium as long as it allows for drainage. The trees tolerate both drought and high moisture making them just an all around front runner for Texas tree planting options. 
Perfect for small Texas yards and secluded landscapes, the American Fringe Tree is compact and small in size. As an added bonus, the gentle white blooms transform into blue berries that are very attractive to local wildlife.
Shop Garden Goods Direct
In conclusion, Texans don't have to plant big to make a big impact; they just have to plant native! The options for Texas native planting are endless. We hope through this Texas Native Planting Guide that you become inspired by the act of planting native!  
The Garden Goods Direct team has a wide selection of native trees, shrubs and perennials to provide you with the necessities to create the native garden of your dreams! Shop online today and have your native plants shipped conveniently to your door just in time for planting season.