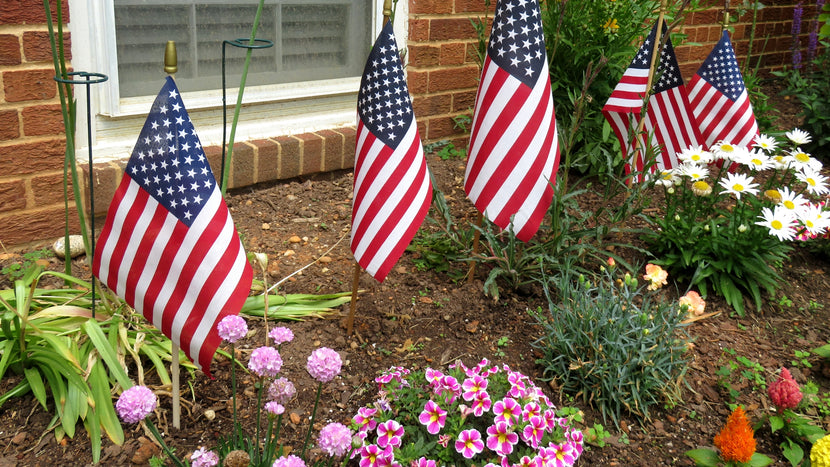 Simple Steps to Create a Memorial Garden
Memorial Day is a holiday that, though having been celebrated for the last 150 years, can often be overshadowed and over-looked for its true meaning and importance.
Before diving into our tips and tricks for crafting a memorable and beautiful Memorial Garden, we wanted to first shed light on the fact that this day is not just about cookouts, nice weather and gardening. Memorial Day is a historic day that is meant for mourning and honoring the US Military members who fought for our country and sacrificed their lives for our freedom.
While Memorial Day marks the official start of gardening season, it's also a time to honor and reflect on the memories with our fallen loved ones who fought for our freedom. As a means of continual celebration and honor though, gardens are a perfect space to create solitude and plant in memory of those we cherish. Whether your outdoor garden is big or small, creating a memorial garden is simple and easy.
Below you can take note of our simple steps and tips to creating a memorable and beautiful space to commemorate and honor our Civil War Veterans.
Crafting a Memorial Garden
Assess Your Space
Before dusting off your shovel, choose a spot and assess the lighting and overall garden landscape. If you are unsure what type of plants will do best in your garden, we recommend utilizing our USDA Grow Zone Finder to determine your designated grow zone.
Once you assess your space and determine your grow zones, you are ready to tackle the land!
Prep Your Land
Providing your plant with the best tools to thrive is important, and choosing nutrient rich soil is key. Depending upon which types of plants you decide to use, you will need to provide them with the necessary soil additives, nutrients and upkeep to thrive!
If you're planting in a small space, we recommend choosing an above-ground planter and use of a well-draining soil medium. You can place these on your porch, patio, deck, or balcony.
Choose Your Plants
Once your space is prepped and ready for plants, the hard part is over and you can let your creative mind step in. It's time to choose your plants! Don't feel pressured to plant multiple plants - a single flowering tree or specimen perennial plant will do. It's truly the thought that counts!
As a means of honoring fallen soldiers, a common option is to pick plants that represent our nation. Selecting flowering plants that range in colors; specifically red, white and blue, is a great and easy way to celebrate the brave men and women who fought for our freedom!
Additionally, another great way to honor both the fallen soldiers and the land of the free, is to choose native. Choosing plants that are native to our country is a great way to treat our beautiful country with the love and respect it deserves.
Elevate the Design
Last on our list of tips to creating a meaningful Memorial Garden is the final step of including symbolism and long-lasting commemorative items throughout the garden.
Placing objects that represent your loved one is a great way to elevate your memorial garden. Here are a few ideas to get you brainstorming.
Choose a sculpture such as angels or birds, including eagles for veterans
Add a stepping-stone or plaque with a favorite quote or scripture
Place a chair or bench in your memorial space to meditate, reflect, or rest
Incorporate mineral crystals that encourage mindfulness
Plant in a heart shape or flower design
Whatever you choose to create, make it meaningful and take your time. Happy Memorial Day!