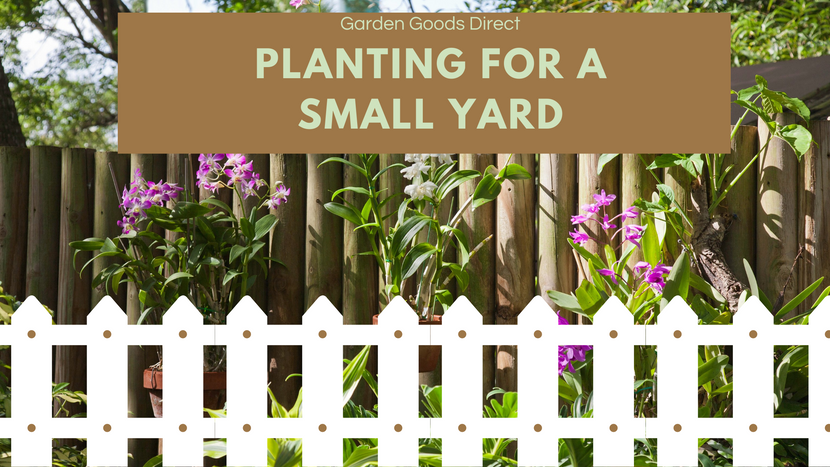 Planting For a Small Yard
If you have acres of land, planning out a landscape can feel like an endless number of opportunities and choices. Whereas, if you have a smaller yard to plant in, like a courtyard or fenced in yard, you may feel confined to planting a select number of plants, or you may even be discouraged from planting at all!
Here at Garden Goods Direct, we don't care if your yard is 100 acres or .01 acres. Your dream landscape is possible! With a few helpful guidelines, along with some ideal planting options for smaller yards, we will have you planting your dream garden in no time.
Assessing The Conditions
Measure Your Space
The first step to planning for your secluded landscape is to figure out what you have to work with. If you are unsure of the dimensions of your yard, give it a quick measuring to get a gauge of how many and what kind of plants you can fit in your space.
Decide How Much Ground You Want To Cover
When designing for a small area, it is important to remember that less is more. You want to make sure you still have ample room to move about your yard and enjoy the plantings rather than a yard packed with so many plants it is unnavigable.
Know Your Yard's Grow Zone and Lighting Conditions
Last in your assessment of your small landscape's conditions is understanding your yard's growing and lighting conditions. Planting specimens that will be happy in your yard's climate is one of the best things you can do to ensure a beautiful flourishing landscape. To gauge this information begin by finding out your USDA's Plant Hardiness Zone.
To designate what kind of lighting your space gets, do a simple evaluation of your yard's lighting patterns during the day. Understanding the specific climate and light conditions of your yard will be important in determining what trees, shrubs and perennials will be successful in that space.
Following Small Yard Design Guidelines
1. Rule of Plants Per Square Foot
The first planting guideline you should take into consideration when planning out your small landscape is spacing. Depending on the average growth rate and mature size of the plants you choose, you must properly space out each plant to give them room for growth.
The last thing you want is for your plants to outgrow your space in a matter of months. Here are some suggested spacing guidelines when it comes to plants per square foot:
For plants with a .5 to 1 foot average mature growth, we recommend planting two plants per square foot
For plants with a 1 to 2 foot average mature growth, we would recommend one plant per square foot
For plants larger than a 2 foot width average mature growth, one plant per two square feet would be the recommended planting spacing
2. Gauging a Good Tree-to-Shrub Ratio
Next on our list of design guidelines for your small landscape, is planning out a reasonable tree to shrub ratio. To maintain a good visual balance, you don't want to overload your space with too much of one or the other. To get a good balance we recommend mapping out your garden visually, whether that be simply with pen and paper, or a bit more involved through a landscaping software program.
It's important to remember that there is no specific ratio that we would recommend, as it all depends on the layout of your yard and your personal preferences.
3. Planting Vertically Not Horizontally
The great thing about small spaces is that while you may not have room to grow outwardly, your room to grow up is limitless. If you are bummed about not being able to choose a wide variety of plants for your small yard, take it on from a new perspective!
Quite similar to an urban mindset on skyscrapers, where you cannot build outwardly, build up! Consider selecting plants that are narrow and tall rather than short and wide.
Additionally, you could install vertical growing trellises and plant walls to create some unique visual appeal to a space.
Choosing The Right Small Yard Plants For Your Landscape
Choosing Plants with smaller average mature growth and slower growth rates is key to crafting the optimal small landscape design. Doing so will work to ensure that your yard's landscaping does not become overwhelmed and overrun by plants that have outgrown their space.
The Garden Goods Direct Team has compiled a list of great plants for a small landscape.
Small Shrubs For A Small Yard
Anna's Magic Ball Arborvitae
These adorable little spherical shrubs are ideal small plants for small landscapes! The Magic Ball Arborvitae's bright yellow foliage will work to add year-round interest, not to mention this evergreen plant holds up great in direct full sun. With a mature height and width of 1 to 1.5 feet, you will love these low maintenance little balls of greenery.
Chestnut Hill Cherry Laurel
These compact shrubs are a smaller form of the popular hedge plant Prunus 'Otto Luyken.' The plant's compact growing habit and shiny evergreen foliage makes them a sleek addition to any landscape. Most frequently used in mixed border, hedge and foundation plantings, these broad-leaved evergreen shrubs only grow to be 3 or 4 feet at maturity.
Little Quick Fire Hydrangea
This tiny shrub is a flowering dwarf plant that fits easily into any landscape! Blooming in early spring, this plant's gorgeous pink-red flowers will bring color and excitement to your small space and work great in mixed borders, mass plantings and container gardens! Reaching a mature height and width of three to five feet, the Little Quick Fire Hydrangea is sure to spice up your smaller yard without overtaking the space.
For a more expansive selection of small landscape shrubs, check out our Dwarf Shrub Collection!
Small Trees For A Small Yard
Chinese Fringe Tree
Though small, these trees make a large impact on a landscape. With the trees thin upright branches and fragrant white flowers, the Chinese Fringe makes for a beautiful accent piece in smaller yards.
Autumn Moon Japanese Maple
The Autumn Moon Maple is a surefire way to add interest and excitement to your small yard. Loved for its brilliant green and orange foliage, in addition to its adorably compact nature, these Maples are a perfect small tree for small gardens and yards with limited space. These trees reach a mature height between 12 and 15 feet tall and a foliage width of 8 to 10 feet.
Little Gem Magnolia
If you are looking for a subtle yet elegant addition to your small landscape, look no further than the Magnolia Little Gem. The dwarf tree's glossy green foliage paired with its simple white blooms are the definition of understated beauty. The tree's moderate growth rate and small stature makes it the perfect choice for smaller yards and secluded landscapes.
For more options on small trees for your yard, check out our Dwarf Tree Collection or take some time to read our Small Trees Blog!
Small Perennials For A Small Yard
Junior Walker Catmint
As a sterile dwarf form of Walker's Low Catmint, this perennial is compact growing, finely textured, aromatic, and herbaceous. As an added bonus these sweet flowering plants are a satisfying hub for pollinators! Growing to a mature height and width of 1.5 to 2.5 feet, these purple perennials are perfect for small gardens and landscapes.
Dwarf Mondo Grass
This simple low maintenance ground cover plant is gracefully arching and a beautiful bright green. Also ideal for yard borders and edging, use these ornamental grasses in your small landscape for a fun new visual aspect. Maturing to a height of only 3 to 4 inches, these little perennials will add flare without taking over a small landscape.
Astilbe Pumila Plants
This low growing perennial's fluffy purple blooms reach tall but not wide, making it the perfect plant to layer into your small landscape. The plant's mounding growth habit, paired with its pollinator attracting abilities make the Pumilus impossible to resist!
Get to Planting in Your Small Landscape!
Now that you've assessed your small landscape's growing conditions, gotten an understanding of our small yard design guidelines, and picked out your desired trees, shrubs and perennials, you are ready to get started!
Skip the stress of crowds and lines this year and cut your shopping time in half by shopping with Garden Goods Direct! In doing your small landscape shopping from the comfort of your own home, we will do the work and deliver your plants directly to your door!
For more gardening guides, tips and tricks, be sure to check out our wide collection of informational blogs.