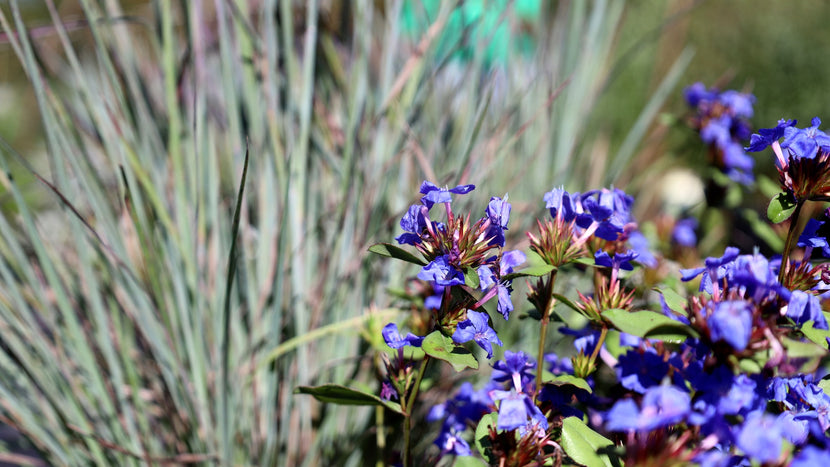 Perfect Perennial Pairings For Fall 
'Tis the season for all things pumpkin spice, spooky, and chill…happy fall y'all! As the trees are dancing with warm hues of orange and red, it's likely your summer garden is fading fast.
While many see spring and summer as prime times for gardening, fall is actually the perfect time to spruce up the yard with plants! The cool temperatures are just right for spending time outdoors, and the roots of new plants are able to adapt and establish themselves much easier than in the hot months of summer.
If you are ready to get planting but are in need of some fall planting inspiration, keep reading to check out our favorite perennial plant pairings for the fall season!
A Light and Airy Combo: Agastache and Maiden Grass
Looking for something light and airy to spruce up those dead spaces around your house? The perennial pairing of our Purple Haze Agastache with our Morning Light Maiden Grass is the one for you!
The delicate periwinkle blooms are complemented beautifully by the backdrop of lime green arching stems on this deer-resistant ornamental grass. As an added bonus, the colorful flowers are well loved by local pollinators and will work to attract butterflies throughout the season.
Vivacious and Vibrant: Fall Blooming Aster and Pink Muhly Grass
On Wednesdays, we plant pink. Spice up your landscape and radiate good vibes all around when you plant our Pink Woods Aster with our flourishing and vibrant Pink Muhly Grass! This is simply a match made in heaven.
Perfect for perennial borders and front yard plantings, you will surely enjoy these sun-loving perennials all season long!
The Golden Combo: Solidago Solar Cascade and Carex Evergold Grass
Easily Light up your life and your landscape with this fluorescent duo! The golden combo of the cool yellows and greens in the Carex Evergold ornamental grass, side by side with the warm honey tones of the Solar Cascade Solidago will have your heart melting every time you lay eyes on it.
If you're struggling to let go of the happy tones of summer then this perennial plant combination is for you!
Cool Tones: Plumbago and Little Bluestem Grass
The weather is cooling, and to match the theme, you may want to incorporate cool tones into your garden! A stunning pair of cool-toned perennials would be our purple-blooming plumbago and our Little Bluestem 'Standing Ovation grass! We love the way these chill tones pair up for a magical statement in the garden.
For The Fairytale Garden: Anemone Fantasy and Fountain Grass
Last, but certainly not least on our list of perfect perennial pairings is for all you dreamers out there! If you want your garden to bring a whimsical and enchanting feel to your space, we recommend pairing our Red Riding Hood Anemone Fantasy with Fountain Grass!
The magenta blooms in contrast with the green foliage and plumes of bristled flowers make for a grand statement in any yard. Plant this duo in full sun for best results.
Shop Fall Perennials at Garden Goods Direct
Whatever style you're looking to incorporate into your fall yard design, we have the plants you need to bring that vision to life!
Shop all of the above fall perennials and so much more online today. Did we mention we ship all over the US? Get your fall plants delivered conveniently to your front door to make the process that much simpler!