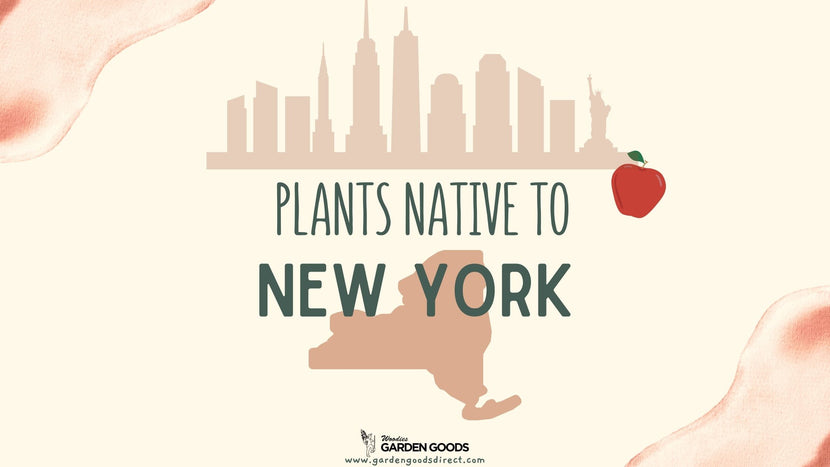 New York Native Planting Guide
Home to the humid summers and chilling winters, not to mention the city that never sleeps, New York is a diverse state with a plethora of planting options to explore. From rooftop gardens in the city, to meadows and orchards in the countryside, New York allows for a wide range of planting opportunities.
New York Native plants crave high light conditions in addition to sandy and low nutrient soils. These northern natives also tend to be fairly hardy when it comes to intense temperatures and inclement weather.
In this blog, we will share with you the importance of planting native, and then dive into some great native plant options you can use in your New York garden this planting season!
The Importance of Planting Native
The simple decisions you make in your tree, shrub and perennial plantings this season can make a bigger impact than you think. Native plants are not only the foundation to a gorgeous landscape, but more importantly, they are key to a functioning ecosystem.
As plants that occur and grow naturally in the region in which they evolved, it's no surprise that native plants will grow best in their region of origin because conditions are ideal. In addition to achieving your plants optimal growth capacity and producing the best garden possible, you should consider planting native for the benefit of the environment.
Planting native helps the environment through combating climate change, conserving water, and supporting local wildlife necessary for a balanced ecosystem. You can change the planet starting with your own yard. What are you waiting for? To learn more about the benefits of planting native, check out our blog: Planting To Attract Local Wildlife and Benefit Your Ecosystem.
6 Native Planting Options For New Yorkers
Now that we've briefly gone over the main advantages of planting native, the Garden Goods Direct team has compiled a list of New York Native plants to add to your yard this planting season.
1. Red Maple
First on our list of iconic New York native plants is a northern planting classic: the Red Maple Tree. Providing multi-seasonal interest and incredible shade, the colorful Red Maple is a gorgeous native planting option for New York planters.
This shade tree grows best in slightly acidic soil conditions and full sun to partial shade. Over time, this tree can reach heights over 40 feet. It's the ability to resist pests and diseases that make it an excellent choice for those new to gardening and landscaping.
Plant a Red Maple Tree in your New York landscape and enjoy all the charm and beauty she has to offer!
2. Eastern Red Cedar
Next on our list of New York Native Plants is another hardy, low maintenance tree! The Eastern Red Cedar is extremely tough and can handle New York's cold winters and hot summers with no problem . These stunning pyramidal evergreen trees boast smooth, tufted green foliage that is reminiscent of your classic pine tree.
In tolerating just about any soil medium, all the while withstanding drought, high temperatures, and salt spray, the Eastern Red Cedar Tree is perfect for planting anywhere throughout the state of New York.
As an added benefit, these trees produce grayish-green berries that work to nourish local wildlife populations.
3. Blue Flag Iris
The Blue Flag Iris is a New York Native perennial that sports a calm silvery green foliage and unique violet-blue shaded blooms. Native to marshes, swamps, wet meadows, ditches, and shorelines, these exotic plants thrive best in areas of high moisture.
Botanically referred to as 'Iris Versicolor,' these flowering New York Natives make for excellent focal points near or in bodies of water, and can be used in areas that are too wet for other garden plants. The Blue Flags are also great for New York yard borders and container gardens.
These funky flowering plants are also deer resistant and are great for New York Pollinator gardens attracting a wide range of pollinators including hummingbirds!
4. Wild Bergamot
Monarda fistulosa–or more commonly referred to as Wild Bergamot, is a North American Native spring wildflower. Often widespread and abundant wherever it grows, these herbaceous New York perennials have long bloom seasons and an upright clump forming growth habit.
Ideal conditions for Wild Bergamot include full sun to partial shade, and a dry, sandy soil medium. We love these plants for their delicate lavender flowers and heavenly fragrance…and we aren't the only ones! Pollinators also love these showy, whimsical plants.
5. Eupatorium Gateway
Next on our list of New York Native plants is the Eupatorium Gateway. More commonly known as 'Joe Pye Weed,' these joyful pink perennials bring late summer color and are extremely easy to grow.
Best grown in normal clay-based soils and full sun to part shade, these New York perennial natives are extremely laid back and will tolerate a wide variety of growing conditions.
New York gardeners will enjoy these fun garden plants for their deer resistance, tolerance to wet atmospheric conditions, and attraction of pollinators.
6. Christmas Fern
Last on our list of plants native to New York, is the festive and full Christmas Fern. Botanically referred to as 'Polystichum acrostichoides,' these low maintenance plants will provide year-round interest to a New York landscape.
Unlike the majority of ferns, the Christmas Fern holds its vibrant green color throughout the winter months. Ideal conditions for these gorgeous frond-filled plants include partial to full shade and a moist, well-draining soil.
These New York native plants are great for use in ground cover plantings, container gardens and shady yards.
Shop Garden Goods Direct
In conclusion, for all you New York gardeners out there, we hope you make the choice to plant native this season to see for yourself all the benefits it can bring. Your landscaping choices can make a difference!
The Garden Goods Direct team has a wide variety of native trees, shrubs and perennials to provide you with the necessities to create the native garden of your dreams! Shop online today and have your native plants shipped conveniently to your door just in time for planting season.