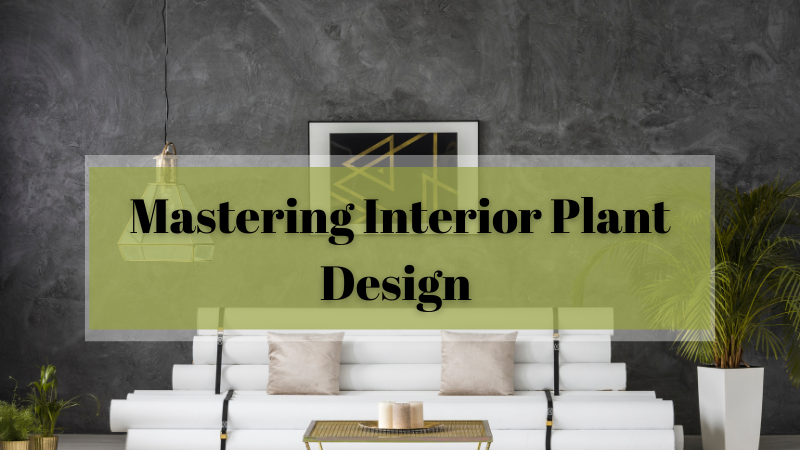 Mastering Interior Plant Design
The outdoors are known for giving us a sense of relaxation. The fresh air, greenery, and sounds bring us a sense of ease, improving our mood and reducing stress levels. So, of course it's not a question to why anyone would want to bring this same feeling indoors! Potted houseplants and trees are excellent pieces of home décor and have been a staple in the evolution of interior design.
Going back centuries, incorporating plants in your home was a sign of wealth and privilege. Today, we see a whole new market for plant lovers that allows anyone to channel their green thumb right from their own home. That's right! Any Interior designer will tell you that incorporating houseplants is an affordable way to bring in a luxury style into your modern home décor. Now more than ever it is easier to add that pop of color that will liven up your living space.
Additionally, it is proven that having houseplants in your home improves your overall health. They provide all types of healing benefits such as improving air quality, fighting colds by eliminating dust and carbon dioxide, and much more.
Determining what type of plant you should bring into your home depends on a number of factors such as, lighting, temperatures, and space. You wouldn't want to bring something home and it not surviving because you didn't realize how much light it would require and your living space not being able to provide.
Your schedule flexibility may also contribute to your houseplant decisions. You may consider something that thrives off of neglect if you find yourself too busy to have a persistent watering schedule. After taking in consideration of your living conditions and narrowing down your list, you will be able to bring in the perfect houseplant into your home décor. Whether that be something chic and modern or simple and classic.
Indoor Trees for Interior Design
If you are looking for a plant or tree that will bring grandiose feeling into your living room or bedroom, the Fiddle Leaf Fig tree would be your best bet! This green, leather-leafed tree is a favorite amongst interior designers. You can place it in an empty corner to round out and add dimension to your space. Even placing two on each side of the room creates a tropical vibe. Regardless of the type of look you are aiming for the fiddle leaf fig is famously versatile!
Another great indoor tree would be the Alocasia Elephant Ear . Add this plant to the doorway of your home for a exotic feel. This plant can carry leaves that can grow over 10 feet long (in its natural habitat of course). But even indoors, the large leaves can reach up t0 3 feet long! Which is perfect for designing balconies, lofts, or homes with major open space. Imagine snuggling up with your favorite book, in your favorite corner, next to this eye-catching plant.
Lastly, the Dracaena Marginata is one of the most exotic plants you could bring into your home. Similar to the palm tree, this plant is extremely easy to care for and commonly lives a very long time. Their long, colorful leaves have a tropical-like touch to them that would keep your home looking vibrant and lively. The dracaena is commonly placed into bathrooms due to their love of humidity. Adding this plant into your bathroom decor would perfectly complement neutral colors such as, black, white, and gray. Leaving your home with a summertime mood all year long!
Indoor Houseplants for Interior Design
Maybe, a larger plant isn't exactly what you are looking for to accentuate your home. Don't stress! We've got you covered. The Snake plant is a great low-light, low-maintenance, low-stress plant to add to your home. Their abstract lines and geometric features are drawing to the eye. This plant would look great in a contemporary setting where its variegated leaves are the center of attention.
Like the Snake plant, the Split Leaf Monstera (Monstera deliciosa) is another low-maintenance house plant. On its own, this plant could bring style and flare to an otherwise drab room. Their leaves have distinct and unique cutouts that resemble swiss cheese. Due to its resilience, this plant can be placed almost anywhere in your home. Use it in a hanging basket to add a greenery chandelier to your bedroom. You can even propagate one of its leaves into a glass vase to add a touch of color to an otherwise boring side table.
Last but not least air plants. Air plant displays are rapidly becoming all the rage. What makes them so popular is that they don't need soil at all to live in. They can strictly survive with just the air. How cool is that?! Incorporating these tiny plants into your home decor is simple too because they are so versatile. You are able to hang them upside down, on the walls, and more. Utilizing this style in light bulbs or even desk accessories will give your living space a unique twist on what it means to have houseplants.