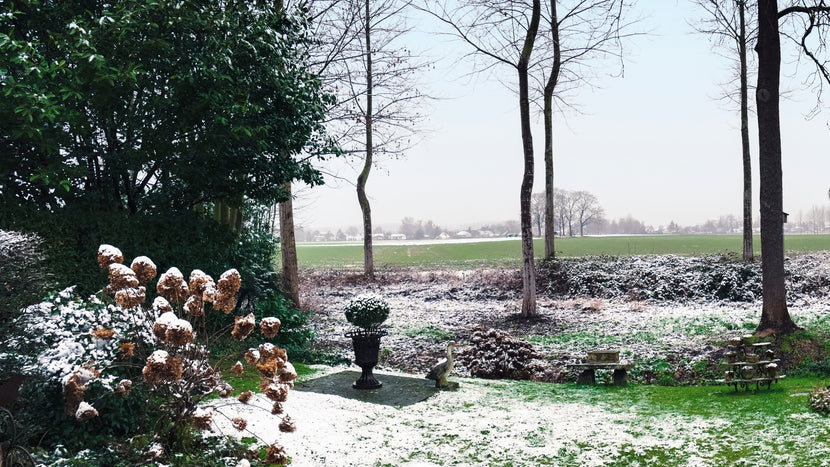 Top 6 Tips For Winterizing Your Landscape
When the holiday season approaches, many put away their tools, sit back by the fire and completely forget about their garden for the next couple of months.
Visions of freshly picked vegetables and bountiful flowers are replaced by flickering flames, staying cozy inside from the cold air, and good books. There are scarcely any thoughts of the chilly outdoors where annual seeds and perennial roots lie dormant.
And there's nothing wrong with a much-needed break from gardening in the winter season, but it is very important that you properly winterize your landscape if you want your plants to be beautiful and thriving come spring!
Keep reading to learn Woodie's 6 top tips for winterizing your landscape and prepping your yard for a magnificent spring.
1. Cut Back and Divide Your Perennials
Be careful when winterizing your perennial plants. Even if they're dying and brown on the leaves and stalks, they're very much alive down below! It's wise to cut perennial tops to about 6 inches from the ground surface. This leaves protection for the roots over winter. You can remove the remaining vegetation in the spring, and your perennials will be healthier for it.
Perennials should be left in their beds if at all possible. Pay attention to your USDA climate zone and make sure your perennials suitably overwinter in your area. If in doubt, you can always dig up perennials and put them in pots or containers. Set them aside in a protected spot, but make sure they go back in the ground as soon as it thaws.
Pre-winter is the time to divide or separate your spring-blooming perennial flower plants. The rule of thumb for dividing perennials dictates that spring bloomers should be divided in the fall, and vice versa. Make sure you know what type of root system your perennials have before doing winterizing divisions. There are five main varieties, and each has its own dividing quirks.
2. Proper Pruning of Trees and Shrubs
Winterizing trees and shrubs includes proper pruning or trimming. There's an art to this work, especially when it comes to sculpting. But you can easily do basic pruning by following certain steps.
The first step to proper pruning is getting rid of obvious material that's dead, declining, or diseased. The second is removing excessive branches and twigs that clutter or clog the plant. Pruning cuts should be made 90 degrees to the limb's lateral run and several inches out from the branch collar.
Are you in need of a good reliable pair of pruners? Look no further than our wide collection of Felco Pruners! When it comes to this brand, there's a garden tool for anyone and everyone, each tool specified to meet specific needs.
Here at the nursery, the Felco 2 Pruning Sheers are a fan favorite that makes pristine cuts and allows use with ease for beginners and experts alike.
3. Give Plants a Deep Watering
The best winterizing treatment for trees, shrubs, and perennials is watering. Make sure the ground is well-soaked, so the soil stays wet and warmer during the winter dormancy phase. Dry soil can be disastrous for dormant plants, but so can flooded soil. Maintaining moderation in the soil is important.
For easy, no-stress watering, consider investing in a Dewitt Dew Right Tree Watering Bag!
4. Protect Plants With Mulch
Mulching your plants is essential to their well-being throughout all seasons, but it is especially important in the winter. Mulch acts as a protective blanket for the roots of your plants to both guard the roots from harm, keep them warm, and work to conceal moisture.
Clean, composted mulch should blanket your flower beds and top your containers. It's especially important for protecting fall-planted bulbs and delicate perennials. A coating of 6-8 inches is an excellent winter blanket that can be removed and recycled in spring, or simply worked into the soil.
It's important to note that there's a different technique for tree and shrub mulching, though. You mulch in a circular pattern out to the tree's rain shadow or canopy edge. Be careful around their trunks and don't pile mulch against the root flare. That's the bulge where the trunk extends from the soil and where feeder roots take in oxygen.
5. Cover Vulnerable Plants With Frost Cloth
It doesn't take an expert to know that the harsh temperatures of winter, along with inclement weather, wind, snow, and frost can be detrimental to your garden plants. When you spend ample time and money cultivating your garden, it's only natural that you'd want to do everything you can to keep your plants happy and healthy throughout the cold season!
One of the most effective ways to protect your vulnerable plants from winter's wrath is through the use of frost cloths! Frost cloths allow light and rain to come through while working to maintain the temperature for your plants.
6. Apply A Protective Coat of Wilt Pruf
If your home is subject to harsh winds and devastatingly low temperatures, you run the risk of your plants suffering from windburn, drought, and salt damage. Much like how we as humans suffer from dried-out skin in the winter months, your plants too can suffer.
Believe it or not, the number one cause of winter damage to trees and shrubs is desiccation or drying out. Give your plants the royal treatment with Wilt Pruf! Wilt Pruf is a product that can be easily applied to your trees and shrubs to hold in moisture through the winter!
Skip The Cold And Shop Garden Goods Direct
Many gardeners, like you, spend the cold winter months browsing through catalogs and making lists for spring purchases. These days, however, paper catalogs are phasing out. They're being replaced by fast and efficient online shopping. Now you can open up your computer and instantly find exactly what you're looking for on the internet.
Garden Goods Direct is your leading online garden supplier. We're the nation's local garden center based in Bowie, Maryland, but we're open 24/7 right in your home. Browse our online selection of trees, shrubs, annuals, perennials, and our entire line of lawn care products.