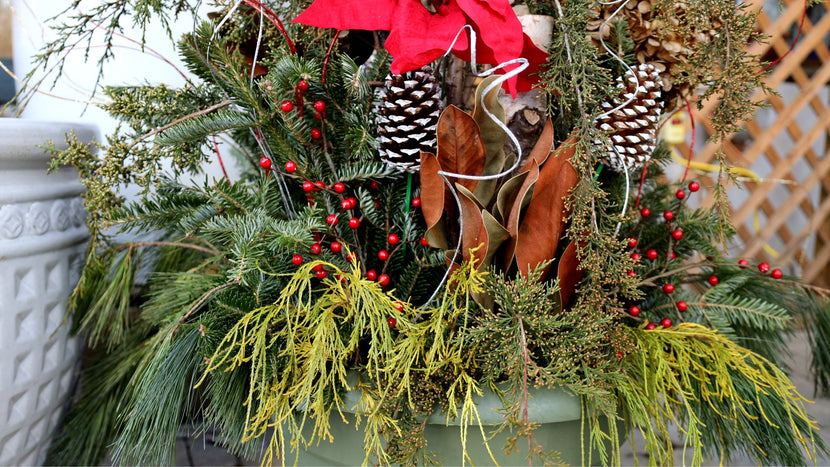 How to Create Gorgeous Winter Planters for Your Home 
Have you ever driven down the main street in your town and seen the beautiful pots in front of the stores decorated for the holidays? One of the fastest-growing markets for landscape and decorating companies is decorated pots and planters that can change with the seasons.
These decorative planters are typically seen in front of stores or residential buildings. They can be flanking the front door or placed along the sidewalks to create an attractive barrier between the foot and automobile traffic.
This trend has found its way into the home garden, and many savvy gardeners are discovering the benefits of container gardens on the deck, patio, or porch. The concept is the same whether you refer to these as seasonal pots, winter porch pots, outdoor winter planters, or holiday planters. These pots can change with the seasons, and when properly planned, they will require very little input from you to always look their best.
Sprucing Up Your Front Porch With Planters
Front porches have been the mainstay of American culture, and more and more homeowners are discovering the potential of a well-decorated front porch.
Decorating your porch for the holidays includes door décor, outdoor decorations, porch pots, and even window boxes that can all be tied together to create a cohesive theme. For this blog, we will focus on winter or holiday planters.
Many items that make up a holiday porch pot can be found in the garden, and we often enjoy foraging for new and creative things to use in our decorations. Items such as birch branches or birch poles are usually not available everywhere but can be purchased online and often saved from year to year. Pine cones, evergreen branches, and greens removed from your Christmas tree are free and can be found anywhere in the country!
Types of Porch Pots
Living Porch Pots
Porch pots planted with shrubs and perennials are often referred to as Live Porch Pots and, if planned correctly, look great throughout the whole year. Typical designs for these types of pots start with a larger plant in the center. Evergreens are typically best for this as they remain green during all seasons and "anchor" the other plants in the design. This is called the 'Thriller' in the 'Thriller, Chiller, Filler, and Spiller' design.
Working out from the center plant, the next level of plants is either the Chiller or the Filler type of plants. You'll need a Chiller to cool down the design if you choose a bright-colored plant for your Thrillers, like Gold Cone Juniper or Arborvitae Forever Goldy.
The Chiller tones down the bright centerpiece transitioning to the next layer, the Filler. Fillers fill the space in the pot between the Thriller and the edge of the pot. Typically Chillers and Fillers are medium-height plants such as hellebores and heuchera.
Spillers are just as the name implies. These plants spill over the edge of the pot and hang down. This softens the hard edge of the container and creates a full look. Examples of Spillers include Creeping Jenny, English Ivy, Sedum Angelina, and even Ajuga.
The key to a gorgeous planter that always looks its best is to choose plants that are evergreen throughout the year. Like the garden, your pots can change with the seasons and become part of the four-season landscape.
Holiday Porch Pots
Holiday porch pots are a simple way to create a welcome entrance for your holiday guests. While not technically living porch pots, they typically contain greens and pieces of living plants.
This is an opportunity to teach children about foraging or finding things in nature that can be used as decorations. This is also a way to freshen up the porch pots that may have been full of annuals and look tired at this time of year.
The decorating ideas are endless for holiday porch pots, and since virtually anything can be used in these pots creating these containers can be simple and fulfilling.
Anything from greens gathered from your evergreens, rose hips, holly berries, and even colorful foliage from plants such as Osmanthus goshiki or aucuba can work to create a stunning holiday display!
The TCFS (Thriller, Chiller, Filler, Spiller) concept also works for this design. The Thriller, in this case, can be Birch Poles in different sizes or Red Twig Dogwood stems. These can easily be stuck into the soil already in the pot. Next, the Chiller can be Blue spruce boughs or just about any evergreen foliage gathered from the landscape.
The Filler can be Pine cones, cuttings of colorful plants such as Osmanthus or red berry clusters of evergreen hollies, or even Nandina, which will include leaves of red and green shades.
Finally, the Spiller. The Spiller in a holiday pot isn't a spiller but more of a ring of evergreens covering the pot's rim. A savvy designer gave me a simple idea a few weeks ago that simplifies this. Lay a wreath that corresponds with the pot's diameter, and you have an easy-to-care-for "Spiller" without worrying about falling out of the pot.
Caring for Porch Pots
Care of porch pots is simple. Keep in mind that living porch pots contain live plants, and even though they are dormant, they will still need to be watered. Water these pots at least once every three weeks or as required. Pots in full sun may need to be watered more often, and if your pots are under a covered roof, the water you give them will be the only water they receive throughout the winter.
Holiday porch pots created from cuttings of live plants also need to be sprayed occasionally with water. This will keep the cuttings fresh and full of moisture. Wilt-Pruf is also very helpful for maintaining holiday pots looking their best. Wilt stop creates an invisible barrier on the greens that slows the evaporation of water.
We hope you'll find this blog full of planter ideas and that you can create wonderful holiday planters to welcome your holiday guests into your home.
Until next time, see you in the garden.
-Woodie