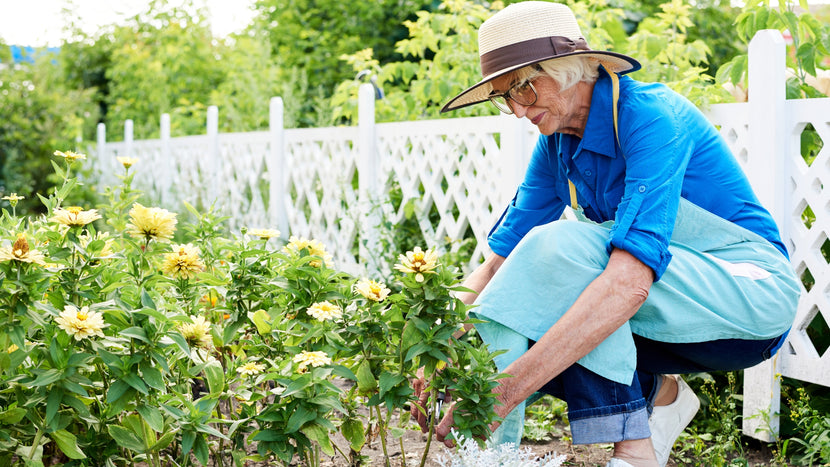 Growing A Cut-Flower Garden In Spring 
Growing cut flowers was once something that we left to the experts. However, in recent years, the popularity of DIY cut flower gardens has grown exponentially! If you too want the convenience of gorgeous cut flower bouquets at your fingertips, it's time to get in the garden and get to planting!
History of Cut-Flower Gardens
The earliest known date of flower arrangements dates back to ancient Egypt! As early as 1000 CE, flowers were used both for food and decoration. The formal production of cut flowers really came to be when the concept of greenhouses emerged in the Netherlands in the early 17th century. Not long after this development in the Netherlands and England, the United States followed.
Flower gardens once carried the association of status and wealth due to the expense and rarity of many flower cultivars. Lucky for you, due to the spread of information and the growing popularity of gardening, cut flowers are now accessible to many!
Planning Out Your Cut Flower Garden
The key to planning a successful cut flower garden is to do your research and plan ahead!
Ideally, your flower garden will incorporate color-filled combinations and a variety of textures, shapes, and sizes! By planning ahead, you can ensure you have a good plot of land with the proper elements for your plant's growth.
Ensuring you have the proper tools in advance will help you save a lot of precious time in your growing process. Because flower gardens require a decent amount of water, we would recommend the soil soaker hose. A nice pair of pruning shears and good fertilizer will also come in handy.
Additionally, the timing of planting your garden is important. You should plan to get your plants in the ground after your area's last expected frost date unless the plant is readily cold-tolerant. Late March to early April is the ideal time to get started on your dreamy garden of blooms.
Flowers typically need a decent amount of sunshine and well-draining loamy soil for best results. Plan to be attentive towards your garden and water frequently in the warmer months!
Perennials For Cut Flower Gardens
When it comes to selecting perennials for your cutting garden, the options are truly endless. To simplify the decision-making process, we've come up with a list of a few of our favorite perennials to incorporate into your garden to make an absolutely stunning bouquet.
Some great shade perennials we love for cut flower gardens are Dianthus, Dicentra, Astilbe, and Lobelia. You could add some gorgeous texture to this shade-loving bouquet by adding one of our favorite perennial grasses: Northern Sea Oats!
Some stunning sun perennials for your cut flower garden would be aquilegia, achillea, echinacea, false indigo, nepeta, peonies, and salvia. If you want to add some unique texture and color to your bouquets, incorporating some spurts of euphorbia could be a fun and bold addition!
Shrubs For Cut Flower Gardens
While perennials and annuals are typically the main types of plants that come to mind when people think of cut flower gardens, there are also a plethora of shrubs that offer magnificent blooms for your bouquets!
If you are looking to create more classic and elegant flower arrangements, a red rose bush like the Petite Knock Out Rose is a great classic option.
Some more unconventional shrub options would include the Rugosa Rose Bush or the Kramer's Supreme Camellia. Additionally, in recent years, the popularity of using hydrangea flowers in bouquets has grown significantly! Hydrangeas are great cut flower options for both fresh and dried bouquets.
Shop For Your Cut Flower Garden Plants Online
No matter what plants you decide to include in your cutting garden, the team at Garden Goods Direct is here to help you every step of the way!
We pride ourselves in offering a wide range of flowering shrubs and perennials available for purchase online and shipped directly to your front door! Gardening has never been easier!