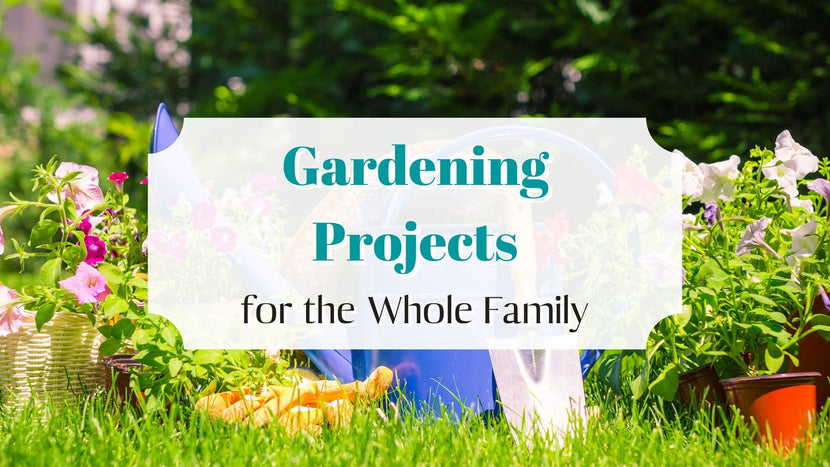 Gardening Projects for the Whole Family
Gardening is a great activity for the whole family. It's not just about getting your hands dirty - it has many mental and physical benefits, too! From planting flowers to pulling out pesky weeds, there are plenty of gardening projects you can do with kids of any age.
Here are some of the best gardening projects for the whole family to enjoy.
Benefits of Gardening for Families
Gardening is a great way for families to spend time together and bond. It also teaches children about nature, the environment, and how plants grow. Kids can learn about soil composition, plant fertilizers, and water management while having fun digging in the dirt!
No matter your age or level of health, gardening is also an excellent form of exercise. Whether you're tilling up a new patch to plant or pulling out weeds, you're sure to break a sweat. Let's not forget the benefits that gardening has for our immune systems, either.
From breathing in fresh air to exposing ourselves to healthy bacteria in the soil, this hobby presents a wonderful new way to get - and stay! - healthy.
10 Garden Projects for the Whole Family
New to gardening? Here are some fun projects that the whole family will enjoy.
1. Create DIY Garden Gifts
Is Mother's Day coming up? Grandma's birthday? Teacher appreciation day? No matter the occasion, creating your own DIY garden gifts is a great way to show someone you care - and to get the whole family involved in the garden.
There are so many ways you can care for others in this fun gardening task. Whether it's planting potted flowers to give as a birthday gift or creating sachets of herbs to give to classmates, there are so many ways you can spread the joy of gardening to everyone in your life.
2. Make a Fairy Garden
Kids love dreaming about fantasy worlds inhabited by teeny tiny people who are even smaller than they are! Building a fairy garden is a fun project that you can do indoors or out - the sky's the limit when it comes to what your kids will choose to include!
3. Read About Gardening
On a snowy day in January, it might seem like there are very few gardening projects for the whole family to enjoy.
Why not crack a book about gardening and enjoy the hobby that way? There are books about gardening for kids of virtually any and all reading levels - so pick one open today!
4. Grow a Mushroom Garden
You can easily grow your own mushrooms at home by picking up spawn to inoculate a fallen log. You can also purchase pre-inoculated logs, if you prefer. Who knows - you may even convince your kids to taste the mushrooms that they grow, too!
5. Plant a Tree
Whether it's the senior in your family with limited mobility or the tiny toddler who's just starting to motor around, planting a tree is something that everyone can enjoy. Just choose the right species for your growing zone.
Some family-friendly favorites include apple trees and persimmons, which offer beautiful flowers along with tasty fruits to eat later on!
6. Make Garden Markers
When the rain is coming down hard, it might seem like there are very few ways to enjoy the garden waiting just outside your door. Why not get a jumpstart on the season by making your own garden markers?
This is a fun, easy way to express your more creative side - and there's no limit to what you can turn into a marker! From old wooden spoons to clothespins, mason jars to bits of plastic, the sky's the limit when it comes to this fun, DIY gardening project for the entire family. Your garden will look much more beautiful as a result!
7. Build a Kid-Friendly Garden
Let the whole family get in on the action by growing a separate, kid-friendly garden. You might not want your kids working around the rose bushes you've worked so hard to cultivate but there's no reason why you can't give them their own space to play!
Consider planting hardy options like rudbeckia and lavender. You can even let weeds, like dandelions, flourish here to attract beneficial pollinators! The kids will love digging in the dirt and watching the butterflies frolick.
8. Grow an Indoor Bulb Garden
Sure, you can plant bulbs outside - but that means that the fun will stop once winter arrives! Instead, consider starting an indoor bulb garden with the family. That way, you can keep growing beautiful blooms even when snow blankets the ground.
Pick up a selection of bulbs like daylilies, daffodils, tulips, hyacinths, or crocuses. Planting a variety will ensure that you always have flowers to enjoy, no matter the season or setting!
9. Propagate Your Own Plants From Cuttings
Do you want to start your own seedlings from plants you already have? Propagating your own plants from cuttings is a great way for everyone in the family - from the tiniest tot to the oldest uncle alike - to get involved in gardening.
You don't need much to propagate plants, either. Consider picking up a miniature greenhouse to speed up the process and keep everything contained. The SunBlaster NanoDome is a great option and can be used to plant seeds, too.
10. Create a Pollinator-Friendly Oasis
Pollinators like hummingbirds and bees are essential for a healthy garden! Invite your kids to brainstorm ways that you might be able to attract these beautiful creatures to your property - then make a list and dive right in! You can learn more about the importance of pollinators and consider taking steps like planting native plants, adding laurel host plants, and adding artificial sources of nectar.
Gardening: Fun for Everyone!
Whether you have a green thumb or not, there are plenty of gardening projects that the whole family can enjoy.
From planting seeds to creating beautiful hanging baskets for your porch (or even inside), these ten garden ideas are perfect for everyone from kids to grandparents alike. So get outside and start with these fun tasks!