How to Use Encore Azaleas in Your Landscaping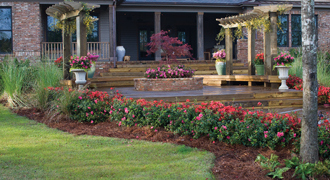 The wide selection of plant sizes and bloom colors found in Encore Azalea's 30 varieties are perfect for beautifying the front yard or even the front porch. Plus, Encore's unique re-blooming and evergreen qualities ensure your style is visible year-round.
Curb appeal is a must have and investing in your front yard will pay off five or tenfold. It will boost your homes appeal if you are planning to sell it by increasing your home value making it well worth your time and money. Even if you're not planning to sell, creating an inviting and interesting front yard will make you the envy of the neighborhood and show pride of ownership.
Shrubs are considered one of the best investments in a landscape, and there are about 30 varieties of Encore Azalea to choose from.
Here are 3 easy tricks to help you get started:
Container Garden
If your current budget isn't large enough to include a total revamp, you can put dwarf Encore Azaleas in containers for a quick, inexpensive pop of color and interest.
Adding Colorful Areas to your Yard
Adding Encore Azaleas to your landscaping beds is an easy way to provide color from spring through the fall, sometimes blooming into the winter. If you're short on space, add them to a small flower bed or around your mailbox.
Mass Planting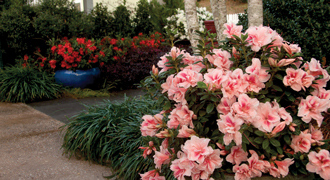 If you are adding bigger landscaping beds or redoing existing ones, consider doing a mass planting of Encores on slopes or in beds. You can even incorporate them as a hedge along paths or property lines.
There really is no limit to how you can use Encore Azaleas in your landscaping. They can be incorporated in a colorful, beautiful way no matter your budget or available space.