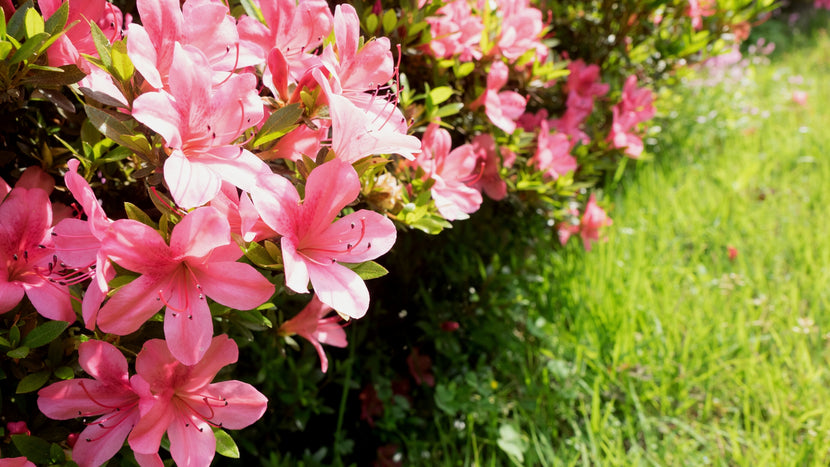 How to Use Encore Azaleas in Your Landscaping
The wide selection of plant sizes and bloom colors found in Encore Azalea's 33 varieties are perfect for beautifying the front yard, but that's not your only option! There are so many ways you can incorporate these magnificent multi-season blooming azalea.
Beyond their vibrant hues and unique bell-shaped blooms, Encore Azalea's re-blooming and evergreen qualities ensure long-lasting beauty for your landscape!
Curb appeal is a must-have and investing in your front yard will surely pay off five or tenfold. Incorporating flowering shrubs will boost your home's appeal by increasing your home value, making it well worth your time and money. Even if you're not planning to sell, creating an inviting and interesting front yard will make you the envy of the neighborhood and show pride of ownership.
Shrubs are considered one of the best investments in a landscape, and Encore Azaleas are a top-tier option when it comes to low-maintenance, high-reward shrubs!
Encore Azalea Design Options
Container Garden
If your current budget isn't quite large enough to include a total revamp of the property, you can put Dwarf Encore Azaleas in containers for a quick, inexpensive pop of color and interest!
By planting your azalea shrubs in containers, you can reap the benefits of easy transport and redesign of a space! This is a popular option for balconies and patios in need of a splash of life!
Azalea Yard Borders
If you are looking to incorporate Encore Azaleas into a larger yard project, you may want to consider using them as a shrub border!
Adding Encore Azaleas to your landscaping beds, along fences, or even in place of a fence is an easy way to create a natural barrier from the outside world! Creating a hedge along paths or property lines is not only practical but so much more aesthetically pleasing than a fence! Not to mention they will provide color from spring through fall, sometimes blooming into the winter.
Mass Planting Encore Azaleas
If you are adding bigger landscaping beds or redoing existing ones, consider doing a mass planting of Encores on slopes or in beds. Encore Azaleas make a bold statement when planted at either side of an entryway. The colorful bloomers also look great when layered with other dwarf understory plants for immense dimension and beauty.
If you're short on space, add the Encore Azaleas to a small flower bed, plant around the base of a large specimen tree, or even around your mailbox!
There really is no limit to how you can use Encore Azaleas in your landscaping. They can be incorporated in a colorful, beautiful way no matter your budget or available space.
Which Encore Azalea Is Right For You?
Once you've settled in on the magnificent landscape shrub that is the Encore Azalea, it's time to make the selection between the wide variety of Encore options! Your choice will surely be dependent upon the theme and overall style of your garden or landscape.
From cottage gardens to traditional, and naturalistic gardens, there's an Encore Azalea for everyone! If you are looking for a more classic and understated look, a White Encore Azalea is probably the way to go. The Autumn Ivory Encore Azalea and the Autumn Angel Encore Azaleas are stunning and classic options.
On the other hand, if your style is more eclectic and bold, a pink or red azalea is likely the route you'd like to take! Some fun and bold landscape azalea options include the Autumn Twist Encore Azalea, which boasts tie-dye-esque blooms and bright green foliage, and the Autumn Fire Encore Azalea which sports a breathtaking fire-truck red hue.
Shop Encore Azaleas At Garden Goods Direct
No matter your landscape project or your style, there will be an Encore Azalea that speaks to you! We offer a wide range of Azaleas available for your purchase and convenient shipment directly to your front door! Shop online today.