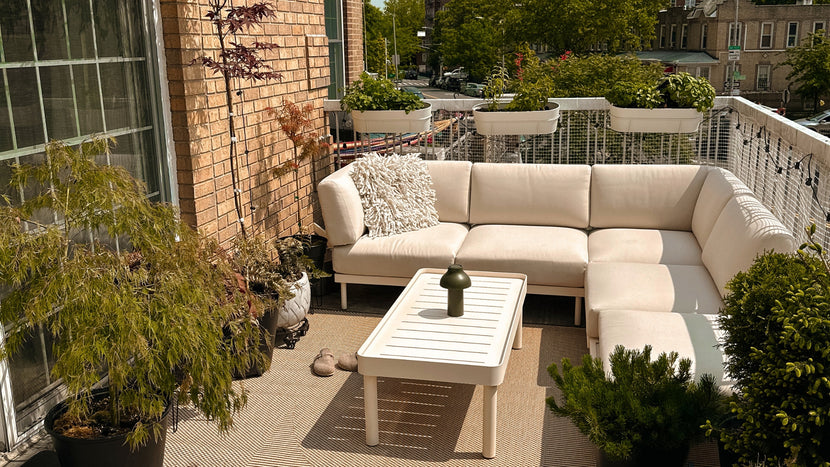 Creating A Japanese Terrace Garden 
Do you dream of a serene place to enjoy the peacefulness of greenery, but you don't have the space or the landscape to create it? If you have a porch or terrace and some sun, there's still a chance for you to create a garden that wows!
We teamed up with social media influencer @so_juli to revamp her Brooklyn terrace, and we could not be more pleased with how it turned out! Check out this blog to learn how, with the help of our easy shipment and high quality plants, we were able to bring Juli's landscape dreams to life in the big city!
Choosing The Right Plants For Your Space
The first step to revamping your outdoor space is to select plants that will thrive in your grow zone. We recommend utilizing our Find Your Grow Zone tool to designate what your USDA certified growing zone is.
Additionally, it is important to evaluate what kind of lighting your space gets along with the average precipitation levels in the given season.
Once you evaluate your space, you can better decide which plants will thrive in your climate and move on to picking plants based on a style or theme. In Juli's New York Terrace design, she had a vision for a very serene and calming Japanese garden.
Variety is Key
When you don't have a large space to grow plants in, we recommend incorporating a variety of textures, shapes and sizes into your design to create more depth and visual interest.
Juli selected a gorgeous range of trees, shrubs, and perennial plants that really aided in bringing her plant design to life. Below is a list of the plants Juli selected for her terrace revamp.
Tamukeyama Japanese Maple
Waterfall Japanese Maple
Dwarf Mugo Pine
White Muhly Grass
The Japanese Maples' impressive heights and gorgeous colors brought true depth to the vision, while the muhly grass and painted fern brought along unique textures and shapes. Throw in the Mugo Pine and Little Giant Arborvitae for some bright evergreen color and you've got a real landscape masterpiece on your hands!
Incorporate Different Containers and Plant Stands
Once you settle in on a good variety of plants, its time to think about how you will display them. Juli's display was a prime example of minimalistic excellence. She opted for an array of matte black pots and white textured ceramic pots.
In addition to the ceramics, Juli utilized various metal plant stands to create height and depth in such a secluded space. Juli also incorporated some gorgeous white window planters along her railing that added even more unique interest and beauty to her space.
The Result
In combining Juli's impeccable design skills with our top tier plant inventory and convenience of shipment, we were able to create one of the best-looking terraces in New York City. But don't just take our word for it, watch for yourself!
Shop Online Today!
No matter how small your space, there is an opportunity for greenery for anyone and everyone! Shop our wide selection of trees, shrubs, perennials and houseplants online today, available for convenient shipment directly to your front door!