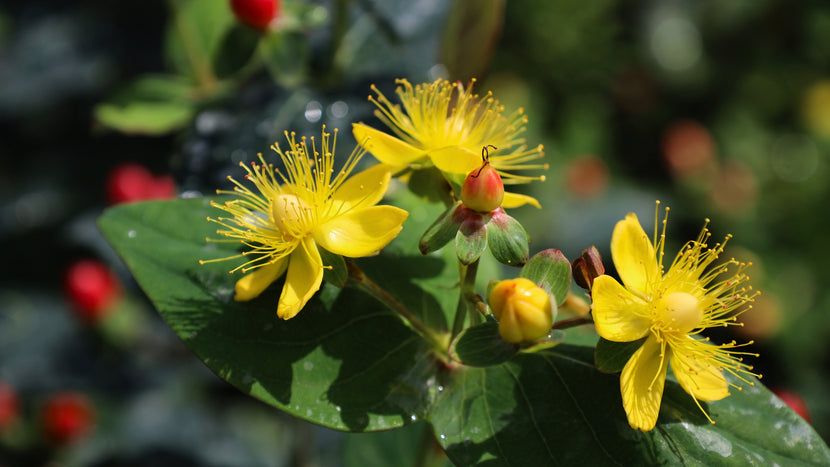 6 Reasons To Love St. John's Wort Shrubs
St. John's Wort plants are extremely popular for many reasons. The hardy landscape shrubs produce irresistible yellow flowers from summer through fall, but their popularity goes far beyond their physical appearance! Keep reading to learn why we, in addition to many others, have come to love the magnificent plant that is St. John's Wort.
St. John's Wort History and Origin Story
Before we dive into the reasons to love St. John's Wort, it's important that we first dive into the background and origin of the now well-loved landscape plant.
Before the plant was coined by its memorable name–St. John's Wort–it was known as hypericum. Deriving from the Greek words hyper and icon, this plant got its botanical name through its spiritual view of having the power to ward off evil spirits. Dating back to 476 AD, people were convinced that Hypericum was special.
As a means of consecrating the summer solstice, the Catholic Church would ritually burn the hypericum plants and deem the celestial event as the birthday of John the Baptist. These Midsummer's Eve bonfires were called the 'fires of St.John', and the popular shrub as we know it today was born!
Following its use in the world of religion, St. John's Wort made its way into the medicinal field! Europeans and Native Americans alike both raved about the beneficial effects of St. John's Wort.
From religious rituals to herbal teas and medicines, these magnificent shrubs are incredibly versatile and readily popular in addition to their wide use in the landscape. Historically, St. John's Wort has been used to treat various conditions, from kidney and lung ailments to insomnia, depression, and wound healing.
*Disclaimer: It is important to note that we are not medical professionals and cannot guarantee such medicinal benefits. We only share this information to detail the plant's history and origin story. Our plants are not grown for consumption and are not recommended for medicinal use.*
Reasons To Love St. John's Wort
Beyond their historical popularity, we love St. John's Wort plants for their beneficial use in the landscape! Below are a few reasons you should plant St. John's Wort in the landscape this summer.
1. Stunning Summer Blooms That Last
The number one reason we love the Hypericum family is the gorgeous and vibrant yellow blossoms they put out in mid-summer. Though small, the summer shrub's blooms are plentiful and significantly impact the yard's overall beauty.
As you take a closer look at St. John's Wort blooms, you will be amazed by the long showy stamens that explode from the plant's center! If you are selecting this cultivar specifically for its blooms, we recommend Hypericum Hidcote, for its flowers are slightly larger and showier than the original.
2. Pollinator Magnet
You won't be the only one admiring the gorgeous flowers on these sunshine-colored bloomers…for St. John's Wort plants are also well-loved by pollinators! Enjoy a show of bees, butterflies, and more as they gather loads of pollen from the sweet pincushion flowers.
Pair your St. John's Wort plant with some pollinator perennials to create a real oasis of fluttering and buzzing beauty!
3. Unique Vibrant Berries 
While the hypericum flowers are the show's first star, they are just the opening act on this heartthrob of a shrub! The real beauty of this plant follows the blooms. Come late summer through to the fall, you can enjoy the color display of the eye-catching berries that cover this shrub.
The common St. John's Wort, Hypericum calycinum, sports golden berries similar to the color of its blooms.
If you're looking for a less mainstream option, the Hypericum pumpkin offers up pumpkin orange berries. And, if the orange isn't enough pop for you, the Red Fame Hypericum has bright red berries that will certainly catch the eyes of passersby's!
4. Versatile Use In The Landscape 
The next reason we love this shrub is for its versatile use in the landscape! From use as a shrub border to container gardens, and landscape focal points, there are so many fun ways you can incorporate St. John's Wort shrubs into your yard design.
The star-shaped blooming shrubs are especially popular for use in rock gardens and xeriscapes.
5. Easy To Care For
Beyond their beauty and versatility, people rave about Hypericum plants due to their ease of care! Hypericum are known to be drought tolerant, and unlike many plants, can go extended periods without water.
Once planted and established in the landscape, these hardy outdoor plants require minimal maintenance to maintain their stunning composure.
Ideal care for these low-maintenance shrubs includes full sun to partial shade and a well-drained soil medium. The shrubs will also benefit from the application of a balanced fertilizer blend in the growing seasons of spring and summer.
6. Thrives In Hot Climates
The last reason many are enticed to grow St. John's Wort is its adaptability and tolerance to heat. As we reach the dog days of summer, many places around the US are experiencing heat waves that their landscape plants cannot tolerate.
For the extremely hot climates, where nothing seems to survive, St. John's Wort might be just the plant you need to have a thriving landscape all summer long.
Shop St. John's Wort Plants Online
Whatever your reason for wanting to plant St. John's Wort, we are here to supply you with the best crop while making the process as simple and convenient as possible for you! Order your shrubs online today and have them conveniently shipped to your front door!