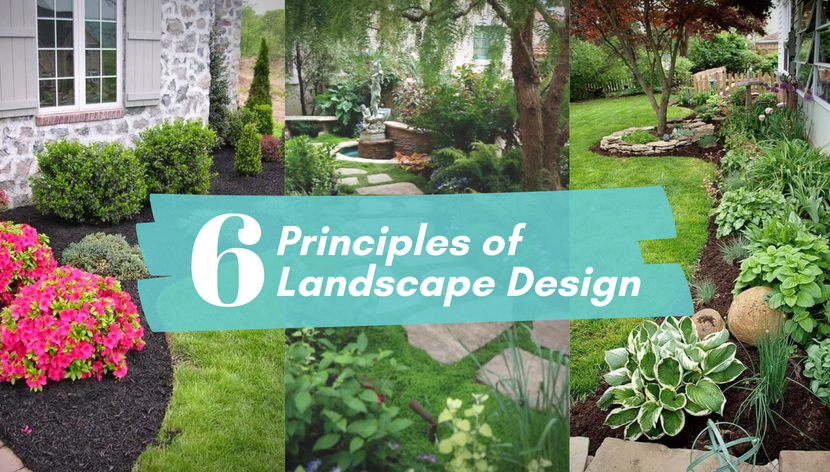 6 Principles of Landscape Design
If you've been following along with the Garden Goods Direct blogs, you'll notice there's plenty of resources on how to select the perfect plants for your home's outdoor space. Now that you have a good understanding of plant selection, it's time to get you thinking about design. Although you can hire a landscape architect to complete this portion, we believe you are able to do it yourself!  
There are a few design principles that help bring any landscape to life. The experts at Garden Goods Direct are here to "spill the beans," and help get your creativity going for the design process. Whether you're a seasoned gardener, amateur, or professional, you'll be able to plant with confidence with these six principles!
1 - Color
This element is a pretty easy one to understand when designing your outdoor space. Color provides dimension to the landscape, and is fairly easy to play around with. Colors like pink, orange, and red jump out to the naked eye, while colors like blue and green add depth to your landscape. Keep this design element in mind when selecting your plants for accents and filler space.
If you're looking to dive deeper, color theory is another concept to keep in mind when planting your landscape design. Blues invoke a sense of calmness and tranquility, while pinks are used for creating a sense of romance, happiness, and sweetness.
Choose from our selection of ornamental trees and flowering shrubs, and perennials that are popping with color!
2 - Contrast
Building upon the principle of color leads to the idea of contrast. Contrast will help highlight specific areas of your landscape design, and these plants will draw attention when planted together. It's important to keep in mind that your selection of plants should have some form of unity. Choose complimentary colors to achieve this principle in your outdoor landscape design.
If you're not sure where to start, check out this color calculator for professional design to discover what colors compliment your main focal point.
3 - Balance
In building upon the principle of contrast, it's important to keep the different types of balance in mind. The idea is that the plants in your landscape design look similar in weight. You can accomplish this by making both sides of your yard identical with a symmetrical balance, or if you're up for the challenge, shake things up with an asymmetrical balance using various plant material on opposite sides that hold similar visual weight.You can achieve this look by incorporating shrubs and trees including the Leyland Cypress, Thuja Green Giant Arborvitae, and Emerald Green Arborvitae.
This can be a little confusing to understand, so we included an example below.
4 - Repetition
When it comes to creating a unified landscape, it's important to keep some elements that draw interest to the eye. While asymmetrical designs allow you to use multiple different plants and objects, too much can make your yard appear messy and unintentional. On that same token, avoid unnecessary repetition of plants which can get boring. Keep it lively and interesting!
Groundcover and perennial plants are an easy way to accomplish this principle of landscape design. Some of our favorites include Pachysandra, Mondo Grass, and Liriope.
5 - Texture
To add depth and dimension to your landscape space, you'll want to incorporate a few plants that stand out in size and shape in contrast to other surrounding plants and objects. Depending on the plant, its blooms or leaves can possess a coarse or fine texture. While color is an easy way to add contrast, we encourage you to explore the many textured specimens at Garden Goods Direct to identify your main focal point.
A few textured options offered on our website include Drift Roses, Lavender, and Alocasia Elephant Ear.
6 - Line
The concept of line is one of the most important principles in landscape design. If you don't take away anything else from this blog - remember this one! Lines are used to create beds, walkways, entryways, and to enhance overall perspective of your landscape design.
This principle will give your outdoor space order. Keep this in mind with plant groupings to help ensure there is a balanced flow within the space.
There are many plants at Garden Goods Direct to choose from to help you create your dream landscape design. Follow us on Pinterest for more inspiration, and share your completed landscape images with us on Facebook and Instagram. We can't wait to see what you'll achieve!