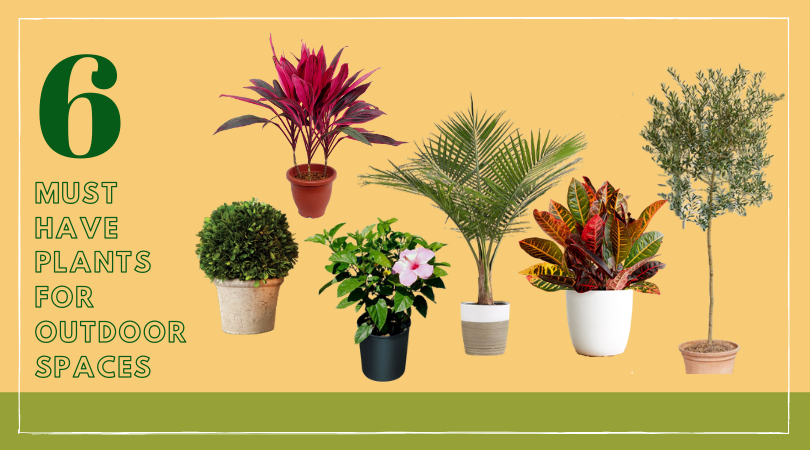 6 Must-Have Plants to Transform Any Outdoor Space
While many are spending the majority of time at home, it's important to have an outdoor space to escape.
This is the perfect opportunity to explore the many outdoor plant options Garden Goods Direct has to offer. Whether your patio space is big or small, plants make a great addition to create depth, texture and contrast.
Transform your patio space into a tropical oasis, wildlife-friendly zone, or formal entertainment space with aromatic foliage, fruit trees, and tropical plants. 
Lucky for you, we highlighted six outdoor plants that work well in all patio, balcony, and garden spaces! Once you've found them a cozy home, share your outdoor space with us on Instagram at @gardengoodsdirect. We can't wait to see your vision come to life!
The Majesty Palm is a fan favorite and brings a tropical feel to any space. Also known as a Raven Palm, this plant is excellent for outdoor spaces as it prefers humid climates and moist well-draining soil. If you're new to gardening, this is an excellent plant due to its low-maintenance and slow-growth habit. Once the warm weather has passed, bring this potted plant inside as it is known for its air cleaning qualities.
It's said that patterned foliage helps reduce stress, which makes the Croton Petra an excellent selection for your outdoor space. Its bold burnt orange, red, yellow, and green patterned leaves naturally grow upright in a compact habit. This plant is definitely an eye-catcher, and performs well indoors and outdoors. Croton Petras are evergreen, but require lots of light. Be sure to place this option in a sunny place to help keep its vibrant hue.
This fast growing, evergreen fruit tree brings a Mediterranean touch to your outdoor space with its aromatic foliage. Arbequina Olive Trees grow well in containers, and are sturdy to endure cool climates like shaded patios, balconies, and garden spaces. Enjoy the fruits of your labor around the fall once its green olives transition to black as they ripen. Also known as the European Olive, this tree brings a sophisticated look to any space.
The exotic Tropical Hibiscus bush easily transports your space to any tropical island of your choice. Also known as Chinese Hibiscus, this low-maintenance dwarf tree has stunning vibrant pink blooms and is perfect for plant newbies. Tropical Hibiscus loves sunlight, so place this in an area where it's abundant. Nature lovers will be happy to know this fast-growing plant's fragrant aroma attracts hummingbirds, butterflies, and pollinators.
Cordyline is a tropical house plant with pink, plum, and deep magenta foliage. Native to Southeast Asia, this evergreen shrub is low-maintenance and easy to grow. Unlike some other tropical plants, Red Sister prefers medium to bright light, so a semi-shaded patio is an ideal location to ensure its leaves are packed with color. Also known as the Ti plant, its dense leather-like foliage will add texture and a pop color to your patio space. It's said that this plant brings good luck and wards off evil.
This dwarf evergreen shrub sports emerald oval-shaped foliage, and is sure to add a polished look to your outdoor entertainment space. English Boxwood is low-maintenance, slow-growing, and insect free which makes it an excellent choice for new growers. Its compact size makes it ideal for small patio and balconies, and grows well in containers in sunny or shady conditions. During the winter, its leaves turn bronze, but it can be kept green with some extra love - Read How.