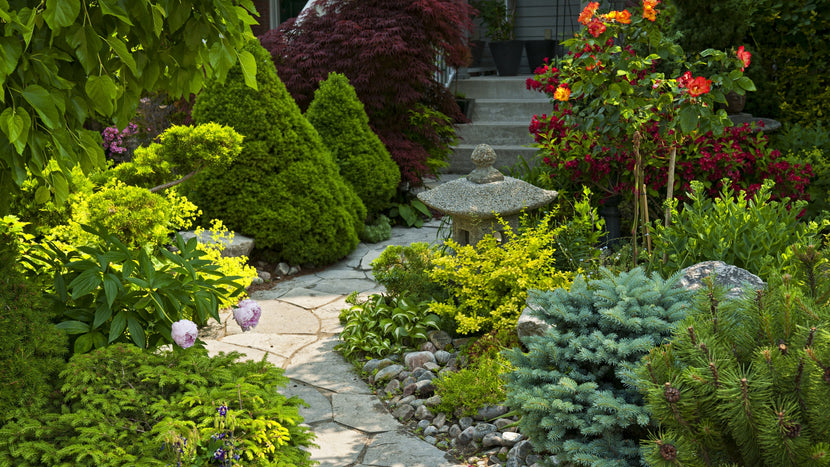 10 Garden Trends For 2023
As we ease into the new year, it's only natural that you'll begin to look for ways you can refresh the landscape and the garden for spring. While 2022 was the year of lilacs, cut-flower gardens, and tropical oases, we predict some new plant trends on the rise for the spring of 2023.
Don't wait till mid-spring to jump onto the trends, get an early start so you can make the absolute most of your yard this year!
1. Bountiful Gardens
While minimalism and monochromatic gardens were all the rage last year, we are predicting a push for a more bountiful garden this spring. Picture an assortment of colors, textures, shapes, and sizes in the garden this season!
2. Outdoor Dining Spaces
Next on our list of trends we expect to see more of in 2023, is the concept of an outdoor dining space. Becoming more in touch with nature and the outside world, elevated picnic spots and dining in outdoor spaces are going to be the next big thing! I mean, who wouldn't want to be sipping a cappuccino at the bistro set, surrounded by leafy greens and plentiful blooms?
Elevate your outdoor living space this season and be amazed at the way it transforms your way of life!
3. Golden Tones
This trend won't come as too much of a surprise, seeing as the Perennial Plant Association named Rudbeckia 'American Gold Rush' the Perennial Plant of the Year for 2023. Expect to see a lot of warm golden tones in the garden this spring and summer!
4. Victorian Gardens
As we look to the future, we often look to the past for inspiration. Victorian Garden designs are making a comeback in the planting world this year and we are so here for it! Think manicured boxwoods, stone accents, delicate white blooms, and extravagant fountains.
5. Greek-Inspired Gardens
In addition to a move towards victorian-style gardens, we also expect to see an increase in the popularity of Greek-Inspired landscaping. Placing an emphasis on romantic simplicity, climbing plants, along with vines and blooms atop neutral backdrops, the Greeks simply have a way with expressing natural beauty.
Whimsical plants like Blue Moon Wisteria and Climbing Hydrangea are the perfect focal points to transform your space and take you to the Santorini coast.
6. Viva Magenta
Named the 2023 Pantone Color of The Year, tones of Viva Magenta are sure to make a splash in the garden this year. Whether you're planting the elegant and breathtaking Ann Magnolia or the Rhododendron Nova Zembla, you are sure to find joy in the beautiful magenta hues that this season will bring.
7. Hydrangea Heavens
Boasting gigantic heads of blooms, and creating walls of color and beauty, Hydrangeas will forever have a special place in our hearts. In 2023 we expect people's love for Hydrangeas to grow even more!
As a brand-new addition to the Endless Summer Hydrangea Collection, the Pop Star Hydrangea is going to make a splash in gardens across the country! Because of this new introduction to the garden, we are especially eager to see a reignited love for the classic shrub in the new year.
8. Indoor Jungles
The pandemic brought on a whole new army of plant lovers and sparked a renewed joy for indoor gardening. We don't see this trend leaving in 2023, seeing as plants bring a multitude of benefits beyond just their beauty!
Shop our wide collection of indoor houseplants online and get your indoor jungle started today!
9. Plants For Mental Wellbeing
The stigma against mental health is diminishing, while the world's love for plants is only growing...coincidence? We don't think so. In a study conducted by the Journal of Environmental Horticulture, researchers confirmed a significant correlation between a reduced level of anxiety and stress and environments with houseplants.
10. Eco-Friendly Gardening
Being eco-friendly and gardening for the well-being of our planet will simply never go out of style. Sustainable gardening and drought-tolerant planting saw a significant increase in 2022, and we expect these trends to grow and continue into 2023.
Whether you're planting for the pollinators, focused on growing native, or you're just planting trees to help mend the ozone, you are making a difference! We are hopeful that this trend will continue into 2023 and beyond.