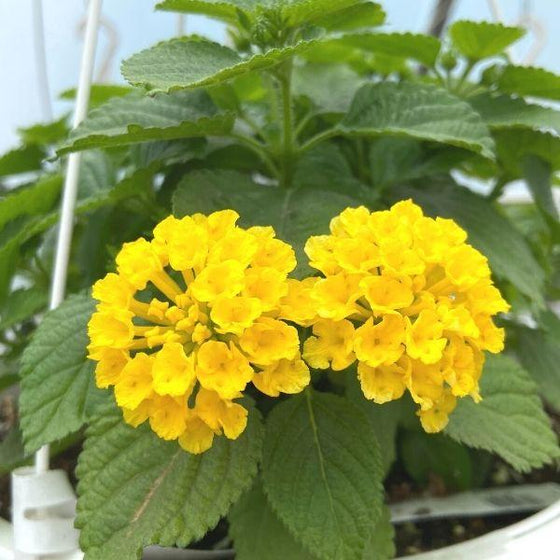 Images Depict Mature Plants
Bandana Yellow Lantana Plants for Sale Online
Yellow Lantana produces a beautiful bright yellow to light yellow blossoms. Their growing season is from late spring up until the year's first frost. However, these are annual plants in a majority of growing zones. They can only be used as perennials when in zones 9-11. They go beautifully when planted as compact mounding plants and are compact enough to be container plants.
To ensure your Yellow Lantana plant grows to its fullest potential, plant or pot them in moist, well-draining soil in an area that receives at least 6 hours of full sunlight each day. These plants are deer and rabbit resistant, attract pollinators, and are even used as a mosquito repellant.
---
Growzone: 9-11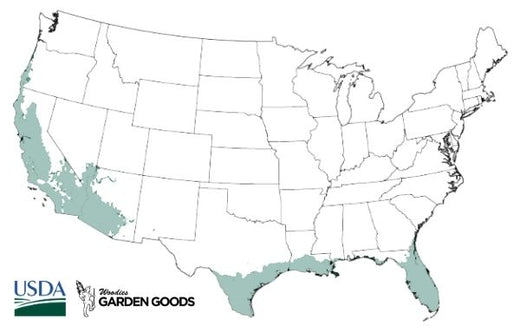 | | |
| --- | --- |
| Hardiness Zone: | 9-11 |
| Mature Height: | 1 to 2 Feet |
| Mature Width: | 3 to 4 Feet |
| Classification: | Hanging plant |
| Sunlight: | Full sun, partial sun |
| Flower Color: | Bright yellow, pale yellow, white |
| Foliage: | Green |
| Soil Condition: | Moist |
| Water Requirements: | Average, likes moist soil conditions |
| Uses: | Especially attractive in hanging baskets or in plant stands |
---
How to Care for Yellow Lantana
Before you buy a Bandana Yellow Lantana plant, make sure to read about the care instructions that are required and recommended to keep this plant healthy and thriving!

What Type Of Light Do Yellow Lantana Plants Require?
Yellow lantana plants thrive in full sun environments. We recommend giving your plant at least 6 hours of full sunlight each day, preferably more. These plants can handle partial sun up to a few hours a day but need to be kept in full sunlight the majority of the time. If your plant is potted and inside, keep it near a window that gets full but diluted sunlight. Also, remember to turn your plant every so often when it is indoors to prevent its leaves or flowers from burning.

How Often Should I Water My Yellow Lantana?
The best soil conditions for Lantana plants are moist and well-draining. They can be slightly drought-resistant but only once they are well established. We recommend watering on a regular schedule and frequently to help establish your plant and allow it to begin growing in very moist soil. Once they are well established, make sure to never let their soil dry out. The best rule of thumb is to check about 1 inch down in the soil, if it is dry, it is time to water again. As long as your plant is in well-draining soil, excess water should flow out properly with almost no risk of root rot disease.

What is The Best Soil For Bandana Yellow Lantana Plants?
Bandana Yellow plants love a well-draining and balanced soil, they have no particularity to soil pH levels and are fairly tolerant to soil salt levels. When planted in a container, make sure to use one with good drainage holes so they can properly drain out excess water. When planted in a landscape, make sure you are using well-draining soil. Even though they love moist soil, too much water will cause their roots to rot.

Should I Fertilize My Bandana Yellow Lantana Plant?
Bandana Yellow Lantanas need to be fertilized as soon as they are transplanted. After they are initially transplanted, feed them every 3 to 4 weeks until established. The best time to begin to fertilize your established plants is in early spring using a dry fertilizer formula. Any good quality, well-balanced fertilizer works great. If your plant is in a container, it will need to be fed more regularly. We recommend using a slow-release fertilizer in the spring and then supplement with a water-soluble, balanced fertilizer every 2 to 4 weeks.
---
Frequently Asked questions
How Do I Overwinterize My Bandana Yellow Lantana?
Do Lantana Plants Repel Mosquitoes?
Are Lantana Plants Pollinators?
---
Other Products you may be interested in
---
Customer Reviews