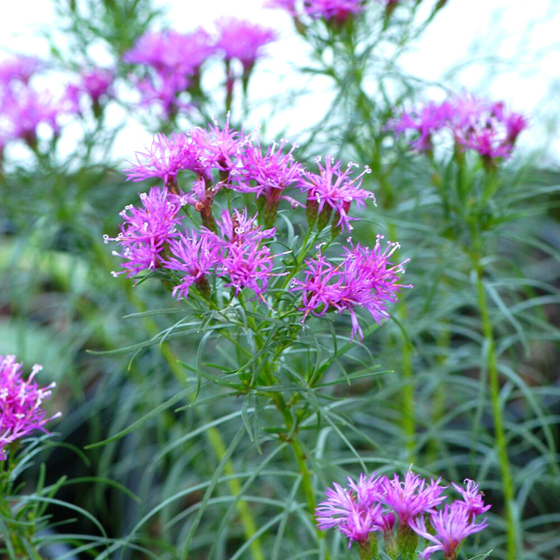 Images Depict Mature Plants
Vernonia lettermannii 'Iron Butterfly' Plants for Sale Online
Vernonia Iron Butterfly plants (Vernonia lettermannii) are flowering perennials in the Aster family. They prefer full sun for optimal blooms but can be planted in almost any soil condition. This cultivar is hardy in zones 4 through 9.
Also known as the ironweed, these perennials have compact mounding habits and showy blossoms. In July they bloom bright purple flower clusters that last through August. These blooms attract pollinators such as hummingbirds and butterflies. If the soil is too rich, the stems can bend under the weight of the flowers.
This pairs very nicely with native plants especially with bright yellow fall-blooming perennials such as solidago goldenrods.
---
Growzone: 4-9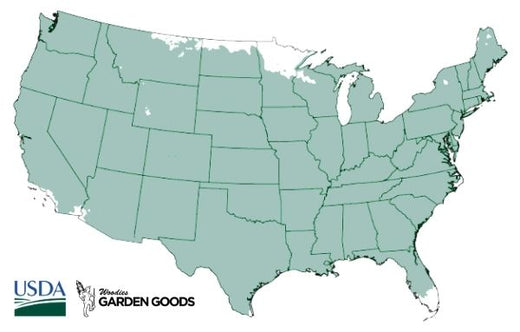 | | |
| --- | --- |
| Hardiness Zone: | 4-9 |
| Mature Height: | 2 to 3 Feet |
| Mature Width: | 2 to 3 Feet |
| Classification: | Perennial |
| Sunlight: | Full sun to light shade |
| Habit: | Upright, clump forming |
| Flower Color: | Purple |
| Flowering Season: | Mid summer to fall |
| Foliage: | Dark green |
| Soil Condition: | Can tolerate all soil types |
| Water Requirements: | Water well until established |
| Uses: | Extremely attractive when used as a focal point in the mixed border, mass planting. Attracts pollinators. |
---
How to Care for Vernonia Iron Butterfly
Before you buy an Iron Butterfly Venonia Plant, make sure to read about the recommended care instructions to keep this plant healthy and thriving.
How do I plant my Ironweed Perennial?
As with any plant, dig a hole twice as wide as the root system but not any deeper. When you buy a Venonia lettermanii with Garden Goods Direct, it will be delivered in a container. Use the container it was delivered in as a guide for how measure the depth. If the perennial sits too deep in the soil, it runs the risk of drowning and developing root rot. Loosen the bottom of the root ball with your hands and place in the hole. Backfill with a mix of the original soil and compost or topsoil. As you are filling, allow the hose to drip in and as you mix the soil and water, a slurry will form that will encourage the roots to settle.

How often do I water Iron Butterfly Plants?
After back filling and lightly compacting the 50/50 mix of existing soil and compost give the Iron Butterfly a good deep watering. This is not to be rushed. Most of the water you put on the plant at first will run away from the plant until the soil is soaked. A general rule of thumb is to count to 5 for every one gallon of pot size. For example a one gallon pot would be watered until you count to 5 a three gallon pot would be 15 and so on. Check the plant daily for the first week or so and then every other day there after. Water using the counting method for the first few weeks.

How do I fertilize Vernonia lettermanii plants?
Feeding your plants is probably the single most forgotten part of growing healthy long lasting plants. We recommend feeding your Vernonia lettermanii in the very early spring and again in mid summer after all new growth has hardened off and it begins to set flower buds. Apply an early spring fertilizer with a product such as Espoma Flower-tone at the recommended rate this will give the plant a boost of nitrogen potash that will be needed for healthy foliage and stem growth. Follow this up with another early summer application of Espoma Flower-Tone, this will again provide the necessary nutrients to promote a flush of beautiful flowers.

How do I mulch Vernonia Iron Butterfly Plants?
We highly recommend that you mulch your Venonia lettermanii with either a ground hardwood mulch or a ground cypress mulch depending on your local availability. Any type of mulch will do but cypress or hardwood mulch will be of a higher quality and provide better nutrition overall as they breakdown. Mulching helps to keep weeds away which will compete with your new investment for water and nutrients. A 2 to 3 inch layer of mulch is sufficient but remember to take care not to cover any part of the stem of the plant with mulch. Its better to leave a one inch gap of space between the mulch and the stem or base of the plant.
---
Frequently Asked questions
How do I prune Ironweed Plants?
---
Customer Reviews