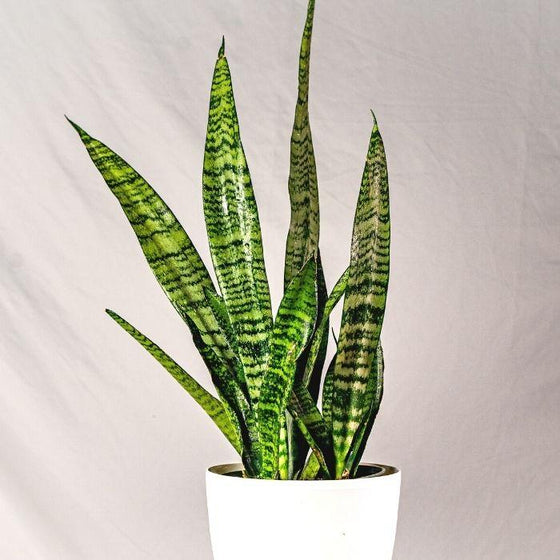 Images Depicted Range in Maturity & Container Size
Pots Not Included Unless Otherwise Stated
Black Coral Snake Plants for Sale Online
Black Coral Snake Plant is a beautiful low light, drought-tolerant indoor plant with dark-green and silver striped foliage. NASA studies have found them to be excellent at cleaning the air of toxins. They clean the air at night and add oxygen to the air making them perfect as bedroom plants. Easy to grow and nearly impossible to kill!
Also known as a Mother-in-law's Tongue, this plant is on our list for Top 5 Houseplants for Beginners. Botanically referred to as 'Sansevieria Trifasciata Black Coral,' these low maintenance houseplants boast waxy sword-like foliage that makes for a perfect vertical element to a space.
Ideal care conditions for these easy going plants includes a bright indirect light and a well draining potting mix. Because these plants are so hardy though, they will easily adapt to medium or low light conditions as opposed to most houseplants that love bright lighting. Astonishingly, your Snake Plant can survive in a room without any real sunlight whatsoever.
Sansevieria originate from dry desert environments, so they are extremely drought tolerant. We recommend you water your snake plant around every three to four weeks, but it can handle missed waterings without problem. When in doubt, it is better to err on the side of caution and water less than more. Allowing your Snake Plant to sit in a soaking pot of water is bound to end in root rot.
Your snake plant will also benefit from a well balanced fertilizer when your plant is actively growing in spring and summer. As a fun bonus, happy Sansevieria put out tiny white flowers when grown in ideal conditions.
These plants do extremely well in offices or buildings where they can live away from windows or natural light. They are frequently found in atriums indoors as they pair well with many different plants and add a vertical element to mixed containers.
It is important to note that snake plants are mildly toxic when consumed by pets and children, so be sure to keep them out of reach!
---
Growzone: 9-11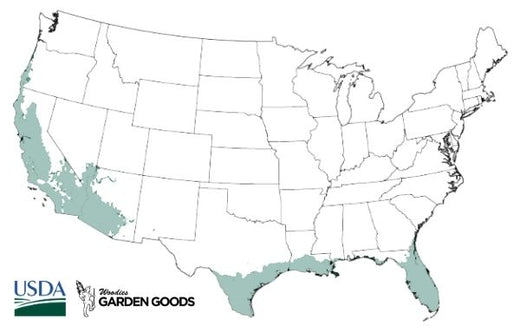 | | |
| --- | --- |
| Hardiness Zone: | 9-11 |
| Mature Height: | 10 to 16 Inch |
| Mature Width: | 10 to 18 Inch |
| Classification: | Colorful foliage |
| Sunlight: | Fluorescent light to bright, indirect |
| Habit: | Upright, narrow |
| Foliage: | Silver and dark green variegated |
| Soil Condition: | Well draining, cactus or succulent mix (part sand) |
| Water Require: | Likes to dry out in between waterings |
| Uses: | Does well in narrow spaces and in low light conditions, excellent clean-air plant |
---
How to Care for Black Coral Snake Plant
Be sure to read our planting instructions to ensure a healthy and happy plant for years to come!

What kind of soil should I use for my Black Coral Snake Plant?
Black Coral Snake Plants need a very well draining soil, and prefer to have dry conditions. Regular potting mix with sand mixed in works well for plants potted in containers, otherwise a cactus potting mix would work. The cactus potting mix already has sand and other ingredients to encourage drainage.

How often should I be watering Black Coral Snake Plant?
Black Coral Snake Plants like to dry out almost completely between watering. It does not like to stay or sit in water. Plants that are watered too often will not survive. If unsure, do not water. Snake Plants can go weeks before being watered again.

What type of fertilizer should I use with a Black coral snake plant?
Any all purpose, foliage fertilizer will work for Black Coral Snake Plants. Indoor houseplant fertilizers fall into two groups: water soluble, liquid quick release, and granular, slow release fertilizers. Jack's Classic Indoor plant food works well as a powder, quick release fertilizer that is mixed with water to quickly provide nutrients to a plant that has been in a container for an extended time. Osmocote Indoor/Outdoor is an option as a granular, slow release fertilizer that can be applied while potting and planting. Any type of fertilizer offers nutrients that help plants with the transition to a new environment. All of these fertilizers may be used when planting Snake Plants.

What are the light requirements of Black Coral Snake Plant?
Black Coral Snake Plants thrive in the lowest light conditions indoors, living with just fluorescent light. They can handle some bright, indirect light too, but too much light will cause browning.
---
---
Other Products you may be interested in
---
Customer Reviews