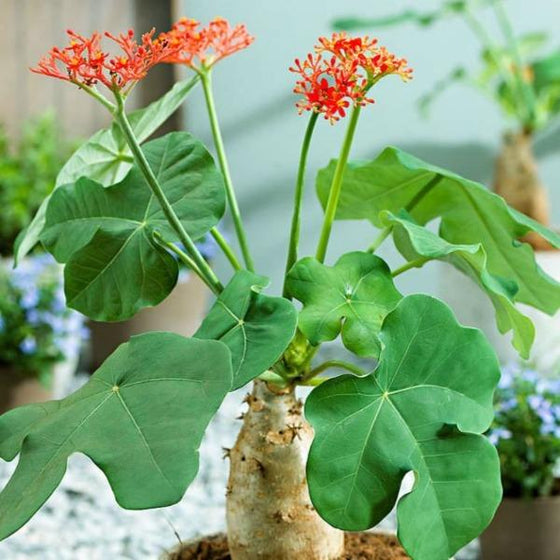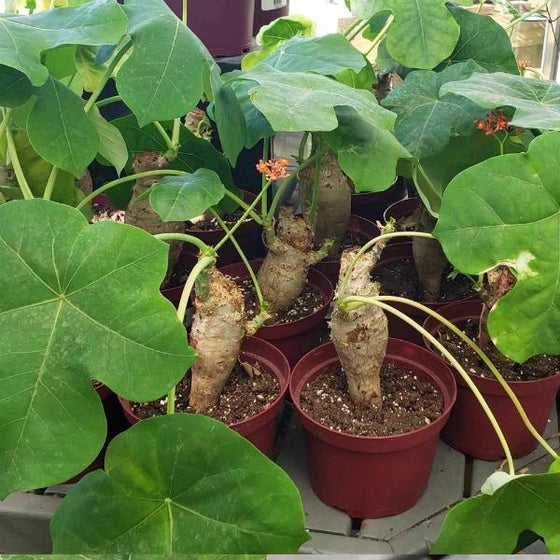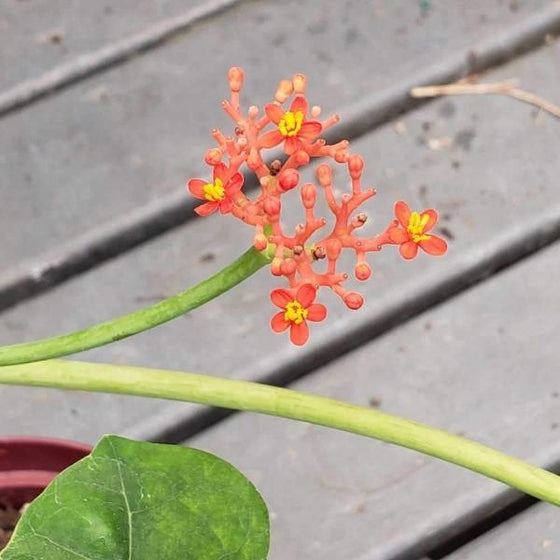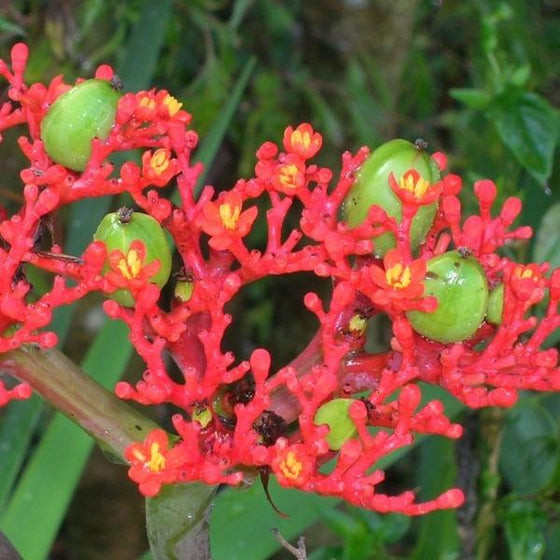 Images Depict Mature Plants
Buddha Belly Plants for Sale Online
Buddha Belly Plants (Jatropha podagrica) are tropical succulent shrubs that make a stunning ornamental houseplant. These plants can grow 5 to 8 feet tall in their native Mexican and Nicaraguan tropical landscapes, but they typically grow to 2 to 3 feet tall in containers and indoors. They can only be grown outdoors in zones 9 to 11.
Buddha Belly plants from the jatropha species, also known as Bottle Euphorbia or Gout plants, can be identified with their large, round, grey reservoir trunks - the trunk is what inspires the name 'Buddha Belly'. They also have large, fig-shaped, lobed leaves and small ornamental red flowers. The delicate red flowers attract both hummingbirds and butterflies.
Jatropha podagrica bloom in spring and summer, and they will lose their leaves and go dormant during the winter months. You can have these plants as outdoor container plants and then bring them inside before the weather drops below 60 degrees Fahrenheit. They prefer bright direct light and will tolerate partial shade. Buddha Belly plants are drought tolerant and prefer to dry out between waterings.
All parts of Buddha Belly plants are toxic. The sap causes dermatitis, or sometimes more severe skin irritation, and their fruit will cause nausea or other extreme reactions if ingested. Keep your Jatropha plants away from children and pets.
Propagation of Buddha Belly plants is easiest via seeds, but they can be propagated with cuttings as well. To collect the seeds safely, tie a small cloth bag around the flowers when they produce their green fruit capsules - when they burst and drop their seeds the bag will safely catch the seeds for you.
Buddha Belly plants will grow slowly, but they thrive with new soil every year. It is recommended to repot your Jatropha plant each year with a pot no more than 1 to 2 inches wider than the last pot (unless it is not ready to go a size up). These make a stunning and unique ornamental addition to your home, and they are easy to take care of as well.
---
| | |
| --- | --- |
| Hardiness Zone: | 9-11 |
| Mature Height: | 2 to 3 Feet in containers, 5 - 8 feet in native environment |
| Mature Width: | 1 to 2 Feet |
| Classification: | Succulent houseplant |
| Sunlight: | Direct light to partial shade |
| Flower Color: | Red-orange to scarlet, blooms in spring and summer |
| Habit: | Upright steady growth |
| Foliage: | Green fig-shaped deciduous leaves |
| Soil Condition: | Neutral to slightly acidic, well draining |
| Water Requirements: | Moderate, likes to dry out between waterings slightly |
| Uses: | Ornamental houseplant, great for patio container gardens, attracts butterflies and hummingbirds |
Growzone: 10-11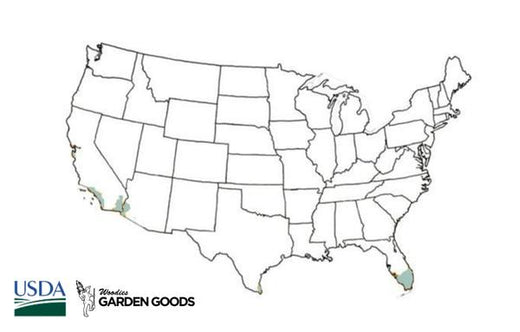 How to Care for Buddha Belly Plant
Be sure to read our planting instructions to ensure a healthy and happy plant for years to come!

What is the best light for Buddha Belly Plants?
Jatropha plants prefer bright sunlight and can happily tolerate partial shade as well. They will thrive on a well lit patio in the spring and summer, and should be brought inside during colder weather and put near a nice bright window.

How do I water my Jatropha Tree?
Jatropha podragica, or Buddha Belly plants, are drought tolerant and should not be over-watered. They like to dry out almost completely between waterings. They would do well in a terra cotta pot, since terra cotta is porous and lets air and water move through the walls. When the terra cotta color lightens, you know the pot has dried and your Buddha Belly could use some more water.

How do I fertilize Buddha Belly Plants?
When your Buddha Belly plant shows signs of new growth in the early spring, that is a great time to begin a regular fertilizing schedule. We recommend once every 4 to 6 weeks during Jatropha growing seasons. Any all purpose fertilizer will work for your Buddha Belly. Indoor houseplant fertilizers fall into two groups: water soluble, liquid quick release, and granular, slow release fertilizers. Jack's Classic Indoor plant food works well as a powder, quick release fertilizer that is mixed with water to quickly provide nutrients to a plant that has been in a container for an extended time. Osmocote Indoor/Outdoor is an option as a granular, slow release fertilizer that can be applied while potting and planting. Any type of fertilizer offers nutrients that help plants with the transition to a new environment.

What is the best soil for Buddha Belly Plant?
Buddha Belly (Jatropha padrogica) needs a very well draining soil, and prefer to have dry conditions. Regular potting mix with sand mixed in works well for plants potted in containers, otherwise a cactus potting mix would work. The cactus potting mix already has sand and other ingredients to encourage drainage. They like environments that range from neutral to slightly acidic.
---
Other Products you may be interested in
---
Customer Reviews