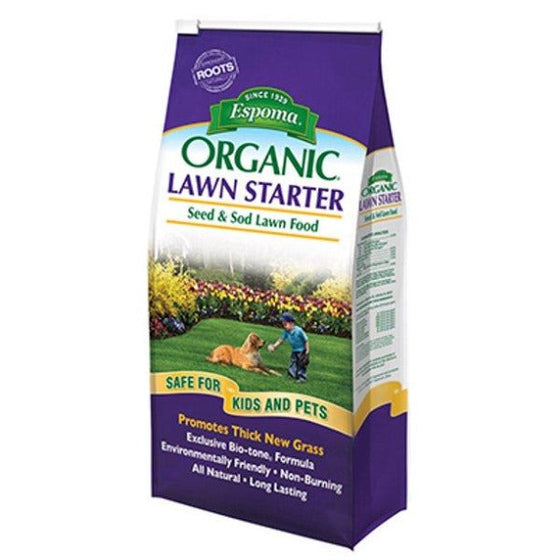 Images Depict Mature Plants
Espoma Lawn Starter Seed & Sod for Sale Online.  
Espoma Organic lawn starter is our choice for premium lawn food, ideal for establishing new lawns from seed or sod. Made from natural and organic plant food ingredients and it does not contain sludges or fillers. The entire 7-pound bag can cover 600 square feet.
The Bio-Tone found in this product enhances the fertilizer for superior results!
---
| | |
| --- | --- |
| Brand: | Espoma |
| Use: | Newly seeded and sodded areas |
| Recommended Application Amount: | Apply at a rate of 12 lbs. per 1000 square feet |
How to Care for Espoma Lawn Starter Seed & Sod Lawn Food
When purchasing fertilizer for your garden, make sure to read our recommended advice on how to properly feed your plants so that they live their best lives.

When should I use Espoma Bio~tone Lawn Starter Seed?
Apply when seeding a new lawn, overseeding an existing lawn, or starting turf from sod or plugs. Local regulations may restrict the timing of fertilizer applications to lawns.

How to Apply Starter Seed and Lawn Food?
If over-seeding an existing lawn, cut the grass first. Then apply Espoma Organic Lawn Starter with a drop or broadcast spreader and be certain to overlap slightly for better coverage. After seeding or sod installation, water and keep the area moist with light frequent watering until the new grass has been cut twice. After that time resume normal watering.
---
Customer Reviews