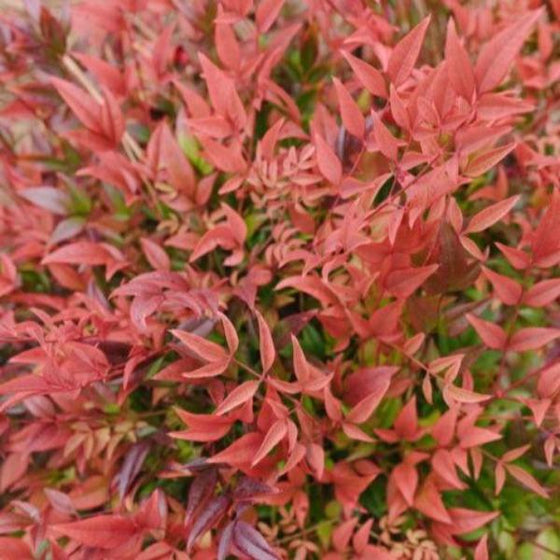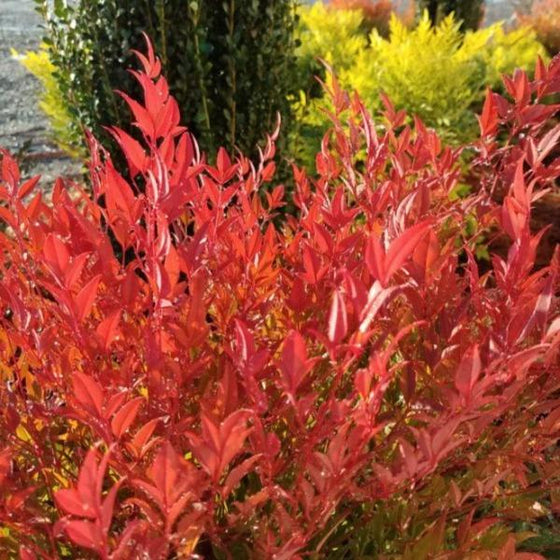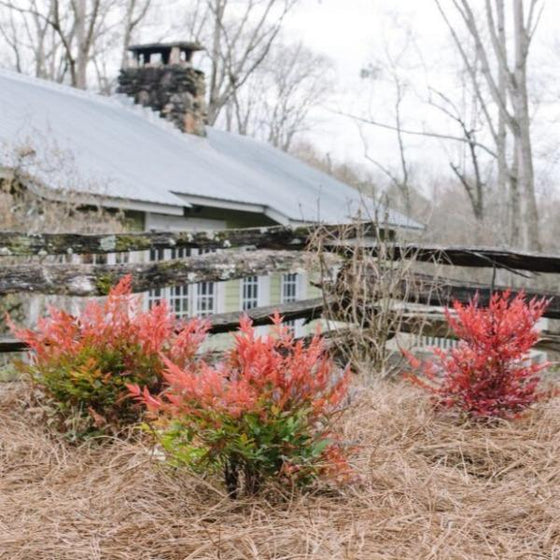 Images Depict Mature Plants
Cool Glow™ Pomegranate Nandina Shrubs for Sale Online
The new Cool Glow™ Nandinas from First Editions are the perfect additions to the Nandina domestica family. Cool Glow™ Pomegranate is especially striking when it glows against a wintery backdrop with its bright pomegranate red foliage. With its dark green spring foliage and white flowers, this compact landscaping shrub will look stunning all year round.
Plant as a specimen plant in smaller garden designs or as a foundation in mass planting projects for a splash of lush, fruity red in the cooler seasons. This plant is a deer-resistant and drought-tolerant shrub, making it a versatile choice for landscapers and gardeners alike.
---
| | |
| --- | --- |
| Hardiness Zone: | 6-9 |
| Mature Height: | 3 to 4 Feet |
| Mature width: | 3 to 4 Feet |
| Classification: | Broad leaved evergreen shrub |
| sunlight: | Full sun to part shade |
| habit: | Upright, rounded |
| Foliage: | Dark green lacy foliage turns bright red in fall |
| Flower Color: | White |
| Pruning season: | Prune in late winter, if at all |
| Soil condition: | Any well drained soil |
| Water Requirements: | Water well until established |
| Uses: | Ornamental, mixed borders, containers, specimen, or mass planting |
Growzone: 6-9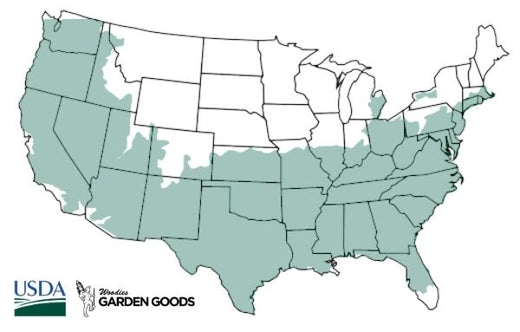 How to Care for First Editions® Cool Glow® Pomegranate Nandina
Before you buy your Cool Glow Pomegranate Nandina Shrub, make sure to read about the recommended care instructions to keep this plant healthy and thriving.

How do I plant a Cool Glow Pomegranate Nandina Domestica?
To start, dig a hole twice as wide and the same depth as the root ball of your new Cool Glow Pomegranate Nandina. Next, amend the soil at the bottom of the hole with a 50/50 mix of native soil and organic matter, such as peat or compost. This would be the time to add a starting fertilizer, such as Espoma Biotone Starter Plus. Next, position your plant so that the top of the original soil will still be visible before mulch. Backfill the hole by adding more of the amended 50/50 soil underneath the root ball of the Nandina until it stays in the desired position. Pat gently, add a few inches of mulch over the soil, and water thoroughly.

When is the best time to fertilize Nandina shrubs?
Nandina domestica, or heavenly bamboo, do well when fertilized once in the spring and again in the early summer, as this is when the plant needs nutrients to promote growth. Don't fertilize Nandina shrubs after August if you live in more northern zones; this will inhibit your plant's ability to transition into a healthy dormancy in the fall. While the Cool Glow Pomegranate Nandina is technically an evergreen shrub and will retain its beautiful orange fall foliage, it still enters a dormancy stage in colder climates. This is why it is best to fertilize in spring and early summer only. Any well-balanced, slow-release fertilizer will do, such as Espoma Plant-tone.

How much water does my Cool Glow Pomegranate Nandina Shrub need?
Cool Glow Pomegranate Nandina is deer, disease, and drought-resistant. These qualities make them a great choice for a wide variety of landscapes. When first planting your Cool Glow Pomegranate Nandina, you will want to give it water so that the roots have everything they need to become well established in the soil. Watering to a count of 5 for each gallon-size will help make sure you water just the right amount. (Count to 5 for a 1 Gallon pot, 10 for a 2 Gallon pot, 15 for a 3 Gallon pot, etc.). Depending on the soil drainage you have, you will need to keep an eye on your nandinas for the first few weeks to see how often you need to water so that they stay moist but not drenched. Typically you will water new bushes every few days, at least twice a week. Once they are established, they can handle brief periods between waterings when the soil is drier. When in doubt, it is better to wait between waterings than to overwater to prevent root rot.

How much sunlight do Cool Glow Pomegranate Nandinas need?
Nandina shrubs, including the Cool Glow Pomegranate Nandina, are beloved for their lacy foliage, bright fall colors, and hardiness in a wide range of sunlight conditions. While Nandina shrubs will do just fine in the shade, being as hardy as they are, they will not show off the beautiful glowing colors while sitting in shady corners. To get the best range of color from your plants, make sure they are getting at least 6 to 8 hours of sunlight, and more in cooler climates.
---
Frequently Asked questions
Are Nandina Cool Glow Pomegranate Shrubs toxic?
Is the Cool Glow Pomegranate Nandina Shrub an Invasive Species?
How Do I Prune Cool Glow Pomegranate Nandina Shrubs?
---
Other Products you may be interested in
---
Customer Reviews