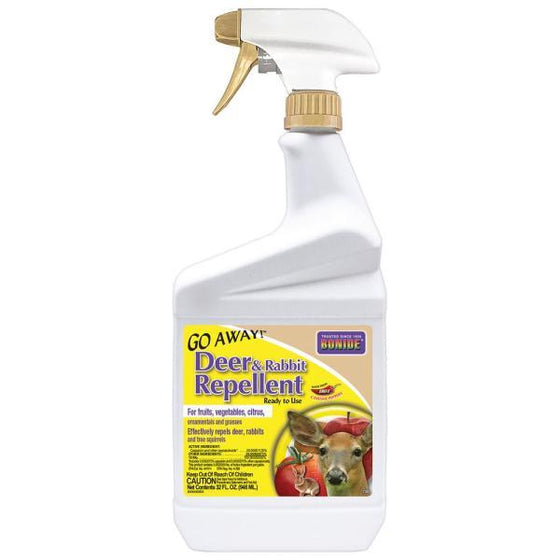 Bonide Deer & Rabbit Repellent for Sale Online
Bonide Deer and Rabbit Repellent is the perfect solution to keep those adamant nibblers from eating your plants. You can spray this repellent directly onto your plants, fruits, or vegetables to protect them from deer, rabbits, and even squirrels. Also great for flowers, ornamentals, and grasses. Made from hot peppers.
For best results, apply this repellent once a month or after every substantial rainfall.
About Your Bonide Deer and Rabbit Repellent
How to Repel Deer From Your Garden
Repel Deer not People with I must garden Deer Repellent. I Must Garden Deer Repellents are environmentally safe, humane, and an effective way to stop deer from eating your flowers and plants. I must garden's repellents are safe to use around children and pets, and they are completely biodegradable. With I Must Garden Deer Repellent you can confidently protect your garden in a safer and more eco-friendly way while still providing maximum protection against deer damage. Freedom from Foul Odors I Must Garden Deer Repellents are pleasantly scented, in both spice and mint scents making application easier and more enjoyable than ever! Most repellents on the market smell very bad. We've heard stories where people would actually get sick after spraying…or they smelled so bad, they had to shower every time they sprayed. With I Must Garden Deer Repellent, you won't be driven out of your own garden and your neighbors won't resent you every time you spray. It's no wonder I Must Garden Deer Repellent is the top-selling deer repellent in hundreds of stores around the country. Mint Scent and Spice Scent I Must Gardens deer repellents are offered in two pleasent scented and equally effective repellents - Mint Scent and Spice Scent. Both deer repellents contain eggs and garlic - substances that by themselves repel deer. However, I Must Garden take repellents to an even higher level by adding botanical oils from plants that deer won't eat - plants such as peppermint, lemongrass, cinnamon and clove. Not only do the botanical oils from these plants make our repellents smell so much better, but these natural oils increase the effectiveness and longevity of the repellents. The Spice Scent Deer Repellent has a fresh cinnamon-clove smell that gardeners love and provides effective year-round control against deer damage. As with the Mint Scent repellent, clove and cinnamon oils have insecticidal, as well as repellent properties. Cinnamon oil also has anti-fungal properties which is an added bonus. While the botanical oils used in the I Must Garden Deer Repellents are chosen for maximum effectiveness against deer, it's nice to know there are other benefits. The Mint Scent Deer Repellent blends peppermint and lemongrass oils that effectively and refreshingly repel deer. Our Mint Scent Repellent also contains kelp (seaweed). Botanical oils are also effective at repelling many insects, so while you're spraying for deer, you're also helping control damaging insect infestations. Some gardeners prefer one scent over the other and have been using their favorite I Must Garden Deer Repellent to protect their plants for years. Other gardeners like to rotate between our two equally effective and pleasantly scented deer repellents. We've also heard gardeners tell us that they mix the Mint Scent with the Spice Scent for a third unique scent – and that's perfectly ok to do! No matter which repellent you use, it's good to know that there are no poisons, harmful chemicals or toxic glues in our products. All of our repellents are safer to use around children and pets and are completely biodegradable and environmentally friendly. Want to try both? Consider buying our Deer Duo where you can try both repellents at a special savings! How I Must Garden Deer Repellent Works Repels deer by both smell and taste Spray repellent directly on plants for strong, long lasting protection Contains natural stickers for rain-resistance Both Spice and Mint scent provide year-round effective control
---
Customer Reviews