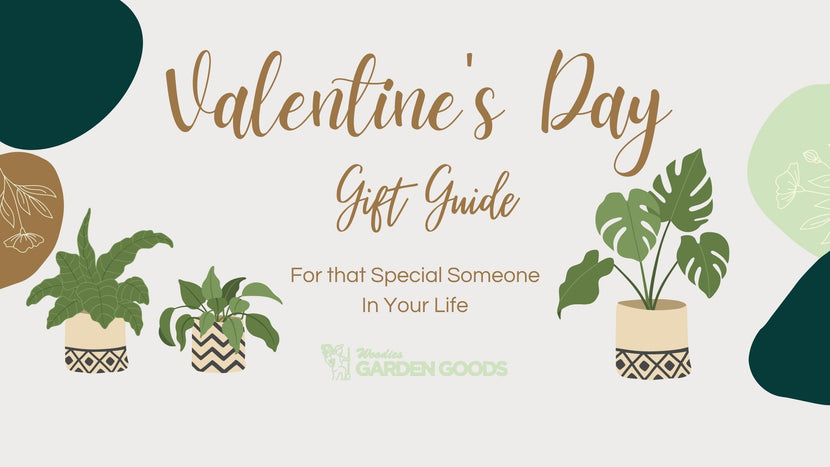 Valentine's Day Gift Guide For Plant Lovers
Have you been busy browsing the isles of your local department stores, but just can't seem to find that perfect Valentine's Day gift for your significant other? If chocolates and flowers just feel too mainstream for you, you're not alone in feeling this way. These gifts are overrated and overdone, and it's time to switch it up this holiday season.
February 14th is quickly approaching, and the Garden Goods Direct team is here for you with a selection of gifts that are perfect for that special someone in your life. Give the gift of life and leaves this Valentine's Day, through this collection of love-inspired houseplants!
String of Hearts
First on our list of Valentine's Day plants is one of the more obvious choices to portray one's love and admiration. What better way to do this than through a basket overflowing with dainty hearts?
The String of Hearts plant, or Ceropegia woodii, is a gorgeous trailing, evergreen succulent vine with mesmerizing purple-green foliage. What really sets this plant apart from other houseplants is its distinctive mini, heart-shaped leaves suspending from a thin necklace-like vine.
Trailing up to several feet long at maturity, these string plants make for a real statement piece in a space. Additionally, the hearts do not require a ton of attention, only requiring water about once a month.
Place your hearts in an area with bright indirect sunlight and watch them flourish and grow with your love! Your loved-one is sure to feel showered in love when you present them with a String of Hearts on the holiday of love.
Sweetheart Hoya
Next on our list of Valentine's Day-inspired houseplants is a little more subtle than the overflowing expression of love the SOH might exude. But nonetheless, these little gems are sure to impress and make your valentine feel the love.
Sweetheart Hoya, otherwise known as the Hoya Kerri, is also a heart-shaped succulent houseplant, but it is quite different from the String of Hearts in its coloring, texture, size, and growth patterns.
Usually, this Hoya comes in a small pot as just one single heart. The plant is extremely slow-growing and may just stay as this singular heart forever. However, just like with your one-in-a-million lover, you may have gotten lucky and scored a Kerri that is a bit rarer. If your Hoya Kerri has a node–which is rather difficult to tell from above the soil, then your plant can begin vining out and produce multiple hearts.
Give your sweetheart a Sweetheart Hoya this Valentine's Day to make them feel how truly special they are to you!
Lady Valentine Aglaonema
This next plant kind of speaks for itself when it comes to the season of love. The Lady Valentine Aglaonema is a staple plant that stands out among the other Aglaonema through its eye-catching shades of green and deep blushing pinks.
Also referred to as a type of Chinese Evergreen, the Lady Valentine is beautifully patterned and sports such unique bright foliage. Some bonus qualities of this plant include its easy, low maintenance care regimen and its tolerance to low lighting environments.
For a gift that just keeps giving, this Aglaonema also produces fun, eclectic white flowers in its warmer growing seasons of spring and summer.
Gift the Lady Valentine Aglaonema to your soulmate who emulates beauty, happiness, and an all around good energy!
Red Anthurium
Last on our list of houseplants of love is the Red Anthurium. While a much less obvious choice in comparison to our other options, this indoor houseplant is bold and beautiful, and is sure to wow your Valentine this holiday.
The Red Anthurium, is a bold and more permanent option to get in place of your typical bouquet of red roses. Nicknamed the 'Flamingo Flower,' this lovely houseplant produces brilliant red, waxy flowers. The plant's foliage is a calm emerald green and contrasts beautifully with the intense scarlet blooms.
Care for this Anthurium is also quite simple. Water your plant when the soil dries out and place it in a bright indirect light for optimal growth and blooms.
If you are looking for a gift to express your passion and affection for your other half, look no further than the alluring Red Anthurium.
Another Potted Houseplant
If your S.O. is a seasoned houseplant lover, odds are they may already have the plants above in their collection. If you are on the hunt for the perfect gift for your crazy plant-loving partner, take it from a plant professional when I say: you can never have too many houseplants!
If you are confident that your valentine already has the plants listed above, check out our full collection of potted houseplants and consider gifting one of those! The only thing better than a houseplant is a houseplant that's already in its own stylish planter!
Garden Goods Direct has a wide variety of beautiful and unique houseplants to choose from this holiday season and every season!
It's important to note that once flower bouquets die and the heart-shaped chocolates are consumed, your valentine is left empty handed. Giving the gift of a houseplant this Valentine's Day is the perfect way to express that your feelings for the one you love are not temporary. Give the gift of eternal love this holiday season with a houseplant!