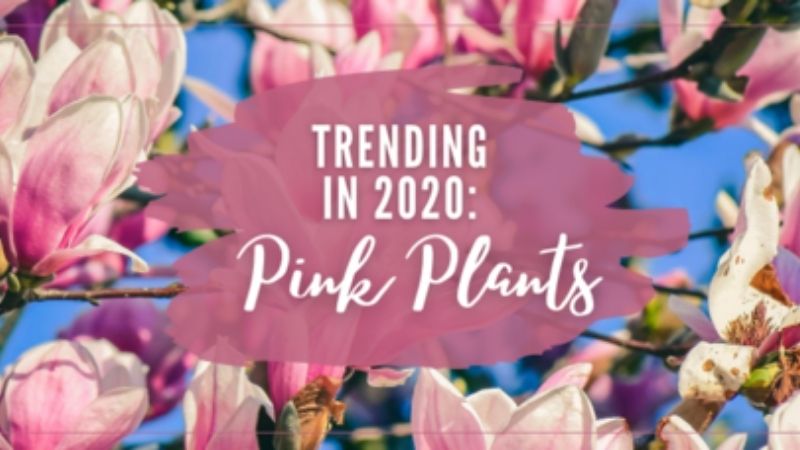 Trending in 2020: Pink Plants
When you think of plants, shades of lush green leaves come to mind. However, there's a new trend sweeping through the homes and gardens in America - pink plants! To some people, it may seem like the pink trend came out of the blue, but it's been brewing for a while.
In 2016, Rose Quartz was deemed Color of the Year by the color enthusiasts at Pantone. Since then, the term "Millennial Pink" was created, and it hasn't left social media since. Don't believe us? Simply search #millennialpink on Instagram and get back to us.
Needless to say, that same color trend has spilled over into the world of gardening. While pink plants have always been around, the demand is higher than ever! Fan favorites like the Pink Princess Philodendron and Calathea Dottie are highly sought after for their unique pop of color and leaf shapes.
Whether you're looking to brighten up your indoor or outdoor space, there's many pink plants to choose from at Garden Goods Direct. No need to go digging (yet!) - we compiled a list of our pink plant options and what makes them unique, below.
This show-stopping ornamental grass is bursting with pink feathery foliage! Muhlenbergia capillaris features blue-green foliage in the spring, and pink purple flowers in the fall. With cloud-like pink plumes, it's sure to brighten up your landscape well into the fall season. Native to much of the Southeastern United States, extending deep into Texas and Kansas, and thriving as far north as Massachusetts, it's an ideal choice for low-water landscapes.
Stromanthe Triostar or tri-colored Prayer Plant is a striking tropical houseplant that never fails to catch the eye of visitors to our nursery. It's exotic variegated foliage of cream, green, and pink will add a splash of color anywhere it's needed.
Calathea roseopicta 'Dottie' is highly sought out in the plant world due to its shiny dark green and pink leaves. It closely resembles the original Calathea roseopicta, but the pink halo really jumps out against its dark background. Calathea Dottie is a part of the Marantaceae family, and likes bright, indirect light at most, but grows well in low-light environments. To increase its pink color, our plant experts recommend placing this plant in an east or north facing window.
Pink Fittonia Plants are easy to grow, low-light thriving houseplants with pink and green leaves. Fittonia albivenis are wonderful plants for children to help take care of for their unique movement. As Pink Fittonia's soil begins to dry out, its leaves wilt, but as soon as they are watered they'll begin to stand back up. This plant brings color and fun to any space!
You'll love this little sweetheart of a clean air plant. Aglaonema 'Pink Dalmatian' looks great on a desk in the office or just about anywhere in the home. Unlike most pink plants, low light levels bring out the pink coloration on the leaves. The less sunlight it receives, the more pink coloring on the leaves. This polka dot plant's splashes of pink on the dark green leaves match with virtually any decor and offer a pop of color to your living room or office!
Philodendron Pink Princess Plants are one of the most coveted indoor house plants with one-of-a-kind foliage. New leaves will give you a nice mixture of green and pink that will add a unique color to any room. This highly sought after plant sells out within minutes whenever we offer them, so we recommend checking our website frequently for restocks.
The species' natural habitat is the rainforest of Colombia but it has become one of the world's most popular Philodendron plants, right up there with Split Leaf Philodendron. Prized in the horticultural community for its rare beauty and ease of care, Philodendron erubescens Pink Princess is a trouble-free houseplant with virtually no threat of disease.
Muskogee Crape Myrtle is a one of a kind crepe myrtle tree with lush lavender blooms and contrasting green leaves. This full sun loving, hybrid tree is packed with colorful flowers and blooms for up to six months. Unlike other crape myrtle trees, Muskogee is a fast growing tree and mildew resistant. Its rich chocolate-hued bark is sure to bring year round interest to any landscape or garden.
Tuscarora Crape Myrtle Trees produce a true Coral-Pink flower. But these are no one trick pony. You'll get the flowers but as added bonuses you get great fall color and the peeling bark that Crape Myrtles are famous for. We think the Cinnamon colored bark is actually the real show stopper.
If you're looking for a flowering tree that won't overwhelm the landscape, the Kwanzan Cherry tree is it. It grows in an upright "V" shape so it won't spread out and overtake your sightlines. Prunus serrulata 'Kwanzan' trees are one of the main varieties planted at the Tidal Basin In Washington DC. They are frequently the highlight of the Cherry-Blossom Festival every spring.
Magnolia Betty Tree is a beauty of a tree with its pinkish-white flowers on top of its lush, green foliage. This shrubby tree is a late bloomer making it more cold tolerant than other Magnolias. When the blooms subside, the foliage will begin to emerge with a coppery hue and then transition to a deep forest green. If you're looking for other pink Magnolia options, see our Magnolia Ann and Magnolia Jane flowering trees.
The Forest Pansy Redbud Tree is the perfect alternative to a purple leaf plum tree. When this redbud tree flowers in the early spring you'll agree that no other tree produces the flower display that a redbud tree does. The dark maroon colored leaves do not burn in the heat of the summer and the rosy-pink flowers appear early in the spring often blooming with the forsythia. This pest-free tree is perfect for small landscape projects!