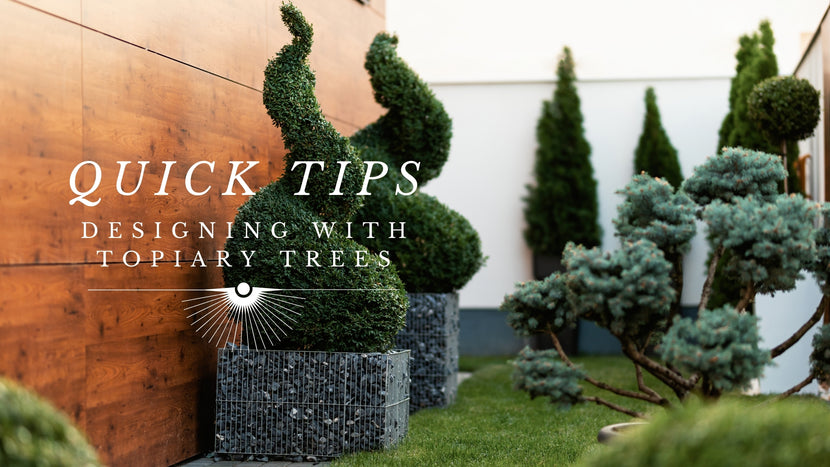 Quick Tips: Designing With Topiary Trees
Topiary trees are like live sculptures! These creations combine art and plants to add formal, head-turning displays in home gardens. Topiary plants, like the blue point juniper spiral topiary, are designed with careful attention to detail to create one-of-a-kind silhouettes that offer interesting textures and dimensions to landscapes. Because of their compact and dense foliage, small leaved evergreens make for perfect topiary trees. These trees come in a wide variety of fun geometric shapes and sizes like spiral topiary trees and rounded, sphere-like trees.

If you recently got yourself a new topiary tree but aren't sure where to keep it, we're here to help! When it comes to planting and staging these trees, there are endless possibilities for your landscape design. Here are a few quick tips to help inspire you as you find the perfect spot for your new live sculpture:
Container Topiary Trees
While there's nothing wrong with going all out and creating an extravagant topiary garden, there are ways to incorporate these trees into smaller spaces, too. Did you know topiary trees make for great container plants? This means you can enjoy these charming trees on porches and balconies! That said, when placing your topiary tree in a container, there are some care and design elements to consider.
First, be sure your porch or balcony receives the right amount of sunlight for your specific tree. Most evergreen trees prefer full sun, so set your container in an extra sunny spot. When it comes to picking out a container, you'll want to consider a nice complementary color, like a terracotta pot. The contrast of the burnt orange terra cotta color with the dark green foliage of the tree creates a rustic yet formal look. Other glazed pots make for great containers, too. So long as the container is deep enough to support the tree and its root systems, it will look lovely!
Surrounding Your Topiary Tree
 

If you decide to plant your topiary tree in the ground, you'll want to consider neighboring flowers and plants. Color and care are two things to keep in mind as you create a planting plan. Because evergreens prefer full sun, surrounding your tree with plants of similar sun and water needs is a good idea.

For example, you might consider planting elegant red roses or geraniums with your topiary tree. Evergreens, roses, and geraniums require full sun and regular watering, not to mention each of these plants has that classic, formal flare that will look stunning when planted together. 
Topiary Pruning
It's no secret that topiary trees are stunning sculptural additions to the garden, but we can't forget that they're alive! Your trimmed topiary will grow over time, but this doesn't mean it has to lose its unique shape. With regular pruning to maintain its iconic topiary shape, you can ensure your tree always looks its best. Whether it has a rounded or spiral shape, a good rule of thumb is to simply snip off the excess leaves and branches that are protruding from your tree. Getting the branches and leaves even is key to maintaining a clean, compact shape.
Whether you are creating an entire topiary garden or adding one to an existing garden, we hope these tips help you with topiary tree design! Still not sure how to garden with topiary trees? Let us know! We'd be happy to offer suggestions.

As always, happy planting!