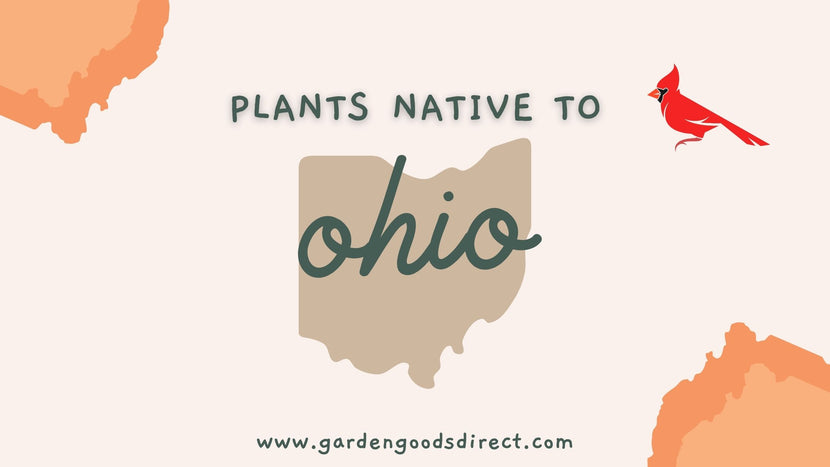 Ohio Native Planting Guide
As a gorgeous state home to Lake Erie, the Appalachian Mountain Range, and the ever-so expansive Ohio river, the state of Ohio is a prime planting zone with so many amazing options for native planting. 
The soils are naturally fertile and rich in phosphates making for easy and plentiful planting. Not to mention the relatively humid subtropical climate makes for ideal conditions for a wide variety of garden plants. 
In this blog, we will share with you the importance of planting native, and then we will  introduce some of our favorite Ohio native planting options you can use in your Ohio landscape this planting season!
The Importance of Planting Native
The simple decisions you make in your tree, shrub and perennial plantings this season can make a bigger impact than you think. Native plants are not only the foundation to a gorgeous landscape, but more importantly, they are key to a functioning ecosystem. 
As plants that occur and grow naturally in the region in which they evolved, it's no surprise that native plants will grow best in their region of origin because conditions are ideal. In addition to achieving your plants optimal growth capacity and producing the best garden possible, you should consider planting native for the benefit of the environment. 
Planting native helps the environment through combating climate change, conserving water, and supporting local wildlife necessary for a balanced ecosystem. You can change the planet starting with your own yard. What are you waiting for? To learn more about the benefits of planting native, check out our blog: Planting To Attract Local Wildlife and Benefit Your Ecosystem. 
6 Native Planting Options For Ohio 
Now that we've briefly gone over the main advantages of planting native, the Garden Goods Direct team has compiled a list of six Ohio native plants to add to your yard this planting season. 
1. Echinacea Magnus 
First on our list of Ohio native plants is Echinacea Magnus. Boasting bright pink blooms with a spectacular copper brown center, these show-stopping perennials will surely be the star of your Ohio garden. 
These electric plants are fairly easy to grow and tolerant of a wide variety of conditions ranging from drought, to high temperatures. Additionally these plants are deer resistant and have considerably long bloom times. Blooming in late June, the Ohio ConeFlowers last until the area's first frost. 
Add Echinacea Magnus to your Ohio yard this season and enjoy bright blooms all summer long, with the added bonus of pollinators grazing your garden often. This Ohio Native plant will brighten up your yard and your life!
2. White Turtlehead
Next on our list of Ohio Native Plants is White Turtlehead. With the most unique little blooms that resemble little turtle heads, these robust Ohio native perennials are irresistibly cute! 
These unique turtle-shaped plants enjoy moist environments making them perfect for planting near Ohio bodies of water. Blooming in late summer and lasting through to the fall, these Ohio native plants are adaptable to just about any soil medium as long as moisture is involved, and enjoy conditions of part sun.
Ohio Turtlehead plants are also beneficial to local wildlife, especially pollinators who enjoy sipping the plant's sweet nectar. Perfect for planting in mixed borders, container gardens and around bodies of water, these funky little perennials will add variety and fun to your Ohio native garden.
3. Pin Oak
Pin Oak is an Ohio Native tree that brings multi-seasonal interest, stunning colors, and an impressive draw of local wildlife. The North American native tree's low maintenance care regimen is worth all the beauty and interest it brings to your landscape.
Though slow growing, the Pin Oak tree can grow to be 40 feet tall and is a perfect Ohio yard specimen to add dense shade to a landscape, while putting on a sensational show of colors. 
4. Geranium Maculatum
Geranium Maculatum is a sweet Ohio native planting option that produces dainty lilac blooms and a semi-evergreen foliage. Only growing to a mature height of one to two feet, these colorful Ohio native perennials are ideal for small yards and confined spaces, 
Perfect for eastern shade gardens and woodland slopes, these fun little Ohio garden plants do well in a variety of growing circumstances, and although they appear fragile, they are fairly hardy native plants. 
Wild Geraniums bloom from late spring to early summer, and grow best in conditions of part shade and consistently moist soils. Perfect for woodland and pollinator gardens, these Ohio native flowers are a great new planting addition for your Ohio landscape this season. 
5. Solidago
Next on our list of Ohio Native plants is Solidago, or more commonly referred to as goldenrod. These herbaceous perennials are extremely easy to care for and appreciate conditions of average, dry to medium, well-drained soil, and full sun.
From July through September, your goldenrod plants will entice you with its warm golden blooms readily scattered throughout tall arching stems. These stunning Ohio native perennial plants are extremely hardy and will happily accept conditions of drought and poor soil mediums. 
If this is your first attempt at planting native in Ohio, the Solidago Goldenrod plant is a great and easy native garden option.
6. Wood Aster
Last on our list of plants native to Ohio, is the exotic and beautiful Wood Aster plant. Offering up a wide range of bright colors and plentiful blooms, we love the Wood Aster for its delicate display and long bloom times. 
It's important to note that these Ohio natives are self-seeding, so they will quickly spread if not maintained. This characteristic is ideal for naturalistic or woodland style gardens where the more flowers there are, the better it looks!
These deciduous perennials easily adapt to many soil mediums and prefer dry to slightly moist roots. Plant Wood Aster in your Ohio summer garden and enjoy all the beauty and life it attracts!
Shop Garden Goods Direct
In conclusion, for Ohio Native Gardeners, the question is not if you should plant native, but rather what amazing Ohio native plants you will decide to plant! Your options are fabulous and endless. 
The Garden Goods Direct team has a wide variety of native trees, shrubs and perennials to provide you with the necessities to create the native garden of your dreams! Shop online today and have your native plants shipped conveniently to your door just in time for planting season.