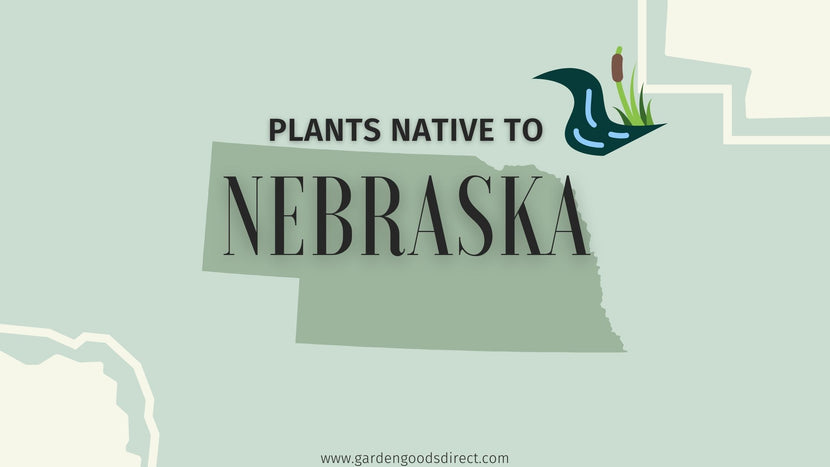 Nebraska Native Planting Guide
Nebraska is known for its winding rivers, great plains, and a diverse range of hummusy, nutrient rich soils. These characteristics intertwine to create one of the best and most diverse places for yard and garden planting.
Rolling hills, fertile valleys, and expansive plains provide the space and conditions for nearly 1,500 species of native plants to flourish. In this blog, the Garden Goods Direct team will delve into the importance of planting native and then share with you some great Nebraska Native Planting options.
The Importance of Planting Native
The simple decisions you make in your tree, shrub and perennial plantings this season can make a bigger impact than you think. Native plants are not only the foundation to a beautiful and flourishing landscape, they are also key to a functioning ecosystem.
Native plants occur and grow naturally in the region in which they evolved. It's no surprise that native plants will grow best in their region of origin because conditions are ideal. In addition to achieving your plants optimal growth capacity and producing the best garden possible, you should consider planting native for the benefit of the environment.
Planting native helps the environment through combating climate change, conserving water, and supporting local wildlife necessary for a balanced ecosystem. You can change the planet starting with your own yard. What are you waiting for? To learn more about the benefits of planting native, check out our blog: Planting To Attract Local Wildlife and Benefit Your Ecosystem.
6 Native Planting Options For Nebraska
Now that you understand the immense impact planting native can have on your ecosystem, check out these six Nebraska native plants to add to your yard this planting season.
First on our list of Nebraska native plants is Butterfly Weed. These orange flowering shrubs not only work to attract a wide range of pollinators, but also work to tolerate conditions of drought and heavy clay soils.
The clump forming beauty that is the Butterfly Bush is a Nebraska native plant that will easily turn a landscape into a butterfly sanctuary. Add Asclepias tuberosa to your Nebraska garden this planting season, and we promise you will constantly be in awe of the beauty it both emits and attracts.
Next on our list of Nebraska native plants is False Indigo. This show stopping perennial herb boasts tall stems of stunning indigo blooms. Blooming in mid spring through to the summer, False Indigo plants provide a gentle pop of color and turn an average garden into a whimsical escape.
False Indigo plants also make for stunning additions to cut flower arrangements. Perfect for Nebraska perennial gardens or planting in mixed borders, container gardens, these funky sweet perennials will add depth and variation to your Nebraska native garden.
Ninebark is a Nebraska native shrub that provides an irresistible show of colors throughout the seasons. Ninebark plants sport a rich bronze-maroon foliage that remains bright and lustrous year round. In late spring, these Nebraska native shrubs push out clusters of dainty white flowers that transition to a red fruit.
As an added bonus, Ninebark is tolerant of most any well-drained soils, and the flowering plants provide nectar sources for pollinators. Plant these white flowering Nebraskan natives in your garden this planting season, and turn your yard into a blooming hub for local pollinators.
If you've fallen in love with these spunky flowering shrubs, be sure to check out our collection of Proven Winners®Ninebark plants.
Verbena is a lovely Nebraska native planting option that produces vivid purple blooms from May through October. In addition to insanely long lasting bloom times, Verbena plants boast an impressive tolerance to inclement weather, un-idyllic soils and conditions of drought and intense summer temperatures.
Popular for use in sunny flower beds, mass plantings and in naturalistic style gardens, these free-spirited, hardy Nebraska native perennials are not likely to disappoint.  Ideal for USDA grow zones 9 to 11, your Nebraska landscape will be brought to life with these stunning plants.
Solidago
Next on our list of Nebraska native plants is Solidago, or more commonly referred to as goldenrod. Solidago plants radiate sunshine hues and fluffy blooms.  Add on the plant's low maintenance care regimen and ability to tolerate various soil types, and it's quite hard not to be impressed by these herbaceous perennials.
Producing stunning bright blooms from July through September, goldenrod plants will light up your Nebraskan native garden. First time Nebraskan gardeners will love this easy Nebraska native planting option.
Redbud
Last on our list of plants native to Nebraska, is the iconic standout that is the Redbud Tree. Rosy pink flowers and reddish purple leaves will bring the springtime color that your Nebraska landscape is craving.
 The Redbud is a great option, not only for its gorgeous show of colors, but also for its small stature and draw to wildlife ranging from songbirds, mammals and butterflies. This stunning flowering tree will make a bold new addition to any Nebraska yard, and will give you something to look forward to each spring.
Shop Garden Goods Direct
In conclusion, for Nebraska native gardeners, your options for Nebraska native planting are endless. We hope through this guide and research on your state's planting options, that you will make the choice to plant native this season.
The Garden Goods Direct team has a wide selection of native trees, shrubs and perennials to provide you with the necessities to create the native garden of your dreams! Shop online today and have your native plants shipped conveniently to your door just in time for planting season.