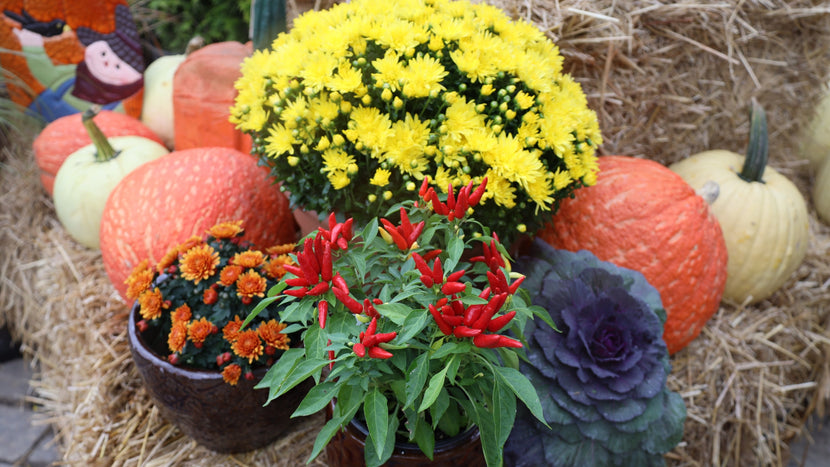 Fall Annuals To Bring Bold Seasonal Color
It's September, and you know what that means.…fall is right around the corner! While you may still be soaking up the sun's rays and taking in the last moments of summer, it's never too early to get into the fall spirit! And the best way to do that–in our opinion, anyway–is with Fall Annuals!
Whether you are revamping a flowerbed and planting in mass or just building a small planter to spruce up the porch, fall annuals have a way of lighting up an outdoor space and igniting all the fall feels! Keep reading to learn more about our favorite fall annual plants and the best ways to incorporate them into your home design this season!
Fall Annuals For Flowers
The number one design element that draws many people to annuals is their flowering nature. I mean, who doesn't want gorgeous flowers that bloom throughout the season? The most notorious flowering plants to enjoy in the autumn are chrysanthemums, or 'mums,' and pansies!
Mums
If an explosion of color in a spherical ball of flowers is what you are searching for, then mums are the way to go! The tight mounding habit of mums makes them ideal for a wide range of planting projects! Coming in a range of colors from orange to yellow to red, our collection of mums will certainly have you in the fall spirit in no time! As an added bonus, while mums are technically considered annuals, they can actually be perennials if grown in USDA hardiness zones 5-9!
Pansies
Next on the list of flowering plants for fall is pansies! Sweet, delicate leaves dance in the wind and make for a show of color and beauty in the fall season. Boasting large heart-shaped overlapping petals, pansies are long-blooming plants that are perfect for containers, yard borders, and groundcovers!
Fall Annuals For Bold Color
When you think about fall, visions of oranges and reds, along with the darker, spookier tones of blacks and purples, likely come to mind. Beyond the leaves above your head and the pumpkins on your doorstep, the fall annuals of ornamental peppers and celosia are ideal for bringing the vibrant colors of fall to your outdoor space!
Ornamental Peppers
The next fan-favorite fall annual is essential in creating a fall porch display that wows: Ornamental Peppers. It's important to note that ornamental peppers are not edible; however, they bring delicious color an beauty to fall arrangements! For a unique pop of color in your autumn landscape we recommend incorporating ornamental peppers. There are various varieties of peppers to choose from ranging from unique spherical peppers called "Hot Pops Ornamental Peppers," to the more traditional looking pepper known as "Chilly Chili Ornamental Peppers."
Celosia
Next on the list of fall annuals to create a show-stopping display is celosia. Commonly known as 'wool flowers,' these unique and colorful plants sport feathery tops in hues of magenta and pink. These plants have a vertical growth habit making them ideal for adding height and flare to mixed planter designs.
Fall Annuals For Texture
Last but most certainly not least on the list of fall annuals to incorporate into your outdoor design this September and October are ornamental kale and dusty miller! These plants may not bring the bold color, as they boast cooler-toned foliage; however, they will bring fun texture and flare to an outdoor fall-themed design.
Ornamental Kale
Our number one pick for adding the element of texture to your fall planter designs is ornamental kale. Coming in a range of leaf shapes, sizes and colors, the avenues for which you could use ornamental kale are endless. From the bold, veiny leafy goodness of Kamome Red Kale and Pigeon Red Flowering Kale, to the frilly magic of White Peacock Kale, and Redbor Kale, we are certain that no matter your vision, there is a kale plant right for you.
Design Ideas For Fall Annuals
Now that you've learned about the various fall annuals to incorporate into your fall landscape design, it is time to tackle the way you want to use them around your home or property.
The great thing about annuals is that they will adapt to a wide range of conditions, so your opportunity for design is extremely broad and open to your own imagination! Some of our favorite ways to design with fall annual plants include:
Mixed Flower Beds
Window Boxes
Hanging Planters
Vertical Garden Walls
Yard Borders
If you are still in need of some autumn planting inspiration, we have just the thing for you! Follow along with us as we build the cutest Fall Pumpkin Planter! For more inspiration, DIY projects and plant education, be sure to follow us on on social media!
Shop Fall Annuals Online
Whatever your fall design style is, we are confident that our selection of fall annuals will take it to the next level. Shop all of our fall color plants online today and have them conveniently shipped to your front door!