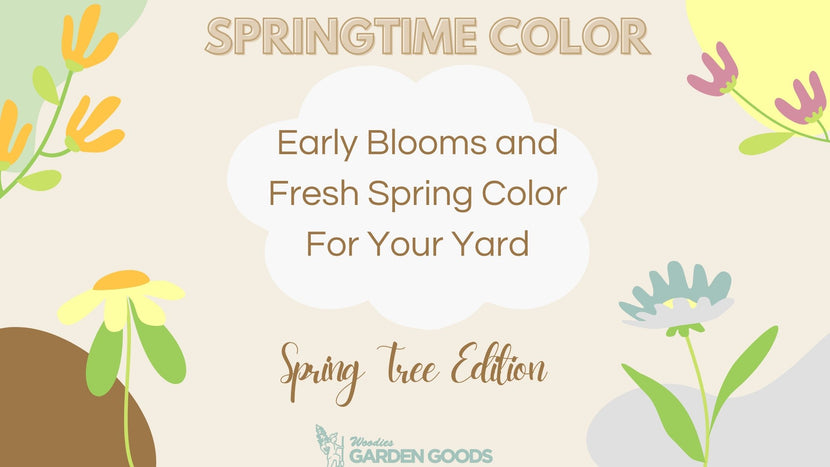 Early Spring Blooms For Your Yard: Spring Tree Edition
Spring is upon us, and we don't know about you, but the thought of a colorful springtime garden being just around the corner gives us butterflies. The days are getting a bit longer, while buds are swelling on once dormant branches.
Looking out the window into the late winter garden, you can tell it's still brisk outside, but as your eyes scan the late winter landscape, you feel the anticipation of the first signs of life. As the days and weeks ahead unfold, more and more of your garden plants will awaken from their long winter slumber as the new season comes into full swing.
If you are eager to see that early spring color, and have your yard burst to life at the start of the spring season, you are not alone.
The Garden Goods Direct team has gathered up the best spring plants to bring that early color and life back into your yard as soon as possible. From early spring blooming perennials to bold hued trees and shrubs, we will have your landscape bursting with color in no time. In this blog we will narrow in on the best trees to bring early spring color to your yard.
Best Trees To Bring Early Spring Color and Blooms
Trees are a staple when it comes to designing a landscape, and for your spring yard there are so many colorful tree options to choose from!
Dogwood Trees
At the top of our list of trees that bring spring color is the iconic Dogwood. As one of the most popular early-blooming flowering trees across North America, the native species, Cornus Florida, grows to approximately 15 feet high and wide and is among the most beautiful North American native trees.
In a wide variety of selections, you can opt for the more classic and reserved look of the White Flowering Dogwood, or the Cherokee Princess Dogwood that produces eye-catching white blooms. If you are looking for more of a statement, you can go bold with the luscious pink flowers the Pink Kousa Dogwood provides!
No matter what Dogwood you choose to add to your yard this planting season, you will be pleased with the stunning early spring blooms it provides.
Redbud Trees
As another iconic early spring color tree for your landscape, we present to you the sensational Redbud tree.
With its spectacular pinkish-purple flowers beginning in March and continuing through April, the Redbud Tree is first in the show. Redbuds can have a single trunk or be multi-stemmed, and as a specimen, they make a natural sculpture in the garden.
Redbuds have enjoyed quite a resurgence over the last decade. Their popularity is due in part to the profuse early spring flowers, as well as the introduction of new leaf colors which in addition to providing gorgeous seasonal color, do not burn in the full sun. This characteristic allows redbuds to be a potential focal point of the landscape rather than living in the shadows of larger trees.
Some gorgeous Redbud Tree options that will provide you with breathtaking spring colors would be the Ruby Falls Redbud, the Forest Pansy Redbud, and the Eastern Redbud tree. Although all classified as Redbud Trees, each specimen adds a unique element of color and flare to your spring landscape.
Magnolia Trees
Next up is a tried and true garden favorite, the classic  and ever-so-charming Magnolia Tree.
The Magnolia is a spectacular flowering tree with very fragrant flowers that bloom from early spring into mid-summer depending on the cultivar. They are unique in the landscape in that they are both flowering in evergreen and deciduous varieties.
The evergreen variations are a longstanding favorite, especially in their native region of the southern United States. With their dark green glossy leaves and contrasting fragrant flowers, the magnolia is stunning year-round.
Garden Goods Direct has a plethora of Magnolia of your choosing from the classic white-flowering cultivar like the Magnolia Royal Star, to the daring magenta blooms of the Magnolia Tinker Belle. Or, for a gorgeous new twist check out the Butterfly Magnolia Tree that boasts radiant yellow blooms.
Cherry Blossom Trees
Last on our list of early blooming trees to bring you your first splashes of spring color is the Cherry Blossom Tree.
As one of the earliest spring bloomers, flowering Cherry Blossom trees are well known for putting on an early springtime show of color. Producing clouds of delicate pink blossoms, typically making way in late March or Early April, these showy specimens are impossible to miss.
Offering twice the petals and twice the blooms of most trees, the Cherry Blossom Tree is a leading choice among homeowners and is ideal for specimen planting to add color and beauty to your yard.
Two gorgeous Cherry Tree options we have available for purchase are the Okame Cherry Tree and the Kwanzan Cherry Tree.
Shop Garden Goods Direct For Your Spring Trees
Whether you decide to go bold and exotic with bright colored exuberant blooms like the Cherry Blossom Tree, or traditional and classic with monochromatic simple blooms like the Flowering Dogwood, we have the perfect spring flowering tree for you.
For more early spring color inspiration for your yard, stay tuned for our next blog on early spring flowering shrubs!
Quickly bring that color and life back to your yard this spring planting season with these early flowering trees. Be sure to check out our wide variety of blooming shrubs and perennials too to make that early spring garden complete!