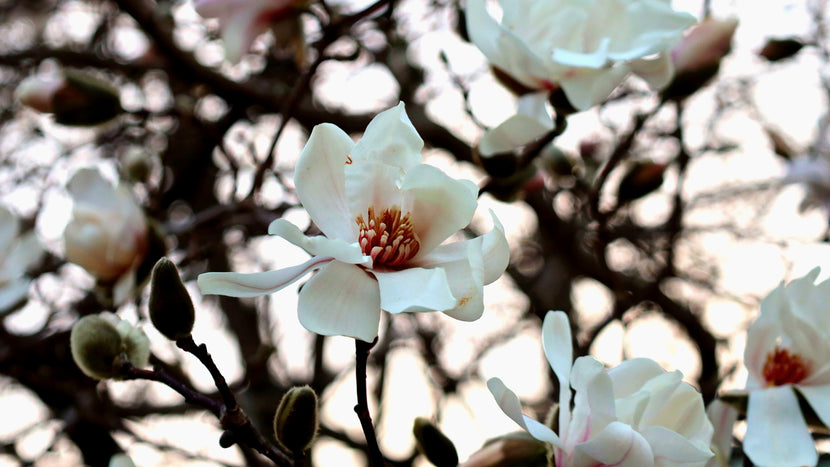 Early Spring Color For Your Yard
As the weather begins to warm and the days begin to lengthen again, it's only natural that you'll start to spend more time outside. For many, March is a time for garden prep and yard clean-up, but you know what they say–the early bird gets the worm!
If you are eager to see some spring blooms and get your yard flourishing with color, you're not alone! We've compiled a list of our favorite early spring bloomers that will have you diving into spring before the birds start chirping! Punxsutawney Phil may have predicted a long winter, but these early bloomers can take the cold!
Early Spring Blooming Trees
With the infamous DC Cherry Blossoms already beginning to burst with color in our nation's capitol, it's no surprise that the Okame Cherry Blossom Tree would be first on our list. These harbingers of spring are praised for their vibrant pink blooms that completely overwhelm the tree and make for a grand show of color.
Next on the list of early spring blooming trees is the Royal Star Magnolia. This tree will easily be the star of the show as the massive white blooms protrude before the foliage even makes its appearance! As a tree that exudes sophisticated elegance and grace, you certainly won't regret planting this hardy and popular Magnolia Stellata in your yard this spring.
Early Spring Blooming Shrubs
With trees as the backbone to your spring 'scape, the next step to creating a flourishing spring yard is the flesh of the project-flowering shrubs! There is a multitude of spring flowering shrubs to bring early spring color to your yard.
First on our list of early spring flowering shrubs is the classic and stunning Spring Blooming Camellia. Lustrous evergreen foliage pairs up with magnificent ruffled blooms that resemble a mixture between roses and peonies. Blooms the size of a fist will never fail to wow you with this breathtaking spring shrub. Plant your Spring Camellias as a focal point in the yard, or in mass for a unique blooming hedge!
If you are a lover of sunshine and golden hues, Forsythia is the early spring-blooming shrub for you. A plethora of warm golden petals explode from this plant and easily light up a landscape. Whereas on the opposite side of the spectrum, if you are in search of sweet pink tones, you may want to invest in some Pieris Katsura Shrubs! Blooming in early March, these shrubs add so much unique texture and beauty to a landscape.
Last on the list of the first shrubs to bloom in spring is Edgeworthia Chrysantha. This shrub is perfect for bringing a more unconventional beauty to an outdoor space. Thick brown stems arch and are kissed with the sweetest spherical clusters of white and yellow blooms. These remarkable plants look wonderful when planted in front of a row of evergreen trees or shrubs to create a magical contrast of colors.
Early Spring Blooming Perennials
A spring yard simply isn't complete without the dramatic flare ad beauty that perennials bring!
The first perennial to bloom in spring is the classic and whimsical Helleborus. These early birds actually get a super head start as they miraculously push out blooms in mid to late winter! The downward-facing clusters of lenten rose are angelic and turn any outdoor space into what fairytales are made of!
The next early blooming perennial you can hope to see extremely soon into the season is creeping phlox! Sweet little miniature daisy-like blooms flourish atop leafy green foliage making for a truly beautiful groundcover plant.
Another early spring bloomer you will want in your garden this year is the exotic and wonderful Bleeding Heart Dicentra! Your heart will melt when you get a load of these sweet heart-shaped perennial blooms!
Shop Early Spring Color At Garden Goods Direct
No matter your taste or landscape plan, there's nothing wrong with getting a jump start on your planting season and enjoying some early springtime color!
Shop online today and enjoy free shipping on orders over $130!