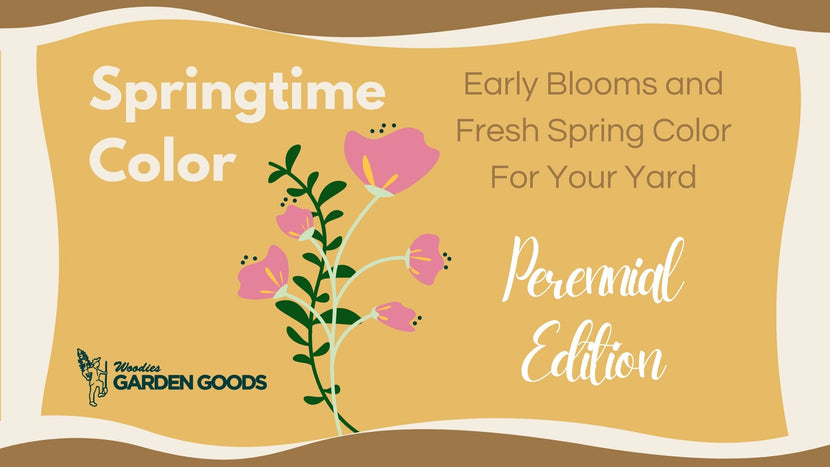 Early Spring Color and Blooms For Your Yard: Perennial Edition
Best Early Spring Perennials
As we've discussed in our last editions of Early Spring Color For Your Yard, trees and shrubs often provide the structure and the foundation of the garden. The next plant group to consider is perennials. Perennials add yet another layer of depth and color to your landscape.
The most well-designed landscapes incorporate multiple layers of plant sizes, shapes, textures, and color that work throughout the seasons to make a yard a visual living masterpiece. Where trees and shrubs can be thought of as the bones of the landscape, perennials might be thought of as the tissue, the flesh and blood, providing the color, and often the seasonal interest to a yard. 
Early spring blooming perennials offer these pops of color at the start of planting season. They help to kick start things in the landscape as they provide first signs of life to the garden. The Garden Goods Direct Team loves all perennial plants, but we'd be lying if we said we didn't have a few favorites. In this blog we will dive into the best perennial plants to bring early spring color and beauty to a landscape. 
First on our list of stunning, early blooming perennials, is the Dicentra. Also known as 'Old Fashioned Bleeding Hearts,' this bright colored perennial has been a staple in the spring garden for decades and continues to be used today.
Early blooming Dicentra plants boast attractive heart-shaped flowers that are sure to draw attention in the garden. The good news is that Bleeding Hearts grow really well just about anywhere in the United States, making it one of the most versatile and adaptable early spring flowering plants.
These plants work beautifully in a variety of garden projects ranging from cut flower gardens to mixed borders and container gardens. Plant these exotic, bright colored bloomers in your yard this season for a magical spring flower show that will have you completely encapsulated by its beauty from early spring through the summer! 
Hellebore perennials are the true harbingers of spring, often blooming for six weeks or more beginning in late winter, they are some of the first blooms to greet us in the new year. 
Nicknamed the 'Lenten Rose,' Helleborus bear unique and exquisite blooms that are held tall above low-growing foliage from winter to early spring. Soft green-veined leaves create a unique marbled look in a compact form.
Ideal conditions for these swoon-worthy Hellebore plants include filtered sun to partial shade and a consistently moist but not soggy soil medium. Unlike other Hellebores, the FrostKiss™ series of Helleborus x Hybridus can take full sun in climates with mild summers if the roots are kept cool.
Composed of both subtle and vibrant colors, charming exotic blossoms grow in early spring close to the ground adding a layered and dimensional effect. From yellow and pale pink to aubergine and green flowers, Hellebore perennials are versatile and complement any existing landscape!
Next on our list of perennials we love to add to an early spring landscape is the classic and graceful Creeping Phlox. With gentle dainty blooms offered in a wide variety of colors, flowering Phlox perennials is rather irresistible in our opinion. 
But don't let our opinion sway you! Check out these cute early spring bloomers for yourself! Popular in use as ground cover plants, mass plantings and spring flower beds, Phlox perennials radiate beauty without overwhelming a space. 
Beyond their precious elegance, Creeping Phlox are also loved for their tolerance to a wide variety of conditions. Though they appear fragile, these early spring yard plants can withstand high temperatures as well as tolerate a range of soil mediums. 
Next on our list of stunning early spring blooming perennials we love is the Dianthus. Dianthus varieties, such as the pink flowering Dianthus Kahori, not only bring color to the spring garden, but also offer a wonderful fragrance as well. The vibrant pink hues work to brighten any landscape, not to mention boost your mood!
Ideal conditions for Dianthus Perennials include full sun and well drained soils. Suited for USDA grow zones three through nine, these adorable little bloomers are perfect for most gardens. 
Popular uses for these electric pink perennials include sun garden plants, groundcovers and mixed flower borders. The Dianthus plants are perfect early spring plants for decorating your patios and front porches in 2022!
Ajuga
Last on our list of perennials that provide spring color is the Ajuga. These fast-growing garden plants offer early color both through their lustrous foliage and their spring blooms. The plant's bronzed leaves and blue spiked flowers easily brighten up a space and make for a gorgeous garden statement piece. 
Growing in both full sun and full shade, these hardy yard plants are perfect for those locations where the majority of plants seem to fail. The popular perennials are also deer and rabbit resistant, making it that much more desirable! 
Plant Ajuga plants in your garden this spring to enjoy flowers from late April through to July! The low growing perennials are beautiful in use as ground cover plants and pathway borders. 
Shop Garden Goods Direct
Whether you decide to go unique and exotic with the captivating Helleborus plants, or embrace subtle beauty and grace with the popular ground cover perennials of Phlox and Ajuga, or maybe you decide to do a little bit of everything…your spring garden will be popping with color and beauty like never before!
With a wide variety of early spring flowering perennials, Garden Goods Direct will have your yard bursting with life and color year after year. Shop our springtime garden trees, shrubs and perennials online today and have them conveniently shipped to your door just in time for planting season!