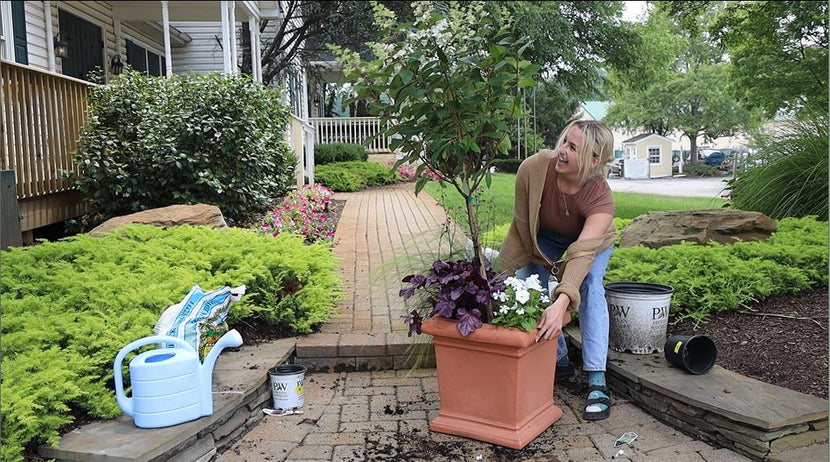 DIY Summer Container Garden
Summer is officially here…you know what that means! Tis the season for cookouts, pool parties, bonfires and basking in the sweet summer sun on your patio.
The only thing that can make these summer activities even more enjoyable is creating a stunning outdoor space that thrives all summer long!
If you don't have a huge area for planting, don't get discouraged–summer container gardens are one of the best ways to enjoy the beauty of summer landscape plants on a smaller scale.
Keep reading to learn more about the key components to a successful summer container garden, and to get some ideas for creating your own!
Selecting The Right Plants For Your Container Garden
As with any good garden, a good container garden starts with evaluating your space and growing conditions. The easiest way to do this is to determine your USDA grow zone. Check out our Find Your Grow Zone tool to quickly and easily designate what plants will grow best in your outdoor space!
Next you want to gather a selection of plants that all have similar care needs and growing conditions. The last thing anyone wants is to put time and effort into a garden just to watch it fail because the growing conditions of the plants are so drastically different.
If you plan to grow in a sunny space that doesn't get much precipitation, it is important that you choose plants that are tolerant of high sun levels and are also drought tolerant. Whereas, if you are designing a garden in a shadier zone, you will want to opt for more shade-tolerant plants.
Creating Balance Using The Thriller, Filler, Spiller Technique
Once you've evaluated your climate and growing conditions, you can move on to selecting plants and overall design for your mixed container garden. Our garden experts swear by the 'Thriller-Filler-Spiller' Technique to craft a balanced and stunning planter that wows.
This method is essentially an easy way of creating artistic balance and beauty in a planter. Like a good recipe, each unique element works with its counterpart to great a beautiful display of colors, textures, and layers.
What Is A Thriller Plant
According to long-time plant breeders and experts at Proven Winners, Thrillers are plants with height and drama that bring a vertical element to your planter combination. Generally the Thriller is the main focus of your planter and is often the center piece that you work around in creating the rest of your container garden.
What Is A Filler Plant
The next important ingredient to your container garden is the Fillers. Fillers tend to be low-growing, mounding plants that work to fill the bulk of your garden. ground cover plants, annuals, and grasses make for great Fillers.
What Is A Spiller Plant
Last but not least in the final touches of your summer container garden is the Spiller. Spiller plants are typically trailing plants that grow over the edge of your planter for a waterfall effect.
Summer Container Garden Inspiration
If you are still unsure where to begin when it comes to your summer container garden, don't fret–we've got you covered.
Our team worked to create the ideal summer planter that will have all of your neighbors and guests in awe! The perfect summer container garden recipe is as follows:
Be sure to watch our step-by-step tutorial on building this planter so you too can become an expert in creating a summer container garden that shines all season long!
Shop Online At Garden Goods Direct
No matter the recipe you choose to whip together in your summer planter, we want to be there to help simplify the process! Shop all of your container garden needs online and have them shipped directly to your front door! Gardening has never been simpler.